WHO'S HOLIDAY Makes Things Merry And Bright Beginning November 14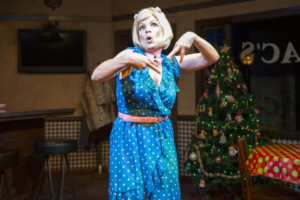 Richmond Triangle Players continues its 2018-19 season with Who's Holiday, the mid-Atlantic premiere of the play Dr. Seuss didn't want you to see! The production will open Friday November 16 at 8:00 pm, after two low-priced previews on Wednesday and Thursday November 14 and 15 at 8:00 pm, and run through Saturday December 15.
It's Christmas Eve on the foot of Mount Crumpit, and Cindy Lou Who - all grown up- is throwing a party! While she waits for her Seussian friends to arrive, she lets us in on the shocking twists her life has taken since that fateful Christmas with the Grinch. This Cindy Lou isn't the innocent toddler you first encountered as a child -- she'll drink you under the cabaret tables at RTP - and you won't want to miss the hilarious holiday celebration she's got planned!
Who's Holiday originated as part of Christmas on the Rocks (produced at Triangle Players in 2015) -- seven short playlets, each by a different playwright, but all imaging what kind of adults the children from well-known holiday stories grew up to be. The immensely popular Cindy Lou Who segment was expanded by its playwright Matthew Lombardo into the full-length Who's Holiday and announced for an off-Broadway run in 2016, but the Dr. Seuss estate intervened, claiming it violated copyright protections, which held up production of the show for over a year. In 2017, the courts ruled in favor of the playwright, citing the First Amendment and protections surrounding parody, paving the way for a smash-hit off-Broadway production in 2017. RTP's production marks the play's mid-Atlantic premiere, and one of the first new productions of the play around the country.
Playwright Matthew Lombardo is very well known for his plays featuring strong central women: on Broadway, both High starring Kathleen Turner and Looped starring a tony-nominated Valerie Harper as the infamous Tallulah Bankhead; and off-Broadway Tea at Five starring Kate Mulgrew as Katharine Hepburn and Who's Holiday starring Tony-nominated Lesli Margherita. Richmond Triangle Players produced an acclaimed production of High in 2014, starring Melissa Johnston Price, Kyle Cornell and Jonathan Hardison.
Dexter Ramey will direct RTP's production Who's Holiday, with Kimberly Jones Clark returning to the role she played in Christmas on the Rocks. Set Design is by T. Ross Aitken, costume design by Ruth Hedberg, and lighting design by Michael Jarett. Ellie McDade-Nelson is the stage manager.
To keep the holiday festivities flowing, following each performance of Who's Holiday will be a festive holiday cabaret, featuring Joshua Wortham on the piano and guest singers including Georgia Rogers Farmer and Shannon Gibson Brown.
Richmond Triangle Players' performances take place at its home at the Robert B. Moss Theatre at 1300 Altamont Avenue, just northwest of the intersection of the Boulevard and West Broad Street. Reserved seat tickets ($35 for Fridays and Saturdays evenings at 8:00 pm, $30 for Thursday evenings at 8:00 pm and Sunday matinees at 4:00 pm; $18 for previews, with discounts for groups and students) can be purchased online at RTP's web site at www.rtriangle.org, on RTP's Facebook page, or by leaving a message on the RTP Ticket hotline at 804-346-8113.
RTP's Robert B. Moss Theatre is a 4000-square foot performing arts facility accommodating flexible seating arrangements for up to 90 patrons. The building features fully ADA-compliant access and comfortable restrooms, as well as a generous bar, and catering capability, and is also available for cabaret performances and private events. or more information, please contact RTP executive director Philip Crosby at 804-342-7665 or by e-mail at Crosby@rtriangle.org.
Photo by John McLellan