Virginia Rep Kicks Off the 2017-18 Children's Season with AKEELAH AND THE BEE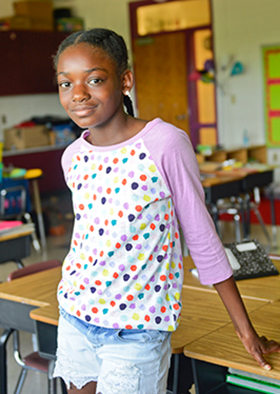 Virginia Repertory Theatre opens Akeelah and the Bee on Friday, September 29 at the Children's Theatre at Willow Lawn to kick off the 2017-18 Children's Season. Based on the 2006 film starring Keke Palmer, Cheryl L. West's adaptation of the screenplay by Doug Atchison follows the journey of 11-year old Akeelah as she travels from the southside of Chicago to the Scripps National Spelling Bee. The show runs through November 5, 2017 at the Children's Theatre at Willow Lawn, 1601 Willow Lawn Drive, Richmond, Virginia 23230.
Director Audra Honaker makes her Virginia Rep directorial debut, after performing in several Virginia Rep productions, including Mame, Charlotte's Web and Fiddler on the Roof. The production stars AbiGail Cook-Robinson, a 5th grader at Park Ridge Elementary School, as Akeelah, and William Anderson (Golden Goose, The Color Purple, South Pacific) as Dr. Larabee.
Returning to the Virginia Rep stage, the cast features Alana C. Smith (Go, Dog. Go!), Anna Jackson (A Christmas Story: The Musical) and Karla Brown (The Color Purple). Cast members Jordan R. Pearson, Taylor McKenzie Cannon, Jamar Jones, Rowan Sharma, Samantha Easter, and Zora Johnson make their Virginia Rep debut. The current cast list is below.
Scenic Design is by Terrie Powers (Da, Dancing Lessons), Lighting Design is by BJ Wilkinson (Shakespeare in Love, Croaker) and Costume Design is credited to Hannah Chalman.
Virginia Rep is thrilled to offer a new FREE Community Tickets Grant for nonprofit organizations. We encourage all organizations who have a demonstrated need for complimentary tickets to fill out a short application on our website: bit.ly/CommunityTix
Photo credit: Ash Daniel