Valerie David Brings Award-Winning One-Woman Show PINK HULK To The Z Theater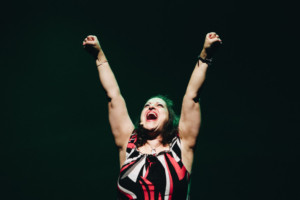 Zeiders American Dream Theater (The Z) in Town Center under the leadership of Artistic Director Bart Kuebler and Executive Director Terry Flint, is pleased to present the critically acclaimed, comical one-woman show The Pink Hulk: One Woman's Journey to Find the Superhero Within by playwright and two-time cancer survivor Valerie David.
A 1986 First Colonial High School graduate, Ms. David details her battle with cancer in The Pink Hulk and how she beat the odds by finding her inner super powers.
Ms. David, who was First Colonial senior class president and voted Most School Spirited, wrote The Pink Hulk after being diagnosed with cancer not once, but twice-"hulking out" on cancer and conquering it both times! Ms. David is honored to perform at The Z and share her personal journey of taking back the confidence in her sexuality and femininity that cancer had robbed her of when diagnosed with breast cancer after having beaten lymphoma 15 years earlier.
This solo play is a celebration of being comfortable in one's own skin, of embracing and accept- ing one's own body-no matter the shape or size. Her comical take on a very real and scary subject is sure to have audience members on the edges of their seats, capturing their emotions, and inspiring them to find their own inner superheroes, ultimately empowering them to beat whatever life challenges may come their way.
"My show is not just about fighting cancer, but fighting back from any adversity in life," Ms. David said.
This one-woman show is making a difference in people's lives-not just those who have been touched by cancer. Additionally, while Ms. David's play may be her story, the message is a universal story of hope with plenty of humor guaranteed-making her show a true standout. Her play has just been accepted into its 26th theater festival since its debut in the spring of 2016, and she is thrilled to be performing in her hometown of Virginia Beach.
The Pink Hulk: One Woman's Journey to Find the Superhero Within plays Saturday, March 9, 2019 in the Main Stage Theater. Performances are at 2pm and 8pm. This is a 60-minute show with mature content and a talkback to follow each performance. Adult tickets are $35 and Student tickets are $15. Tickets are currently on sale online at https://thez.org/show/the-pink-hulk/ or by calling the box office at 757-499-0317. Group sales are also available for 10 or more people. Group sales can be booked by calling The Z Theater box office.
Zeiders American Dream Theater is located at 4509 Commerce Street, Virginia Beach, VA 23462.
ABOUT VALERIE DAVID
Valerie David (Writer/Performer) is a graduate of both First Colonial High School and James Madison University in Virginia, as well as The American Academy of Dramatic Arts in Manhattan. She has been touring the United States and Europe performing The Pink Hulk in multiple festivals and special engagements. Ms. David wrote the autobiographical comedic drama The Pink Hulk to express the empowerment she felt being able to find humor and superhero inner strength going through two bouts of cancer-first Non-Hodgkin's Lymphoma and then breast cancer 15 years later. She raises money through The Pink Hulk performances for domestic and international cancer organizations. Ms. David's solo show is directed by award-winning director Padraic Lillis. Visit https://pinkhulkplay.com/ for more info.
Zeiders American Dream Theater, known as The Z, is a professional, non-profit performing arts company whose mission is to provide a wide range of highly entertaining artistic experiences to the community by fostering and introducing new works and exceptionally gifted artists in all areas of the performing arts. The Z is a community hub for celebrating creative growth and entertainment. With intimate performance spaces and unique programming that generates an exciting connection between the performer and the audience, The Z inspires audiences and performers to tap into their own creative spark, unleash their dreams, and achieve their full potential. www.TheZ.org
Photo Credit: Dixie Thamrin Photography