Songwriter and Playwright Zack Zadek Receives VCCA Fellowship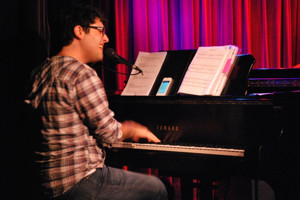 Zack Zadek of Brooklyn, NY, has been awarded a fellowship by the Virginia Center for the Creative Arts (VCCA). The VCCA is located near Sweet Briar College in the foothills of the Blue Ridge Mountains in rural Virginia. Zack Zadek will be among approximately 25 Fellows focusing on their own creative projects at this working retreat for visual artists, writers and composers.
A typical residency ranges from two weeks to two months. Each artist is provided with a comfortable private bedroom, a private studio and three prepared meals a day. Beyond the breakfast hour and the dinner hour, there are no schedules or obligations. This distraction-free atmosphere, as well as the energy that results from having some 25 visual artists, writers, and composers gathered in one place, enables artists to be highly productive.
Zack Zadek is an award winning composer/lyricist, songwriter, and playwright. He has been named by Playbill as "A Contemporary Musical Theatre Songwriter You Should Know", a 2017 Jonathan Larson Grant Finalist, a 2017 MacDowell Fellow and a 2017 VCCA Fellow. Zack won the 2017 Weston New Musical Award for his book, music, and lyrics to DEATHLESS (dir. Tina Landau) which received its world premiere at Goodspeed Musicals this spring and was a SigWorks Finalist and a Kevin Spacey Artist's of Choice Finalist. Other pieces in development include, THE CRAZY ONES (dir. Sam Buntrock, The 5th Ave Theatre), THE ROLE OF A LIFETIME (dir. Jerry Mitchell), and 6 (dir. Sheryl Kaller, NYMF, London Theatre Workshop). He has been a writer-in-residence at TheatreWorks Silicon Valley, The Mitten Lab, Legacy Theatre, and The Johnny Mercer Writer's Colony and has presented his work at The Kennedy Center by ASCAP and Lincoln Center. Zack holds a BA from NYU at The Gallatin School of Individualized Study; Clive Davis Institute of Recorded Music, and Goldberg Department of Dramatic Writing. At VCCA he will work on a commercial commission, an adaptation of a major motion picture, several television projects, and a piece currently being developed in residence with The Civilians R&D Group. Follow him @zackzadek or at www.zackzadek.com.
Serving more than 350 artists a year (more than 4,000 since its inception), the VCCA is one of the nation's largest year-round artists' communities. VCCA Fellows have received worldwide attention through publications, exhibitions, compositions, performances, and major awards and accolades, including MacArthur grants, Pulitzer Prizes, Guggenheim fellowships, National Endowment for the Arts awards, Rome Prizes, Pollock-Krasner grants, National Book Awards, Broadway and O - Broadway productions, and Academy Award nominations. VCCA has been a wellspring of music, literature and the visual arts in the United States, providing residencies for artists from all disciplines during the most important and the least supported phase of their work: the creative phase. This is done by giving visual artists, writers, composers, performance artists, filmmakers, collaborating artists and those whose work crosses disciplines the crucial elements every artist needs-time and space to do their work.
A nonprofit organization founded in 1971, the VCCA is supported in large part by grants and private donations. More information is available online at www.vcca.com or by calling 434-946-7236.