SISTER ACT, BRIGHT STAR, ELF, and More Lead Barter Theatre's 2018 Season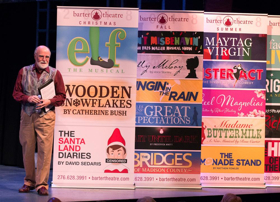 Barter Theatre announced its 2018 Season lineup during an exclusive preview event featuring select excerpts from various productions. The event revealed details of more than 15 diverse shows planned for 2018.
During the season announcement, members of Barter Theatre's Resident Acting Company provided the audience with assorted songs and scenes from the upcoming season including several musical numbers recognizable from their iconic silver-screen adaptations.
With comedies, musicals, classics and original productions, the 2018 season offers something for all audiences including: Sister Act, Great Expectations, Elf: The Musical, Steel Magnolias and the much anticipated Barter Theatre return of "the greatest movie musical of all time," Singin' in the Rain.
Barter Theatre's 2018 season will be a season to remember. "Our 2018 season has a heartfelt sense of unity," says Producing Artistic Director Richard Rose. "We hold our theatre as a place that we can all gather, where everyone is welcome, where everyone is equal, and where everyone has a voice to share together and explore the very core of our humanity. We want everyone who comes to feel welcome, have a good time and leave wanting to come back for more."
Barter Theatre's 2018 season will begin in February and feature the following shows:
Spring 2018
Gilliam Stage
BRIGHT STAR
"Downright wonderful! A Gorgeous Anthem to Optimism!"
Music, Book & Story by Steve Martin
Music, Lyric & Story by Edie Brickell
Inspired by a real event, this bluegrass musical tells a sweeping tale of love and redemption set against the rich backdrop of the American South in the 1920s and '40s. Literary editor Alice Murphy enters a relationship with a young soldier just home from World War II that awakens her longing for the child she once lost. Haunted by their unique connection, Alice sets out on a journey to understand her past - and what she finds has the power to transform both of their lives. Barter Theatre brings you the first production of this show in the United States since its run on Broadway; See it here first at Barter Theatre!
MID-FEBRUARY to EARLY APRIL

IN THE HEAT OF THE NIGHT
"Action packed, exciting story; a tight and timely thriller; Perfect piece of theatre."
Adapted by Matt Pelfrey based on John Ball's Novel
Based on the award-winning book that inspired the Oscar-winning film and the Emmy-winning television series. It's 1962. A hot August night lies heavy over the small town of Argo, Alabama. The local police discover a dead white man and arrest a black stranger named Virgil Tibbs. They soon find their prime suspect is a homicide detective from California. As it happens, Tibbs becomes the racially tense community's only hope in solving a brutal murder that is turning up no witnesses, no motives, and no clues.
APRIL to MID-MAY
Barter Stage II

A FACILITY FOR LIVING
"Amusing, entertaining, and life affirming; the Boomers Generation will not go down without a fight!"
A Comedy by Katie Forgette
The Golden Girls meets One Flew Over the Cuckoo's Nest in the hilarious and possibly disturbing story of what life may be like in the not-so-distant future. For the residents of Federal Nursing Home #273, a penitentiary converted into a senior center, every day is a monotonous cycle of pills, old Ronald Reagan movies, and mandatory bedtimes, all overseen by the killjoy head nurse who has embraced her inner Nurse Ratched. When a new resident arrives to shake things up, this band of misfits hatch an outrageous plan to break all the rules and in the process rediscovers purpose and dignity in the face of a system mightily stacked against them.
FEBRUARY to MARCH

Shakespeare's RICHARD III
In a Unique Production adapted by Katy Brown
The deceptive and sadistic Richard, Duke of Gloucester, stops at nothing to become King. With intelligence, political brilliance, and dazzling use of language, he keeps his subjects and rivals under his thumb.... you might even start to feel a little pressure yourself. Don't miss this engaging and refreshing production in an original adaptation by Barter's Shakespeare expert.
MARCH to APRIL
Summer 2018
Gilliam Stage
SISTER ACT
Music by Alan Menken Lyrics by Glenn Slater
Book by Cheri Steinkellner and Bill Steinkellner
Additional Book Material by Douglas Carter Beane
A heavenly surprise, filled with powerful gospel music, outrageous dancing and a truly moving story, this feel-good comedy smash will have you jumping to your feet with excitement and joy! A woman hiding in a convent helps her fellow sisters find their voices as she rediscovers her own. Make a joyful noise and join us for this musical comedy smash based on the hit film starring Whoopi Goldberg. "'Take Me to Heaven' and 'Spread the Love Around' bloom into full-throttle disco epics, the latter building up to an ecstatic finale." -NY Post
LATE-MAY to MID-AUGUST

STEEL MAGNOLIAS
By Robert Harling
A heart-warming portrait of friendship and love is the basis for this much loved film. You will experience the tales of six women who gather under the dryers at Truvy's Beauty Salon to share gossip, laughter, recipes and beauty secrets on four significant days during their lives in a small southern town.
MID-JUNE to MID-AUGUST

Barter Stage II
MAYTAG VIRGIN
By Audrey Cefaly
"... well, and I worried about giving him the wrong impression. He said I have great legs ... for a Baptist. So of course I baked him a casserole. It seemed like the appropriate response."
When Jack moves into a house next to Lizzy, they find they have as many things in common as they do differences. In this witty, Southern tale, a relationship that begins as a coincidental, neighborly friendship becomes an unexpected journey of self-discovery and healing. Peopled with quirky yet truly recognizable characters, full of humor and evocative language; "A radiant gem of light into the ordinary struggles of love, loss, and life."
MAY to JUNE

THE LEMONADE STAND
A Comedy by Matthew Fowler
Garret Miller is having a midlife crisis. When he gets fired from the only job he's ever had, he decides to set up a lemonade stand on the street in front of his upscale suburban house. All the while, his wife is probably cheating on him, his brother is a pariah, and the college girl next door wants to be his lemonade-stand intern. In this dramatic comedy, Garret sets out to prove "the American Dream," "an American Dream," or at least his American Dream still exists.
JULY - AUGUST

MADAME BUTTERMILK
A Barter Audience Favorite
By Ross Carter
It's l'amour, y'all! Country music meets opera in the most unlikely, unbelievable and undoubtedly the most popular play to ever come through Barter's Appalachian Festival of Plays and Playwrights. A struggling opera singer has a dream: to sing the lead in Carmen. Her agent thinks she's found the answer! But she finds herself singing at a state fair with a country music band called the Car Men -agents clash, people panic, and the singers erupt at the worst of possible moments in one of the funniest musicals you will ever experience.
MID-JUNE to MID-AUGUST
Fall 2018
Gilliam Stage
AIN'T MISBEHAVIN'
The Fats Waller Musical Show
Music by Thomas "Fats" Waller
Conceived by Richard Maltby, Jr. and Murray Horwitz
The joint is jumpin' with the new Swing beat to the music of the inimitable Thomas "Fats" Waller, who rose to international fame during the Golden Age of the Cotton Club. Ain't Misbehavin' evokes the delightful humor and infectious energy of this American original as a versatile cast struts, strums and sings the songs of "Fats" Waller made famous in a career that ranged from uptown clubs to downtown Tin Pan Alley to Hollywood, and concert stages in the U.S., Canada and Europe. The intoxicating music of Fats Waller will delight and energize audiences as well as provide great insight into a vibrant time in American history and music.
MID-AUGUST to EARLY SEPTEMBER
SINGIN' IN THE RAIN
"The Greatest Movie Musical of All Time"
Book by Betty Comden and Adolph Green
Songs by Arthur Freed and Nacio Herb Brown
Based on the classic Metro-Goldwyn-Mayer film by special arrangement with Warner Bros Theatre Ventures
"Make 'Em Laugh," "You Are My Lucky Star," "You Were Meant for Me," "All I do is Dream of You," and, of course the title song, "Singin' in the Rain," are but a few of the wonderful songs from one of the most celebrated and beloved musical films ever made. Live and onstage, these unforgettable scenes, songs and dances will make you laugh, make you sing, wow you with the spectacle of it all, and leave you with a night to remember for the rest of your life.
MID-SEPTEMBER to MID-NOVEMBER

GREAT EXPECTATIONS
Adapted by Catherine Bush
From the original book by Charles Dickens
In a humorous and moving adaptation of Dickens' tale, Barter's Playwright-in-Residence Catherine Bush amazes audiences as the story comes bursting to life in a stylized and fast-paced world that is sure to leave you gasping for breath and on your feet with excitement. Pip, a poor orphan child in 19th century England, is mysteriously plucked from obscurity by the wealthy and decaying Miss Havisham, changing his life forever. A secretive benefactor, unrequited love, and a series of great expectations plague Pip as he attempts to discover whether people can change who they truly are.
LATE SEPTEMBER to MID-NOVEMBER
Barter Stage II
SALLY MCCOY
"Winner of Barter's 2017 Appalachian Festival of Plays and Playwrights."
By Alice Stanley
In the midst of the first gruesomely violent event of the legendary Hatfield and McCoy feud, one woman does what she must to save her family. Sally McCoy tells a harrowing and deeply personal story which takes a hard look at how women's stories and perspectives are too often excluded from our historical narratives. Set in August 1882, Sally's three eldest sons are captured by the Hatfield clan. Sally defies her womanly place in the home and crosses miles of Appalachian wilderness in the dark of night to save her children from certain death at the vengeful hands of the Hatfields. After traveling all those miles alone, she arrives at the home of the Hatfield patriarch, "Devil" Anse Hatfield, and refuses to let anything stand in her way until she has seen the "Devil" face to face.
SEPTEMBER to MID-OCTOBER

WAIT UNTIL DARK
A policeman. A con man. An old friend. A blind woman. A lost doll. A murder.
A Suspense Thriller by Frederick Knott, Adapted by Jeffrey Hatcher
In 1944 Greenwich Village, Susan Hendrix, a blind yet capable woman, is imperiled by a trio of men in her apartment. As the tensions mount, Susan discovers that her blindness just might be the key to her escape, but she and her tormentors must wait until dark to play out this classic thriller's chilling conclusion. "...goosepimply climax...a gripping finish."
OCTOBER to MID-NOVEMBER

THE BRIDGES OF MADISON COUNTY
Music and Lyrics by Jason Robert Brown
Book by Marsha Norman
Based on the novel by Robert James Waller
Based on the best-selling novel, a forbidden love affair between a photographer and a housewife changes them forever. This sweeping romance about the roads we travel, the doors we open and the bridges we dare to cross will leave you breathless. With a soaring score, this powerful musical captures the lyrical expanse of America's heartland along with the yearning entangled in the eternal question "What if...?"
OCTOBER to MID-NOVEMBER
Christmas 2018
Gilliam Stage
ELF: THE MUSICAL
Book by Thomas Meehan and Bob Martin
Music by Matthew Sklar Lyrics by Chad Beguelin
Based upon the New Line Cinema film written by David Berenbaum
A hilarious tale of Buddy, a young orphan who accidentally crawls into Santa's bag and is taken back to the North Pole. The would-be elf is raised, unaware that he is actually a human until his enormous size and poor toy-making abilities force him to face the truth. With Santa's permission, Buddy embarks on a journey to New York City to find his birth father and discover his true identity. Faced with the harsh realities that his father is on the naughty list and his half-brother doesn't even believe in Santa, Buddy is determined to win over his new family and help them remember the true meaning of Christmas. After all, the best way to spread Christmas Cheer is singing loud for all to hear.
MID-NOVEMBER to LATE DECEMBER
Barter Stage II
WOODEN SNOWFLAKES
"Christmas can be a time for miracles, if you open your soul to receive them."
By Catherine Bush
Trapped on Christmas Eve because her car slid off the icy Kentucky road, Eve Lawson, a cynic who refuses to believe in Santa Claus, finds herself in the home of Simon Peter Whitaker, a woodcarver and expert on Christmas, who is dressed as Santa. Believer and unbeliever find themselves clashing time and time again as old wounds struggle to be healed by the Love that is Christmas. Join us for an evening of humor, surprises and joy as written by one of Barter's favorite authors.
In Repertory with The Santaland Diaries
NOVEMBER to DECEMBER
THE SANTALAND DIARIES
*Recommended for mature audience due to language and subject matter
This outrageous holiday comedy stars Crumpet, a rebel without a Claus, who recounts his true-life tale of being an out-of-work writer doing a stint as a Macy's department store elf. His encounters, as an Elf during the season of forced joy, have become a delightful cult classic for those in need of a holly-jolly antidote! A delightfully absurd look at the commercial Christmas season, Sedaris' sharp and hilarious observations have rapidly become one of the nation's most popular holiday shows. Barter's production will feature one of Barter's favorite actors, Nick Piper, as Crumpet. In Repertory with Wooden Snowflakes
LATE-NOVEMBER to DECEMBER
The Barter Players 2018 Season
The Barter Players are a group of professional artists who perform world-class theatre for young audiences. The troupe presents high-energy and original productions that capture the imagination of today's youth while providing the best in classic literature and beloved story adaptations infused with a unique combination of education and entertainment, plus the commitment to bring world-class theatre to young people of all ages and backgrounds.
Aesop's Fables
April
Barter Stage II
Book and lyrics by Catherine Bush; Music by Ben Mackel
Aesop is in trouble, and his only hope lies in his ability to weave fantastic stories with timeless lessons of truth. Fables such as Androcles and the Lion, The Oak and the Reed, The Fox Without a Tail, The Beast in Love, The Hare and the Tortoise, and The Boy Who Cried Wolf are brought to life in this exciting, musical adventure.
Alice in Wonderland
May
Gilliam Stage
Adapted from Lewis Carroll by Catherine Bush
When Alice Chases the White Rabbit down a rabbit hole, she tumbles into a curious world with a zany cast of characters including the Mad Hatter, the grinning Cheshire Cat, a mischievous Caterpillar, and the imperious Queen of Hearts. This brand new adaptation of a timeless classic celebrates the wonder of imagination - a must see for the whole family!
Billy, Goat, Gruff: The Musical
Summer
Barter Stage II
Book and Lyrics by Gwen Edwards; Music by Ben Mackel
The musical tale of three goat brothers - Billy, Goat, and Gruff - who go in search of food before the winter snow descends upon their mountain. On their travels they encounter many dangers, escape a nasty troll, and discover that if they follow their hearts, anything is possible. Don't miss this incredible adventure!
Snow White and the Seven Dwarfs
Summer
Barter Stage II
Adapted from The Brothers Grimm by Catherine Bush
One of the most beloved princess tales of all time is coming to Barter Stage II this summer. The beautiful Snow White is forced to flee her home when the wicked queen's jealousy threatens her life. Snow White soon makes friends with seven dwarfs who take her into their home. When the queen learns that Snow White is still alive, it takes the love of a handsome hero and the courage of her newfound friends to save the day.
The Lion, the Witch and the Wardrobe
Summer
Barter Stage II
Adapted from C.S. Lewis by Joseph Robinette
Rights granted by Dramatic Publishing
Join The Barter Players in a magical world where anything can happen. When the four Pevensie children slip through the old wardrobe and into the wondrous land of Narnia, they face a dangerous White Witch and her evil spells. It will take all of the children's bravery and the love of a Lion named Aslan to help save them and the land of Narnia.
The Adventures of Tom Sawyer
Fall
Barter Stage II
Adapted from Mark Twain by Catherine Bush
Whether it's fishing with Huckleberry Finn, or convincing his friends to whitewash Aunt Polly's fence, nobody loves life more than the irascible Tom Sawyer. Then one night in a spooky graveyard, Tom and Huck stumble upon a deadly secret. Will they be able to save Muff Potter from the treacherous Injun Joe before it's too late? Join Tom and Huck on the most exciting adventure of their life, where they learn that man's greatest treasure is the gift of friendship.
'Twas the Night Before Christmas
Christmas
Gilliam Stage
Book and Lyrics by Catherine Bush; music by Dax Dupuy
Christmas Eve, 1823. Things aren't looking good for Clem Moore, a hardworking journalist at the New York Chronicle. His wife needs an expensive operation, but instead of advancing him the money, Clem's boss gives him an impossible assignment: to write the best Santa Claus story ever. Clem doesn't believe in Santa, but he puts aside his cynicism for one moment and wishes on the Christmas Star. What follows is a night of Christmas magic that changes Clem's life - and how we celebrate Christmas - forever.
Photo: Producing Artistic Director Richard Rose presents Barter Theatre's 2018 selections.