Exclusive Preview Performance Introduces Barter Theatre¹s 2019 Season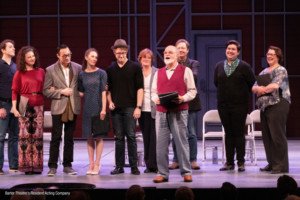 Barter Theatre officials announced today its 2019 season lineup during an exclusive event highlighting select excerpts from various upcoming productions. The event included the details of 16 diverse shows planned for 2019 with the theme of Love, Laughter, and Passion.
The 2019 season will include classics, comedies, musicals, and original productions; there will be something that appeals to everyone. Shows included in the season lineup are "Madame Buttermilk", "Camelot", "The Producers", "Shrek: The Musical", and "White Christmas".
During the announcement, members of Barter Theatre's Resident Acting Company provided the audience with a look ahead featuring an assortment of songs and scenes from the productions scheduled for next year. The announcement featured select scenes and songs from productions like "Camelot", "Morning After Grace" , "Shrek: The Musical", "Exit Laughing", "The Producers", and "White Christmas".
"Passion, with all of its meanings and implications, best describes Barter's 2019 season, for it is the basis of almost every character in every play for next year." said Richard Rose, Producing Artistic Director of Barter Theatre. "Add love, which is much needed in today's world and laughter which is more important now than ever, and you have a 2019 season perfectly suited to renew our faith in the world and our fellow human beings."
Barter Theatre's 2019 season will begin in February and feature the following shows:
Spring 2019
Gilliam Stage
CAMELOT
Book and Lyrics by Alan Jay Lerner, Music by Frederick Loewe
Set amongst the mystical forests and striving for the perfect civilization, Camelot tells the beloved tale of King Arthur and The Knights of the Round Table as they strive to bring goodness and fairness to a world in turmoil and fear. With legendary and romantic score ("If Ever I Would Leave You," "I Loved You Once in Silence"), Camelot has won the hearts of generations of musical theatre lovers. Filled with adventure, struggles, love, and idealism that champions the potential of humankind, this story is sure to warm your heart and fill you with wonder and joy at the possibility of what can be achieved in a world filled with ideals.
February 21 - March 31
MADAME BUTTERMILK
"Undoubtedly, the funniest, wittiest show ever done by Barter Theatre."
Book, Music and Lyrics by Ross Carter
It's l'amour, y'all! Country music meets opera in the most unlikely, unbelievable and undoubtedly one of the most popular play to ever come through Barter's Appalachian Festival of Plays and Playwrights. Carley, a struggling opera singer, has a dream: to sing the lead in Carmen. Her agent thinks she's found the answer! But Carley finds herself singing at the West Virginia state fair with a country music band call The Car Men - Agents clash, everyone panics, and the singers erupt at the worst possible moments in one of the funniest musicals you will ever experience.
APRIL 5 - May 11
Barter Stage II
MORNING AFTER GRACE
"Hilarious and heart-warming; this unconventional new comedy tackles love, loss, and second chances."
By Carey Crim
Angus and Abigail fall into each other's lives after meeting at a funeral in Florida. Not the first place you'd expect to find romance after clocking plenty of miles on the road of life, but startling surprises come in unpredictable packages. Strangers just the day before, Abigail thinks she may finally be ready to take another chance on love, but Angus has a few issues to work through first. Enter neighbor Ollie, formerly a baseball player for the Detroit Tigers who now enjoys golf and yoga. Nothing is as it seems with this trio and every disclosure reveals a new perspective. This charming and big-hearted comedy takes us on an unexpected journey toward a new lease on life. Just when they think they've got it all figured out, well-traveled people can be rookies when it comes to learning the good stuff. "...a beautiful vignette about life...treated with kindness, humor, and lots of love."
FEBRUARY 8 - March 31
Shakespeare's TWELFTH NIGHT
By William Shakespeare, Adapted by Katy Brown
Outrageous high comedy ensues as the pangs of unrequited love affect the unforgettable characters of Shakespeare's Twelfth Night. While the lovelorn Duke Orsino plots to win the heart of the mourning Olivia, an alliance of servants and hangers-on scheme against the high-handedness of Olivia's steward, the pompous Malvolio. When Orsino engages the cross-dressed Viola, who has disguised herself as a young man under the name Cesario, to plead with Olivia on his behalf, a bittersweet and hilarious chain of events ensues.
April 11 - May 4
Summer 2018
Gilliam Stage
SHREK: THE MUSICAL
Music by Jeanine Tesori, Book and Lyrics by David Lindsay-Abaire
Follow the adventures of Shrek, his sidekick Donkey, Princess Fiona, Lord Farquaad and every fairytale adventure you know and love in this Tony Award-winning musical based on the blockbuster Dreamworks Animation film. A little green ogre grows up to be a big, disgusting, layered hero. Shrek finds himself on a life-changing journey to rescue the feisty princess with his witty and sarcastic friend, Donkey. Along the way, they encounter a lively cookie, a flirty dragon, and a small villain. Can this grumpy, ugly ogre find it in his heart to love someone as ugly as himself? We promise magic to every degree from the music to the costumes and sets. This is a performance the entire family will enjoy!
May 17 - AUgust 10
EXIT LAUGHING
"The Golden Girls" meets "Steel Magnolias"
A comedy by Paul Elliott
For this group of genteel southern ladies, the biggest highlight in their lives for the past 30 years has been their weekly bridge night out with the "girls." What do you do when one of your foursome, whose caustic wit and love of life makes her the bond that holds the four musketeers together, inconveniently dies? If you're Connie, Leona and Millie, three southern ladies from Birmingham, you do the most daring thing you've ever done. You "borrow" the ashes from the funeral home for one last card game; the wildest, most exciting night of your lives erupts involving a police raid, a cheeky male stripper and a whole new way of looking at all the fun you can have when you're truly living. "...uproarious comedy...peels of laughter and tears of joy...." You will certainly exit laughing!
May 30 - August 10

Barter Stage II
CHURCH BASEMENT LADIES
"I enjoyed watching my companions rock with laughter and revel in the show."
Written by Jim Stowell and Jessica Zuehlke,
Music and Lyrics by Drew Jansen
Based on the book Growing up Lutheran
by Janet Letnes Martin & Suzann Nelson
The ladies of the local church fortify their flock with love, wisdom and, of course, the food they prepare in the church's basement kitchen. Bringing their own special brand of humor, the story of the four women, as they organize the food and solve the problems of their church, mixes together wonderful music, endearing characters, and side-splitting scenes to serve up a deliciously delightful journey. Funny and down-to-earth, you will recognize and embrace these ladies as they witness the church year unfold from below the house of God.
MAY 10 - August 11
LA CAGE AUX FOLLES
Music and Lyrics by Jerry Herman, Book by Harvey Fierstein
Based on the French movie of the same name, which later spawned the American movie "The Birdcage," this Jerry Herman musical remains one of the all-time biggest hits worldwide. This multi-Tony Award-wining musical tells the story of a middle-aged show business couple, grappling with aging, fidelity, kids, and holding on to their dignity when the world around them would rather strip it away. At the center is Georges, a St. Tropez nightclub owner, and his husband Albin, who is also the club's erratic drag headliner Zaza. When Georges' son gets engaged to the daughter of an ultra-conservative politician, Georges and Albin agree to hide their lifestyle and play it straight to meet the in-laws. All hell breaks loose, as Albin has a different definition of normal that threatens to upend the entire affair with hilarious results. With an iconic score by Jerry Herman (Hello, Dolly!; Mame) featuring "I Am What I Am" and "The Best of Times" and hilarious book by Harvey Fierstein (Newsies, Kinky Boots), La Cage Aux Folles is a fabulously fun musical about family, identity and loving who you are.
JUne 6 - August 10
Fall 2018
Gilliam Stage
ONCE
A guy who gave up on love and music, and the girl who inspired him to dream again.
Book by Enda Walsh, Music and Lyrics by Glen Hansard and Markéta Irglová
They say opposites attract, but it is their shared love and passion for all things music that draws them together. It is that same spark that drives them into a friendship, collaboration, and a love story. With music that will move you with every note and chord, Once is an emotional and unique romance that tells an elaborate story with great simplicity with all of the magical songs from the critically acclaimed film including the Oscar-winning "Falling Slowly." These two unique characters and dozens of instruments, including cello, violin, and an accordion, will carry you through an electric journey.
August 16 - September 7
THE PRODUCERS
Book by Mel Brooks and Thomas Meehan, Music & Lyrics by Mel Brooks
"Fun, funny and alive!" Mel Brooks turned his iconic cult classic film into a record breaking musical for the stage. A hotshot Broadway producer, who has lost his luck and his partner in crime, attempt to create and produce the greatest failed Broadway show in history. They make a plan to raise $2 million, hire the worst director and actors, and choose the most offensive and doomed show. Although it seems fool proof, their plan may not be as smashing as these two clowns hope. This wildly hilarious comedy will carry you along a journey of dreams and friendship that is surprisingly genuine and poignant. The Producers received the most Tony Awards in theatre history and is considered to be one of the funniest shows ever written.
September 13 - November 9
WAIT UNTIL DARK
"Outstanding...A funny, fast-paced, edge-of-your-seat thriller!"
By Frederick Knott, Adapted by Jeffrey Hatcher
Murder, secret identities, and a switchblade named Geraldine sets the stage for this white-knuckle thriller that will have you screeching with delight! In a new, fresh adaptation of Frederick Knott's original compelling mystery that will have you shrieking out loud, this is the story of Susan Hendrix, a blind yet capable woman, is imperiled by a trio of men in her own apartment. As the climax builds to its unknown conclusion, Susan discovers that her blindness just might be the key to her escape, but she and her tormentors must wait until dark to play out this classic thriller's chilling conclusion.
September 26 - November 9
Barter Stage II
MAYTAG VIRGIN
By Audrey Cefaly
When Jack moves in to a house next to Lizzy they find that they have as many things in common as they do differences, and a relationship that begins as a coincidental, neighborly friendship becomes an unexpected journey of self-discovery and healing. This is a character driven play set in the Deep South. Peopled with quirky yet recognizable characters and full of humor and evocative language, "A radiant gem of light into the ordinary struggles of love, loss, and life."
September 5 - November 10
The Loophole
By Stacey Isom Campbell
Darlene and Charlene, twin sisters from South Carolina, steal $20.5 million from the Department of Defense through a loophole. What begins as an accident turns into a 7-year fraud that these middle-aged Baptist women justify. Funny and touching, The Loophole is a surprising look at greed, grief and the extraordinary journeys of a wounded heart.
September 19 - November 9
Christmas 2018
Gilliam Stage
WHITE CHRISTMAS
Music and Lyrics by Irving Berlin,
Book by David Ives and Paul Blake
A timeless tale of joy and goodwill filled with Irving Berlin's call songs, topped off with glorious dancing and lots of snow makes this a show a holiday classic for all audiences! Irving Berlin's White Christmas is the story of Bob and Phil, two showbiz buddies putting on a production in a picturesque Vermont Inn after World War II. In the bargain, these two meet their perfect mates, who happen to be sisters and honor their beloved army general. Full of romance, laughter and some of the greatest songs ever written, including "Count Your Blessings Instead of Sheep," "Happy Holiday," "Sisters," "Blue Skies," "Snow," "The Best Things Happen While You're Dancing," and the unforgettable title song, Irving Berlin's "White Christmas." Promises to be a merry and bright experience for the entire family!
November 15 - December 29
Barter Stage II
Jacob Marley's Christmas Carol
A Ghostly Christmas Story by Tom Mula
"Marley was dead to begin with. That must be clearly understood or nothing wonderful can come of this story." Finally we get to hear the tale of Dickens' A Christmas Carol told from Marley's perspective, which is wonderful indeed. Desperate and locked in a torment of his own creation, Marley gets one chance for redemption. He must redeem his former partner, Ebenezer Scrooge. This begins a journey of laughter and terror, redemption and renewal, during which Scrooge's heart is certainly opened, but not before Marley - in his irreverent, funny and deeply moving story - discovers his own.
November 20 - December 22
THE SANTALAND DIARIES
Recommended for mature audiences due to language and subject matter
This outrageous holiday comedy stars Crumpet, a rebel without a Claus, who recounts his true-life tale of being an out-of-work writer doing a stint as a Macy's department store elf. His encounters, as an Elf during the season of forced joy, have become a delightful cult classic for those in need of a holly-jolly antidote! A delightfully absurd look at the commercial Christmas season, Sedaris' sharp and hilarious observations have rapidly become one of the nation's most popular holiday shows. Barter's production will feature one of Barter's favorite actors, Nick Piper, as Crumpet.
November 27 - December 29
The Barter Players 2018 Season
The Barter Players are a group of professional artists who perform world-class theatre for young audiences. The troupe presents high-energy and original productions that capture the imagination of today's youth while providing the best in classic literature and beloved story adaptations infused with a unique combination of education and entertainment, plus the commitment to bring world-class theatre to young people of all ages and backgrounds.
The Princess and the Pea
Adapted from Han Christian Andersen by Catherine Bush
The Queen wants her son, Prince Harold, to marry, but Harold has yet to find a princess whom he can love. Then the beautiful maiden Marigold appears at the castle door, and Harold realizes he has met his match. But can Marigold pass the Queen's test and detect the pea placed under her mattress? Will she be able to prove to the world that she is truly a princess?
April 2019
Dr. Seuss's The Cat in the Hat
Adapted by Katie Mitchell from Dr. Seuss
Rights by Music Theatre International
From the moment his tall, red-and-white-striped hat appears around the door, Sally and her brother know that the Cat in the Hat is the most mischievous cat they have ever met. With the trickiest of tricks and craziest of ideas, he is certainly fun to play with-and he can turn a rainy afternoon into an amazing adventure. All of your favorite moments from the classic book by Dr. Seuss come to life on stage.
April-May 2019
James and the Giant Peach
Adapted from Roald Dahl's novel by Richard R. George
Rights by Dramatic Publishing
From the author who brought you Charlie and the Chocolate Factory comes a fantastic story of imagination. James, an orphan, is sent to live with his horrible aunts, Aunt Sponge and Aunt Spiker. His remarkable adventure begins when he finds an ENORMOUS peach in their yard filled with scores of talking insects! Little does he know that this peach and its passengers will take him on a journey across the globe and bring him fame and fortune beyond his wildest dreams.
May-June 2019
The Little Mermaid
Adapted from Hans Christian Andersen by Catherine Bush
It is Syrena's long-awaited 16th birthday - the day she is finally allowed to swim to the ocean's surface and glimpse the world surrounding it. While on her visit there, she saves the life of a human - the handsome Prince Caspian - and falls in love with him. But the sea-witch has other plans for the prince - plans that could destroy them all. Is the Little Mermaid prepared to make the ultimate sacrifice to save her true love? A new telling of a childhood classic.
June-July 2019
Tarzan
Adapted from the book by Edgar Rice Burroughs by Catherine Bush
When Kerchak, the leader of the Great Apes, discovers a human baby in the jungle, his first instinct is to be rid of him. But Kala, his wife, insists on adopting the boy instead, naming him Tarzan. As Tarzan grows up, he struggles to prove his worth to his ape friends and family. Then one day, he meets a beautiful explorer named Jane, and learns the truth about his past. Will Tarzan stay with his adopted family, or take his rightful place in the world of Men?
July-August 2019
The Legend of Sleepy Hollow
Adapted from Washington Irving by Catherine Bush
Sleepy Hollow, a village haunted by the legendary Headless Horseman, has a new schoolmaster-the somewhat hapless and extremely superstitious Ichabod Crane. When Ichabod tries to win the hand of the beautiful Katrina Van Tassel, he makes an enemy of her former suitor, the brawny Brom Bones. Brom vows revenge and, one dark and spooky night, Ichabod finds himself in for the ride of his life!
October-November 2019
'Twas the Night Before Christmas
Adapted from Clement Clark Moore by Catherine Bush
With music by Dax Dupuy
"...And all through the house, not a creature was stirring, not even a mouse." It's Christmas Eve and Clem has no money to give his family presents or even to pay his rent. He puts his children to bed, believing there is hope for a Merry Christmas. "Then out on the lawn there arose such a clatter" and a truly magical night begins that Clem and his family will never forget. See Clement Clark Moore's poem brought to life on stage as only the Barter Players can. It's pure Christmas magic.