BWW Review: WINDING UP at ASB Waterfront Theatre, Auckland
The Giltrap Audi season of Auckland Theatre Company's Winding Up opened at ASB's Waterfront Theatre on Thursday night and was received with resounding applause.
The combination of Sir Roger Hall's script, director Colin McColl's skill and supreme delivery by Alison Quigan and Mark Hadlow (ONMZ) created the synergy for superb entertainment.
Sir Roger Hall maybe in his 80's but he's let us all know loud and clear that he still has 'it'; in fact, this latest work is one of his best.
In Winding Up Hall revisits Barry and Gen, the couple at the centre of his 1990 hit comedy Conjugal Rites which played all over New Zealand and internationally.
It was adapted into a television series in the UK by Granada TV and ran there for two successful seasons.
Barry and Gen are now 30 years older, and although they have retired, these spirited seniors aren't slowing down! With overseas travel to plan, family feuds to settle, the inevitable health problems, and a friend to bury, Barry and Gen put the fun into funerals and discover new complications in conjugal relations.
Director Colin McColl's depth of understanding and respect for Hall's work is obvious. McColl is a humble man with a raw and genuine love for his craft which is revealed is work, time and time again.
McColl's awareness that Halls' characters must be delivered without being they 'sent up' is clear. They must be honoured authentically to reveal the exquisite authenticity of the human condition that Hall encapsulates.

And honour those characters they did. Mark Hadlow and Alison Quigan came to McColl's mind immediately when he first read the script and he was right on the mark. They were great in their individual and collective portrayals.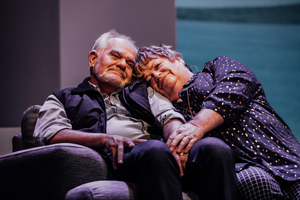 The fragility of our humanity particularly when facing death is delicately played out by Hadlow and Quigan in a frame of normality and humour with perfectly timed revelations of the multi-layers of these characters.
The audience is treated to a prime viewing point and is invited into the lives of the identifiable characters of Barry and Gen.
Quigan's nuances subtly reveal the worry around her husband Barry's deteriorating health with perfection.
Hadlow's skilful physicality, particularly as Barry's health deteriorates is sublime.
Hall's ability to bring the audience into the lives of ordinary people, touching their hearts with humour and poignancy is on full display in Winding Up.
You're going to love it - go see it.
The Matinee Promos are already sold out so don't muck about booking tickets!
Go see it.
Winding Up
Auckland Theatre Company
Until 8th March
Bookings:https://www.atc.co.nz/auckland-theatre-company/2020/winding-up/