BWW Review: RAGTIME at Selwyn Theatre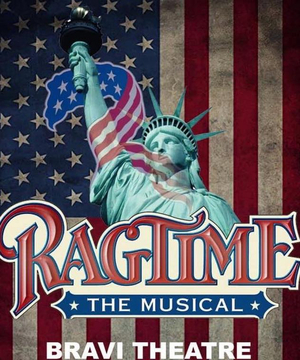 Director: Jarrod Brown
Musical Director Vocals: Jack Barnard
Musical Director Orchestra: Catherine Carr
Choreography: Kim Santarelli and Jarrod Brown
Bravi Theatre Company's 'Ragtime' absolutely puts 'the music in the musical' with a roll-out of sensational vocal performances that cannot be faulted.
The singing, both chorus and solos, put the 'quality in quality' with each number being so good that it was difficult to comprehend that the next one would be too. But out they came, one after the other; simply supreme.
Director Jarrod Brown has assembled a stellar cast that exudes 'x' factor all over the place!
The vocals, yes, mentioning them again - simply outstanding. Accolades to Musical Director Jack Barnard, whom I've heard on good authority, is supremely talented and witnessed it myself. He, along with the Orchestral Director Catherine Carr a well known and respected maestro have delivered, delivered, delivered. What a combination!
That 'x factor' I was talking about extends to the characterisation with some sensational performances that delivered a feast of emotional impact. Issues of racism, identity, and patriotism to name but a few are all addressed with powerful delivery.
This multi-Tony award follows the stories of three different groups in the socially and politically charged climate of the United States, in the early 20th century.

Gerard-Luke Malgas (wow watch out for him!) as 'Coalhouse Walker', John Hellyer's 'Tateh' takes us on the full emotional heart-string journey and Aspasia Tatuila as 'Sarah' - was another standout amongst standout performances.
Loved the choreography, it fitted the mood and worked perfectly! All moves were executed beautifully and the gracefulness noted, particular amongst the experienced and talented performers such as Abbey Doyle-Lissette.
Costuming and set is on point and it is obvious that a lot of work has gone into the details for a great outcome.
Yes there's a lot on offer at the moment but this is worth seeing.
Bravi Theatre's
Ragtime
August 22nd -31st
Selwyn Theatre
Bookings: https://www.iticket.co.nz/events/2019/aug/ragtime
Door Sales may be available.
Related Articles View More New Zealand

Stories

Shows