BWW Review: LAST LEGS at ASB Waterfront Auckland
The atmosphere was jovial and the laughter well shared amongst the near to full house at Auckland Theatre Company's 'Last Legs' at the ASB Waterfront Theatre last night.
There is hope when you find yourself in one of the swanky new rest homes popping up all over the country. You can still rip someone off, have a cheeky 'bit on the side', it's not too late to find solace in art, attempt to save the world and there is meaning in a bit of mahjong.
The name Roger Hall is synonymous with encapsulating New Zealand society and we New Zealanders enjoy a good laugh at our culture.
Hall's characters exemplify that age does not wither, eccentricities are accented, reputations less important and the quest for satisfaction and meaning from life heightens as the reality of mortality looms closer.
The audience easily identified with the residents of the Cambridge Retirement Village. Life does pay you back when Garry (Mark Hadlow) and Trish (Louise Wallace) discover that their children are more interested in their inheritance and have no intention on visiting. Lesson not learned, they revel in making a quick but dodgy buck fleecing fellow residents; Garry keen for a bit on the side and Trish finding satisfaction in looking better than everyone else.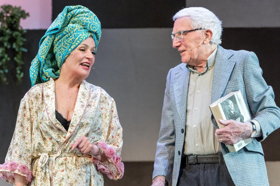 Ageing Professor Angus (Ray Henwood) finds new life in his nether regions and ditches his walking stick when he reunites with the sexy Kitty (Catherine Wilkin) who gives hope that we can still find 'sexy' in our twilight years as she's both willing and able to spice up her day with a bit of loving. She's philosophical that big boobs and booty calls aren't such a bad trade off for not having kids.
Helena (Margaret-Mary Hollins) is the dissatisfied wife suffering the consequences of marrying a man 15 years her senior and but finding solace in her ipad and art classes.
Edna (Alison Quigan) was the only character with an interest in the greater world. Contemplating a return of her cancer she is keen to leave her mark on the world, her money going to Forrest and Bird and her days filled with petitions and protests for paid bottle recycling - like the Aussies.
Mark Hadlow's experience and insight of Roger Hall along with his natural charisma made him a favourite with the audience.
Quigan and Wilkin's diversity of characterisation were highlights in both the poignant moments between Edna and Kitty and in their portrayal of second characters, the very elderly Eve and Jessie.
The interaction between the robust characters that we were treated to was great but I was left wanting more of that and less of the the back stories delivered via direct address.
The clever 1-2 liner asides and Hall's classic monologues (I had the privilege of playing Maxine in Social Climbers) certainly do the trick. This was different and perhaps a matter of personal preference.
There's a good laugh, it's relatable and this will certainly appeal to our greater population who have a piqued interest in Rest Homes. I'm off to get a few brochures....
Last Legs ASB Waterfront Theatre 20 September - 30 September
Book here: https://www.atc.co.nz/auckland-theatre-company/2017-shows/last-legs/