BWW Review: AN APPOINTMENT WITH DEATH at Langley Theatre, Auckland
Matricide is the name of the game in this adaptation of Agatha Christie's novel of the same name.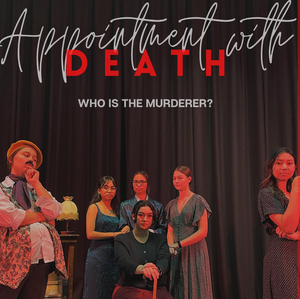 Matricide is the name of the game in this adaptation of Agatha Christie's novel of the same name.
An all-female cast of clever young women delivered an intriguing and highly entertaining performance.
Mrs. Boynton, the stepmother to three children, blackmails the family lawyer into destroying a second will of her late husband that would have freed the children from her dominating influence. She takes herself, the children, and her daughter-in-law on holiday to the Holy Land. At a dig, 'someone is found dead and Colonel Carbery is called in to investigate.
Serena Burke is sensational in her role as matriarch Mrs. Boynton. Burke is a rare talent; understated and her mere presence is spell bounding. This was evident when she sat in silence on stage. Her character's sinister hold over her grown stepchildren is skillfully executed and Ginevra (Dayna Barker); Lennox (Nathalie Fuentes), husband to Nadine (Hannah Tolentino); and Raymond (McKenzie Cuthbert) all deliver eerie layers of morose reflecting the underlying control and fear that Boynton manipulates them with.
Cuthbert's Raymond meets Sarah King (Beatrice Belleza), a perceptive doctor who challenges Mrs. Boynton, refusing to succumb to her control. Belleza literally lights up on stage and she finds her strength within her youth and femininity. She's stunning. The tension between Burke and Belleza and again between Belleza and McKenzie are highlights within highlights.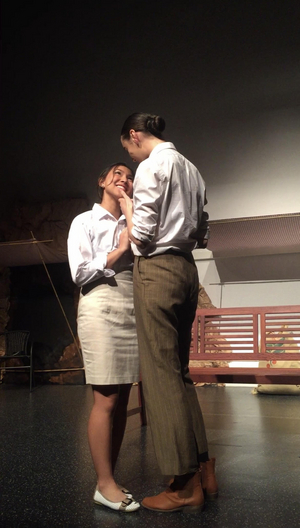 It was very difficult to assimilate that those playing male roles were actually young women. The physicality and nuances of men were so accurately portrayed that all sense of femininity was well extinguished with these performances. Mackenzie Cuthbert played a convincing Raymond Boyton, masculine yet vulnerable. The anxiety of Lennox Boyton, well-delivered by Nathalie Fuentes and the blokey 'ratbag' Alderman Higgs played by Lydia Matheson was equally convincing.
Adding to the challenges of masculine roles was the older Jefferson Cope played faultlessly by Ally Basa. Hannah Houlbrooke took on the challenging role of the older portly Dr. Theodore Gerard complete with a French accent. She was sensational, maneuvering her 'pot belly' as if it was real, and not only was her accent perfect but every word could be heard. This is a very difficult feat that Houlbrooke made it seem effortless
Aeidan Tihanyi rose to the challenge of not only playing aging British Colonel Carbery who was charged with solving the murder but we initially meet her on stage in the role of a young Italian girl. Tihanyi delivered both roles convincingly showcasing a range of techniques that many beyond her years and experience would find challenging.
An aura of comedic relief exuded from Ella Russell and permeated through the audience on sight. Playing Lady Westholme to a 'tee' Rusell embraced her own unique version of this stereotypical character bringing welcomed light relief in all the right places.
Further light relief was delivered in an additional comedic layer with the arrival of tour guide Bindy played by Amy Usherwood. Usherwood's deadpan delivery of a very recognisable stereotypical Aussie was cleverly executed.
Adding to the stereotypes was Miss Amabel Pryce, (Aislinn Taylor) looking every bit the part of an 'English Rose' and portraying herself to be so innocent that she could not have 'done it' - or could she? Aislinn Taylor was again faultless in her role with the right.
Special mention must go to Jordan Braid-Eley who volunteered to play the role of hotel receptionist purely for the love of theatre.
To pull off such a high standard of performance required clever casting, skillful direction, and an imaginative set. Director Adam Middleton has achieved all of those and more. Assisted by Sophie Catlin and Amy Usherwood, the set had a sophisticated simplicity that took the audience from a hotel lobby to the desert background of Petra with subtle ease. Middleton's casting was on point and his work to transform these talented young women into their roles, exemplary.