There'll Be A Whole Lot Of Shaking Going On At Rivertown with MILLION DOLLAR QUARTET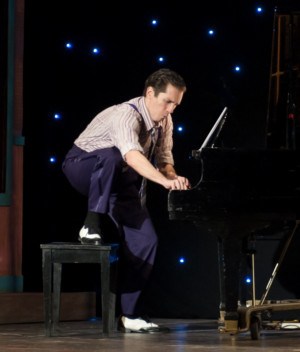 Rivertown Theaters continues to raise the theatrical bar with their premiere local production of "Million Dollar Quartet," one of the most challenging shows for actors who play musical instruments, sing, and portray the four music world's iconic legends who created "Rock & Roll."
The Tony nominated and award winner Million Dollar Quartet is the smash-hit musical inspired by the famed recording sessions that brought together rock n' roll icons Elvis Presley, Johnny Cash, Jerry Lee Lewis and Carl Perkins for the first and only time. On December 4, 1956, these four young musicians gathered at Sun Records in Memphis for what would be one of the greatest jam sessions ever. This thrilling musical brings theatergoers inside the recording studio with four major talents who came together as a red-hot rock n' roll band for one unforgettable night. Million Dollar Quartet brings that legendary night to life, featuring a score of rock hits including "Blue Suede Shoes", "Fever", "That's All Right", "Sixteen Tons", "Great Balls of Fire", "Walk The Line", "Whole Lotta Shakin' Goin' On", "Who Do You Love?", "Matchbox", "Folsom Prison Blues", "Hound Dog" and more.
CAST:
Marc Fouchi Jerry Lee Lewis
Gregg Hammer Johnny Cash
Emily Gyan Dyanne
Ken Goode Sam Phillips
Hubert Tycer Fluke
Sam Dingle Brother Jay
CREATIVE TEAM:
Michael McKelvey Director
Sara Bandurian Costume Designer
Gary Rucker Props Master
Eric Porter Technical Director/ Scenic Designer
Theo Fogleman Sound Engineer
Missy Martinez Lighting Designer
SHOW DATES AND TIMES:
Opening Week: January 12 & 13 at 8 pm and January 14 at 2 pm
2nd Week: January 19 & 20 at 8 pm and January 21 at 2 pm
3rd Week: January 25, 26 & 27 at 8 pm and January 28 at 2pm
INDIVIDUAL TICKET PRICES: $45.90 - Adults $43.71- Seniors $41.51 - Students/Children including taxes.
BOX OFFICE HOURS: Tuesday - Friday from 10 a.m. - 3 p.m. and one hour prior to each performance.
Corporate and Individual sponsorships, season tickets, group and military discounts are available as well. To purchase, please call the Box Office: (504) 461-9475 or (504) 468-7221 or visit www.RivertownTheaters.com
** PREVIEW PERFORMANCE PRIOR TO OPENING NIGHT IS AVAILBLE FOR GROUPS AND FUNDRAISERS AT DISCOUNTED TICKET PRICES. Contact Christy in the Box Office - (504) 461-9475
Rivertown Theaters for the Performing Arts is located at 325 Minor St. in the heart of Kenner's historic Rivertown district. Plenty of free parking is available on the streets around the theater.
Big things have been happening for Rivertown Theaters since Theatre 13's co-artistic directors Gary Rucker and Kelly Fouchi were awarded the management contract by the City of Kenner in the Fall of 2012! Now in its sixth season, Rivertown Theaters for the Performing Arts has critics and audiences singing the praises of this local gem that continues to present Broadway-caliber professional theater year after year. From Tony award-winning musicals and locally penned theatrical works, to children's
theater, Rivertown Theaters has been honored with "Theater of the Year," "Theater Entertainers of the Year" and their productions top the 'Best of" lists in all categories.
The mission of Theatre 13 is to bring new and exciting productions to the New Orleans area while providing local theater artists an opportunity to perform and create, as well as teach and showcase the talents of children of all ages.