Review: POPCORN FALLS at NJ Rep-A Laugh a Minute
POPCORN FALLS at NJ Rep-A Laugh a Minute
New Jersey Repertory Company (NJ Rep) in Long Branch opens their 25th Anniversary Season with the world premiere of Popcorn Falls. It's a lively, entertaining comedy that shouldn't be missed. Cleverly written by James Hindman, the two hander enjoys the finest direction by Rose Riccardi and features the acting talents of James Hindman and Tom Souhrada. Visit the renowned Long Branch theatre and enjoy a laugh a minute.
The small community of Popcorn Falls has a real dilemma. Their waterfall, a tourist attraction, has dried up and there seems to be no future for the bankrupt town and its dwindling population. With the threat of the municipality being turned into a sewage treatment plant, the new mayor plans to use money from a theatre grant to save the town. But a theatre and a play must be created to claim the grant. Time is running out and organizing a show proves challenging for an inexperienced troupe of townspeople. Can the arts save Popcorn Falls along with the hopes and dreams of its residents?
James Hindman and Tom Souhrada perform over 20 roles to convey the hilarious events that unfold in the play. The two actors don't miss a beat as they change characters and deliver the fun, fast paced dialogue. You never know who is going to pop up next. Hindman's rapid transformation from the mayor to the mortician and others couldn't be better. Souhrada captures your imagination as he portrays many characters such as the handyman, the diner's waitress, and the town's deputy. Hindman has included a host of colorful, quirky folks in the story, ones you'll long remember.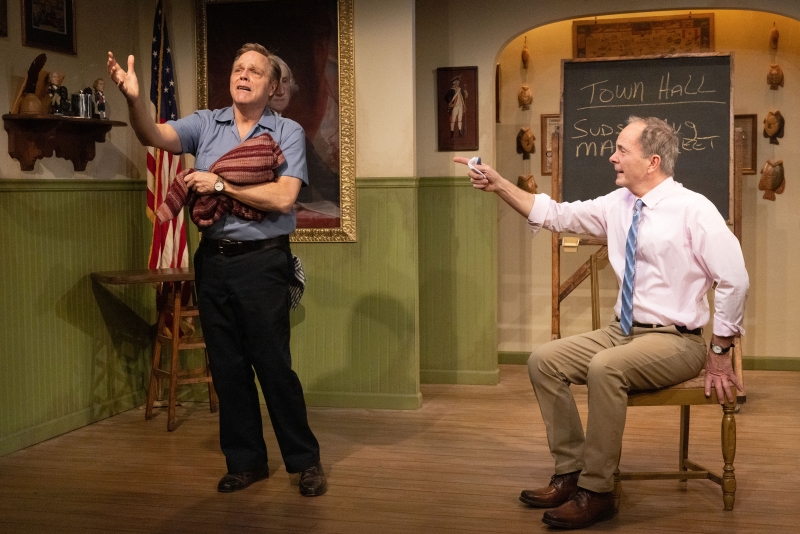 The Production Team has done a terrific job of bringing Popcorn Falls to life. They include Production Stage Manager, Rose Riccardi; scenic design and props by Jessica Parks; costume design. Patricia E. Doherty; lighting design, Jill Nagle; sound design, Nick Simone; Assistant Stage Manager, Rachael Malloy; Assistant Lighting Designer/Assistant Director, Janey Huber; Master Electrician, James Lockhart; Technical Director, Brian Snyder; Scenic Design Assistant, Donna Stiles; and Props Assistant, Blake Robinson.
Popcorn Falls is a one-of-a-kind show that promises patrons a terrific time at the theatre. It's sure to sell out so get your tickets while you can.
New Jersey Repertory Company's now has their 2023 Season subscription on sale with an exciting line-up of shows. There are many options for patrons that include the NJ Rep Annual Subscription, a Monthly Subscription, and a three-play Flex Pass. It's an opportunity to enjoy and support the top new plays that the theatre produces.
New Jersey Repertory Company is located at 179 Broadway, Long Branch, NJ 07740. The theatre entrance is in the rear of the building with plenty of convenient, free parking. Popcorn Falls will be performed on Thursdays and Fridays at 8:00 pm; Saturdays at 3:00 pm and 8:00 pm; and on Sundays at 2:00 pm. The play's run time is 90 minutes with no intermission. Ticket prices range from $35 to $60. For ticketing and more information, visit www.njrep.org or call 732.229.3166.
Photo Credit: Andrea Phox Photography