Review: CLYDE'S at George Street Playhouse-A True Gem of a Play
Review: CLYDE'S at George Street Playhouse-A True Gem of a Play
"Just cause you left prison doesn't mean you're out of prison." by Montrellous in Clyde's
George Street Playhouse (GSP) is presenting the lively and moving comedy, Clyde's. Written by the two-time Pulitzer Prize winning playwright, Lynn Nottage, the show enjoys inspired direction by Melissa Maxwell. The play, that was on Broadway from 2021 to 2022, is making its New Jersey debut at the New Brunswick Performing Arts Center (NBPAC) through February 19. We completely agree with GSP's Artistic Director, David Saint who stated, "Our audience will savor every bite of this delicious Tony-nominated feast of a play!"
Set in the kitchen of a truck stop sandwich restaurant, Clyde's tells the story of four formerly incarcerated people, Letitia, Raphael, Montrellous, and Jason, who have been hired as sandwich makers by the eatery's brash owner, Clyde. Even though she had served time in prison, Clyde is unsympathetic and mean to the four workers, but their options for other employment are few. The story of each of the four kitchen workers reveals the struggles that one faces upon re-entering society after being incarcerated. Yet when the workers, led by Montrellous, share their ideas for new sandwich types, they soon learn that making food has the power to heal and transform.
The cast delivers Lynn Nottage's sharp, clever dialogue impeccably. The five actors are perfectly cast in their roles making Clyde's captivating from the first moment to the last. The company includes Darlene Hope as Clyde, Gabriel Lawrence as Montrellous, Sydney Lolita Cusic as Letitia, Xavier Reyes as Rafael, and Ryan Czerwonko as Jason. The understudy for Rafael and Montrellouse is Rafael Jordan and the understudy for Clyde and Letitia is Cherita Armstrong.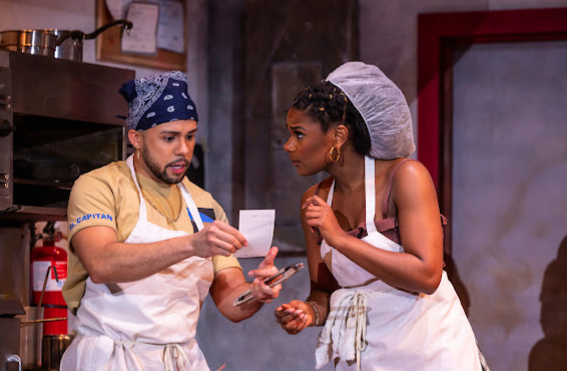 Some of our favorite moments in the play include Clyde refusing to taste one of Montrellous' sandwich creations; Jason being told by the other staff members never to smile at Clyde; Clyde distributing food deliveries in the kitchen; Jason revealing his living situation; Clyde insisting Rafael fry spoiled fish; Letitia dreaming up the best date she could have; Rafael inviting Letitia out for her birthday; the restaurant being mentioned in a newspaper; and Montrellous proudly describing his brother's accomplishments.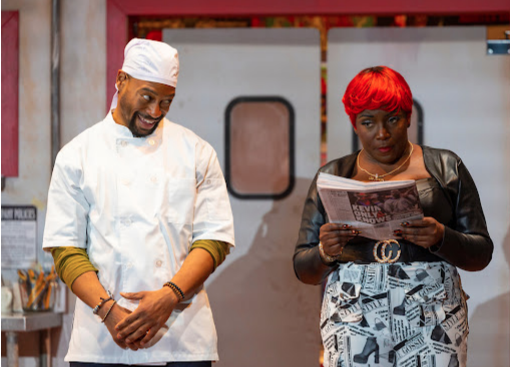 The Design and Production Team has done a fabulous job of setting the stage for Clyde's. They include scenic design by Riw Rakkulchon; costume design by Azalea Fairley; lighting design by Cheyenne Skyes; sound design and original music by Scott O'Brien; and hair and makeup design by Fre Howard. Christina M. Woolard is the Production Stage Manager and Gabriel Lawrence is the Fight Captain.
Treat yourself to a theatre production that promises to amuse and inform. Clyde's is a gem of a play that we know our readers will appreciate and long remember.
George Street Playhouse at New Brunswick Performing Arts Center is located at 8 Livingston Avenue, New Brunswick, NJ 08901. The state of the art venue is convenient to mass transit options and nearby parking. Tickets for Clyde's begin at $25. For subscriptions and group discount information visit https://georgestreetplayhouse.org/ or call 732-246-7717. Note that the play contains adult material and language.
Editor's Note: We are impressed and pleased that Clyde's is being produced in New Brunswick, the city that houses Elijah's Promise. This organization serves people with meals, a baking and pastry course to give clients critical job training, a mobile meal program to serve food insecure neighbors, distribution of clothing and hygiene products along with helping people to access housing, SNAP and other social service benefits. For more information visit www.elijahspromise.org.
Photo Credit: T. Charles Erickson