BWW Interview: Armand Schultz in AMERICAN HERO at GSP 1/30 to 2/25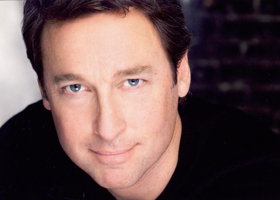 George Street Playhouse (GSP), now located at 103 College Farm Road in New Brunswick, will present Christopher Demos-Brown's gripping military drama American Hero. Directed by the Playhouse's Artistic Director, David Saint, the show will be on stage from January 30 through February 25.
In American Hero, an Iraq war hero's perfect life starts to unravel when a fellow veteran seeking justice shows up threatening to expose a hidden past. From the author of last season's American Son, this raw, gritty drama shines a light on how America honors its veterans, the corrupting effect of awards and commendations, and questions what it truly means to be a hero. American Hero joins American Son and a yet-to-be titled new work to create a trilogy of plays exploring American injustice. American Hero is the recipient of the Steinberg Award Citation from the American Theatre Critics Association.
Broadwayworld.com had the pleasure of interviewing Armand Schultz who plays Rob in American Hero.
Armand Schultz's credits include: At George Street Playhouse: The Spitfire Grill, Jolson Sings Again. Broadway: Frost/Nixon, The Herbal Bed, A View From the Bridge, The Secret Rapture. First National Tour: Billy Elliot, Chicago/Toronto Companies. Off-Broadway: Our Town, The House In Town, Stuff Happens, King Lear, The Spitfire Grill, Sight Unseen, Cyrano de Bergerac. Regional: The Guthrie Theatre, Williamstown Theatre Festival, Ogunquit Playhouse, Westport Country Playhouse, Baltimore Center Stage, among others. Film: Crown Heights, SALT, Burn After Reading, The Happening, Vanilla Sky. Recent Television: Mr. Robot, Madam Secretary, The Blacklist, Chicago Fire, The Normal Heart. Upcoming: Big Dogs. Mr. Schultz is member of The Actors Center and a lifetime member of The Actors Studio.
What was your earliest interest in the performing arts?
My mother was an avid movie fan and took me to many films of different genres that I would not normally have seen as a child. My father worked for Kodak, where there were screenings of films every weekend for employees and their families that we attended often. I had an 8mm film camera, Kodak, and I would make small films for school projects whenever I could. Film and television fascinated me.
I got involved in Theatre at Niagara University, where I was studying Communications with a goal toward becoming a filmmaker. I approached the Director of the Drama program, Br. Augustine Towey, to see if it was possible to become involved with the productions, so that I could learn about directing and working with actors. He offered me a position to work on the tech crew; they needed someone to learn the "fly rigging" for Peter Pan. From that introduction to their excellent theatre program, I moved to props, lighting, set building, and eventually, the actors "dared" me to audition. I was cast in Romeo and Juliet and that was the beginning.
Tell us a little about your education or professional training.
At Niagara University, I learned an incredible amount from Br. Augustine Towey and Tim Ward, who were the directors of all of the shows that I was involved in. By the time I graduated, I had been in about twenty plays and musicals of all different styles. I chose to pursue an MFA in Acting, as opposed to Graduate Film School, and I attended The Catholic University of America on a scholarship. Mark Hammer, Bill Graham, Sr. and Jim Waring were my acting teachers there. Mark was a member of the resident company at Arena Stage and Jim Waring ran the Olney Theatre, so very experienced working professionals taught me. In NYC, I studied with Nikos Psacharopoulos and eventually was invited to become a member of The Actors Studio by Arthur Penn, who I was working with at the time.
You have impressive credits that span theatre, film and television. What are some of the challenges of working in a variety of performance genres?
In the film and TV industry there is little rehearsal and sometimes none at all, depending on the director or production. You have to make your choices on your own and then you may get a few "takes" to give the performance you want for a given scene and then move on to the next. You may also do multiple "takes" of the same scene to "cover" other actors, so keeping your performance energized is key. Once its shot, you won't ever play that scene again. (Unless there are reshoots.) In Film/TV, it's the camera and an "audience of one", the director.
In theatre, there is a longer rehearsal process where you are free to explore different choices for your character, in collaboration with the director and fellow actors. You can craft your performance in a framework that will suit the play and your character. The run of a play gives you eight performances a week in front of a "live "audience to continue to work on that character and strive to get it "right." We never do. There is always something you discover and the audience is a vital presence in that discovery process. As for musicals, add singing and dancing to the mix and you will discover what you should have worked harder at in training.
GSP is an outstanding theatre. Why do you think it has such a great presence in the metro area?
I would say that answer is David Saint. I have had the pleasure to work with him on four productions, this is my third at George Street, and each one has been a new and exciting work. David brings new plays by emerging playwrights, as well as original interpretations of previously produced dramas and musicals to New Brunswick. The theatre's close proximity to NYC allows David to pull from an incredible talent pool of actors, directors and designers. George Street's incredible support staff makes it a joy to work here. David's leadership and artistic vision have made this a vibrant artistic home for artists and his audience.
Tell us a little about your role as Rob in American Hero.
Rob is a Marine Corps Captain, returning Iraq War Veteran. He is a recipient of The Medal of Honor. He is a single father, raising a 17 yr old daughter. Divorced, he is dealing with raising his child, as well as the aftereffects of his time in combat. I don't want to say too much more about him, as there is an element of mystery in the play and I wouldn't want to spoil that for the audience.
What would you like metro area audiences to know about the show?
This show has a lot to do with the concept of "heroism." What makes a hero, who are our heroes and why? How does America treat its returning war veterans? What support is there for them and how is that doled out by institutional biases or prejudices? The characters in this play show how certain choices, made or accepted, create internal conflicts and create secrets that may never come to light. What do you do when confronted with those secrets?
Anything else, absolutely anything you want BWW readers to know!
I am currently Chairman of the Board of The Actors Center in NYC, which has been in existence for more than 20 years. We are a company of over 250 actors; you will know many of us from TV, film and theatre. We are dedicated to the continued development of the Actor's craft. We engage in workshops with the top Acting, Voice and Movement teachers from the U.S. and abroad to expand and challenge our creativity. Check out our info at http://theactorscenter.org/.
For the future?
As of now, I'm not sure what's next up after this. I will be on a web series, "Big Dogs" which will begin airing sometime in March. I have begun writing a script for a possible Television pilot, which I hope to finish by the end of summer.
George Street Playhouse is located right off Route 1 on the Cook Campus of Rutgers University. The Playhouse's new interim venue features expansive lobby spaces, an outdoor patio and free nearby parking. The entrance into the building and to all areas of the theatre are barrier-free. For directions to George Street Playhouse, visit the Playhouse website and click on "Directions" on the homepage. To purchase tickets or for more information, visit George Street Playhouse online at https://georgestreetplayhouse.org/ or call the box office at 732-246-7717.
Photo Credit: Courtesy of Armand Schultz