Click Here to Visit the College Center

Blogs are the opinions of the authors and do not necessarily reflect the opinions of BroadwayWorld. BroadwayWorld believes in providing a platform for open and constructive conversation.

BWW Blog: CRACKER BOX by Gary C. Walter, A Staged Reading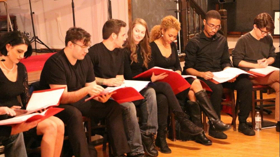 On Saturday, November 10th I had the pleasure of working with a theatre company that is so near and dear to my heart. It had been some time since I've last worked with La Strada Ensemble Theater and I felt my heart flutter as I walked into the Jersey Shore Arts Center to a group of lovely, talented, and inspiring people. It was a day full of performances for La Strada as they had a program of original one acts, Happenstance at 2PM and 8PM with the reading of "Cracker Box" by Gary C. Walter between shows at 4PM.
La Strada Ensemble Theater is a theatre company run by artistic director A.J. Ciccotelli, whom I know from being my inspiring and passionate acting instructor from my performing arts high school. With performances locally in Asbury Park and occasionally off-Broadway, the mission of La Strada is "to present original plays that examine all aspects of the human condition".
My personal connection with La Strada Ensemble stems from my first non-school show in 2015! Thanks to Mr. Ciccotelli I was a performer in two one acts in the CHANCE Festival and performed both in Asbury Park and NYC. This past weekend La Strada produced Happenstance, an evening of one acts of the same theme and wonderfully, I felt as though everything had circled back to the place and people I loved.
Gary C. Walter's beautiful play "Cracker Box", is about two male soldiers falling in love during the height of the Vietnam War. With themes involving prejudice, interracial love, pregnancy, and death, Walter's piece depicts human conflicts and stories taking place in the midst of the war. The staged reading was directed by the lovely Dr. Donna Ault-Jacobson and stage directions were read by playwright/director, Tom Cavanaugh. The story was performed through a talented cast that I had the honor of working with- Derek Alberti, Emé Bentancur, Evan Black, Amanda K. Dunsdon, Darin F. Earle II, Dylan Evans, Veronica James, Nathan Magno, Ben McGowan, Alexandria Pascucci, and Paul Wargelin.
I had the honor of reading for the characters "Lon" and "Frenchie" for the day and was extremely excited to be brought together with the cast for our rehearsal on the morning of the show. After our morning rehearsal I had the chance to watch Happenstance which was on the same floor of the building. While there I was inspired once again by such talented actors, directors, and playwrights. After viewing the show, other actors and I made our way back to the cafe venue for our staged reading.
I was so glad to be apart of the telling of such a beautiful play. With it being the day prior to Veterans Day, it was the perfect way to get this personable war story presented, especially in the presence of veterans like the playwright, Gary C. Walter, and cast member, Evan Black. I'd like to thank Gary C. Walter for writing an amazing play like "Cracker Box", Dr. Donna Ault-Jacobson for being so kind and giving me the opportunity to work on this project, and A.J. Ciccotelli for running an incredible theatre company like La Strada. There are times when I find myself surrounded by people with such radiant energy and can't help but feel incredibly grateful; that was one of those days.
I hope whoever reads this knows to surround themselves with positive people and tell stories with a purpose. If you aren't already familiar with La Strada Ensemble Theater, check out their website here for more information on future shows and how to get involved! #VivaLaStrada!
Photos by: A.J. Ciccotelli