BWW Review: Raucous and Irreverent, THE BOOK OF MORMON Continues to Convert Legions of Musical Theater Fans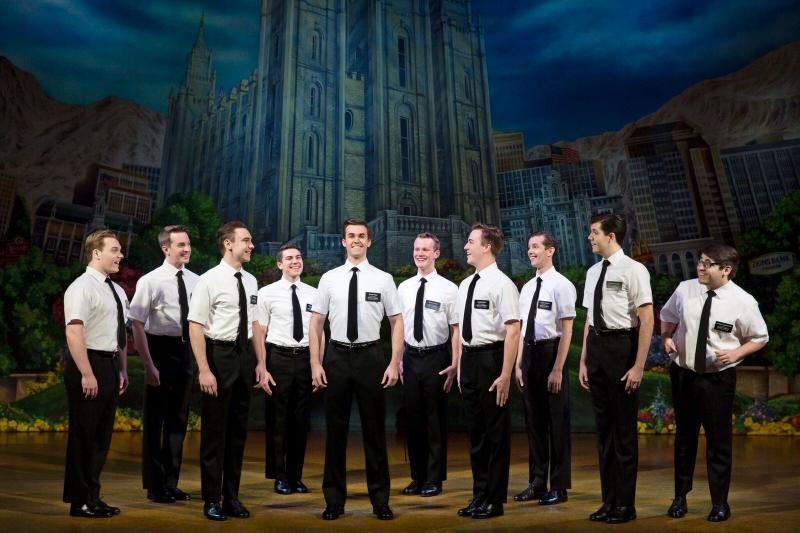 Even on its third stand at Tennessee Performing Arts Center's Andrew Jackson Hall, The Book of Mormon - that irreverent yet heartfelt musical from Trey Parker, Robert Lopez and Matt Stone - remains just as profound and profane as you remember. And it's still so thoroughly delightful and awesomely entertaining that you might even feel as if you're seeing it for the first time.
For those "latecomers" to The Book of Mormon, we can report their reaction to the show's unbridled fun and oftentimes shocking words are just as potent - maybe even overwhelming judging by the standing ovation awarded the cast last night in Jackson Hall - as they were when the show first debuted on Broadway in 2011. It's a rollercoaster ride of wildly musical and theatrical abandon, joyful and outrageous, offering proof that as long as you have a talented cast assembled onstage you can bet audiences will be as enthusiastic as ever, embracing the show's universal message of faith and hope that has been its hallmark for the past eight years.
Everything you have read about the show or been told about it by friends is inexorably true, but you may still be surprised by what happens on the Jackson Hall stage over two-plus hours of vibrant and fast-paced storytelling. The show's subject matter remains controversial: an in-your-face tale of two young Mormon missionaries sent to Uganda to score some converts to their faith, which, if you peruse the religion's Wikipedia page, will leave you scratching your head about its genesis (not to be confused with the Old Testament book of Genesis, mind you). And while The Book of Mormon pokes fun at religious conventions and conservative thought, it somehow is still respectful, with its own way of walking a very fine line, of its subject matter. In fact, it's rather sentimental and sweet.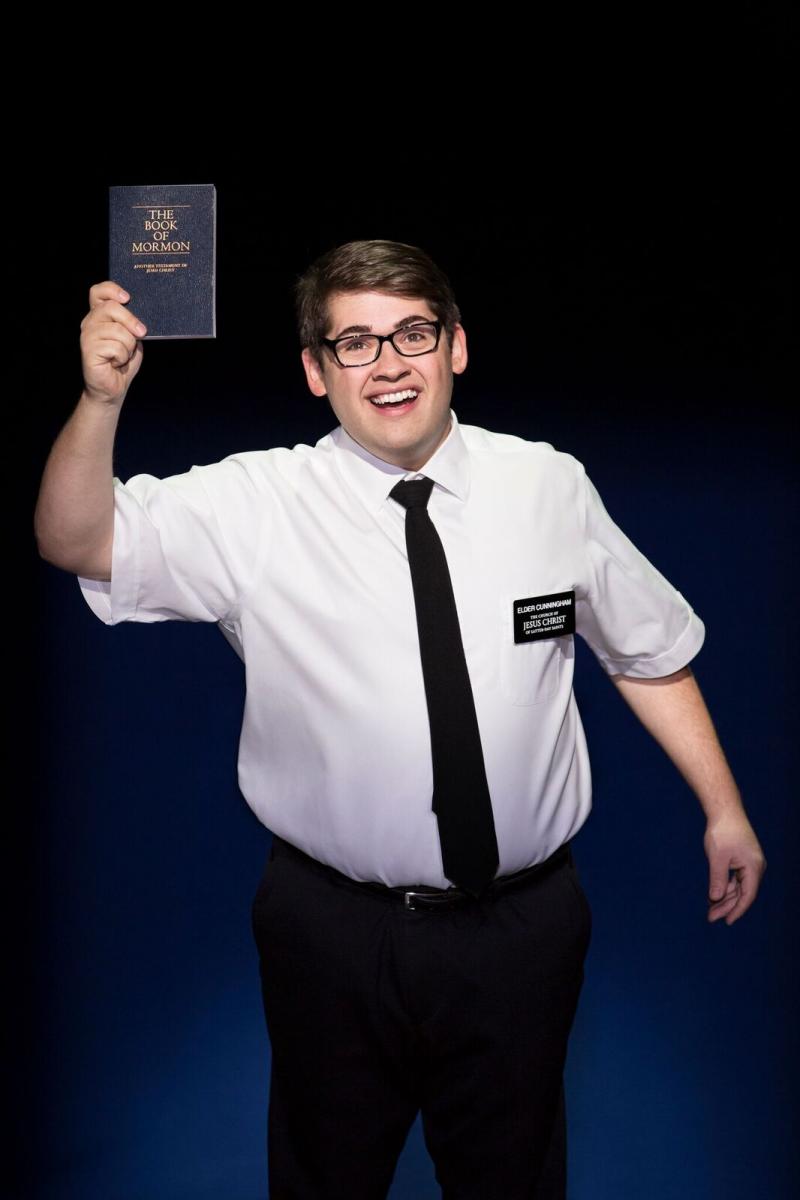 Don't believe me? Consider this: when Elder Kevin Price (played by the handsome, charming and oh-so-talented Liam Tobin) approaches his missionary companion Elder Arnold Cunningham (Conner Peirson's impeccable timing and big voice will bowl you over) to tell him how proud he is of his best friend, odds are your gonna have all the feels. You will be so moved by the turn of events that your emotional reaction may shock you, but - unless you have no heart at all - you'll probably be wiping away an errant tear here or there, so evocative is that particular moment.
Make no mistake about it, in that way - the very way the show moves you with its total commitment to storytelling and to elicit a completely unexpected response - The Book of Mormon is brilliant!
In a plethora of ways, The Book of Mormon is a traditional, straight-forward Broadway musical. The script allows for the conventions of musical theater (as we have come to know and love it) to shine with an apparent respect for the genre (seriously, who knew the guys who created South Park were diehard musical theater aficionados? Anyone who's ever paid attention to what they've been doing for years - that's who.) and a clear understanding of what works - and, clearly, what doesn't - in telling a comedic, if thoroughly compelling, story. And it's all set to music which allows characters to burst into song when their emotions demand it to perform an upbeat little ditty or heartfelt ballad or big, ballsy and brassy production number complete with drop-dead gorgeous chorus boys tap-dancing their cute butts off.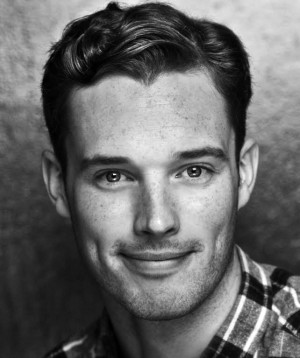 What sets The Book of Mormon apart from the rest of the pack of outsized Broadway hits, both historical and otherwise, is the show's hold-nothing-back attitude that comes over the footlights to inspire its audience to clamorous, adoring heights. Parker, Lopez and Stone push the creative envelope - hell, they rip it to shreds with their choice of colorful language that may shock or cajole you into some newfound sense of theatrical transformation. If you don't leave the theatre wanting more from the superb cast and crew and creative team for this national touring company, you obviously were distracted by the flotsam and jetsam of the real world.
The Book of Mormon is the story of the two aforementioned Mormon missionaries: Elder Price (Tobin, who's got the stage presence to keep all eyes riveted to him throughout the performance and a voice to raise the rafters; see "You and Me (But Mostly Me)" and/or "I Believe" for proof positive), who is the quintessential poster boy of the Mormon faith in the 21st Century, accepting its teachings with only a raised eyebrow every so often to prove he has a brain. Price is paired for his two-year stint as a Mormon missionary in Uganda with Elder Cunningham (Peirson plays the obvious anti-Kevin with barely disguised glee, imbuing his performance with pure joy and bravado, as evidenced by his Act One closer, "Man Up").
Although Price and Cunningham are genuinely well-meaning (even if the latter is prone to exaggeration and outright lying when he is so moved), there was nothing about their training in Salt Lake City that could have prepared them for the realities of life in Uganda, which is rife with famine, poverty and disease, torn apart by feuding warlords (personified by General Butt-Fucking Naked, played by Corey Jones, who blusters about ordering the village's women to submit to clitoral circumcision and shooting villagers courageous (or foolish) enough to challenge him) and the myriad issues that confront Third World inhabitants in the 21st century. In short, the Africa portrayed in The Book of Mormon is nothing like The Lion King, no matter what those Disney-loving Mormon missionaries of District 9 would have you believe.
As Nabalungi (variously referred to as "Jon Bon Jovi," "Neutragena," "Nabisco" and "Neil Patrick Harris," among other malapropisms, by the thoroughly smitten Cunningham), Kayla Pecchioni gives a pitch-perfect performance, able to capture her character's innocence and naivete with an easy grace, while conveying the grim realities of her life with compelling authenticity. Pecchioni's confidence shines brightly in "Sal Tlay Ka Siti," in which she expresses her heartfelt desire for a better life.
The foul-mouthed, if consummately focused, villagers (whom first we meet via "Hasa Diga Ibowe" - a production number whose name translates so profanely that we'd be burned at the stake if we told you what it means) include Mafala, Nabalungi's protective father (Jacques C. Smith) and the village doctor (played by Isaiah Tyrelle Boyd) who suffers with a particularly gruesome malady (he has "maggots in [his] scrotom).
Leading the contingent of Mormon missionaries in District 9, Andy Huntington Jones delivers a wonderfully arch performance as the fabulous and fey Elder McKinley who, with his fresh-faced and wide-eyed compatriots, urges Price and Cunningham to "Turn it Off" in a full-blown tap-dancing number, replete with sequined vests, that just about stops the show.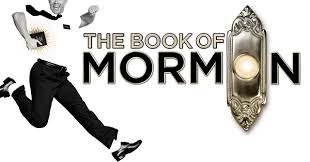 The show's direction by Trey Parker and Casey Nicholaw keeps The Book of Mormon fresh and fantastic, to be certain, and guarantees there's never a dull moment in the shows two hours and 20 minutes of show business wizardry and top-flight entertainment. Nicholaw's showstopping choreography ensures the audience's rapt attention and fills the theater with enough energy to power the Music City skyline for years to come. "Spooky Mormon Hell Dream" and "Man Up" will knock your freakin' socks off.
To give credit where credit is due, we humbly suggest Parker and Nicholaw be deified for the show's pacing and sense of urgency, which the keeps the forward momentum going throughout, creating a sense of theatrical magic that is delightful and engaging. In fact, musical theater has never seemed so exhilarating.
The Book of Mormon. Book, music and lyrics by Trey Parker, Robert Lopez and Matt Stone. Directed by Casey Nicholaw and Trey Parker. Music supervision and vocal arrangements by Stephen Oremus. Choreographed by Casey Nicholaw. Presented by Broadway at TPAC at Andrew Jackson Hall, Tennessee Performing Arts Center, Nashville. Through Sunday, March 17. For ticket information, call (615) 782-4040 or go online to www.tpac.org. Running time: 2 hours, 20 minutes (with one 15-minute intermission).
Production photos by Julieta Cervantes

Related Articles
Jeffrey Ellis is a Nashville-based writer, editor and critic, who's been covering the performing arts in Tennessee for more than 35 years. In 1989, Ellis (read more...)