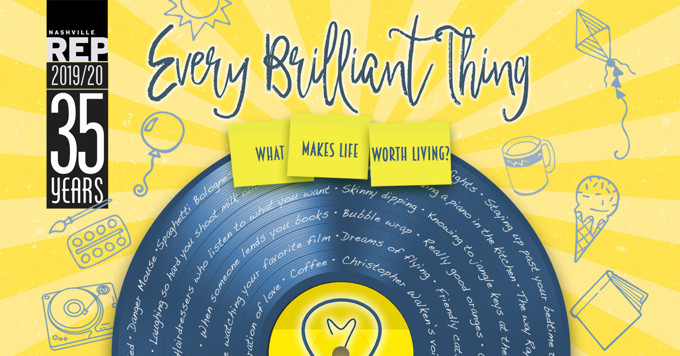 THE PLAY'S THE THING: Nashville Rep's Playwright-in-Residence Nate Eppler
May 10, 2019
Today, we continue with our in-depth look at the Ingram New Works Project with a conversation with Nate Eppler, Nashville Rep's playwright-in-residence, whose work with the new playwrights has been an integral part of the experience since it first began. Eppler's new play, This Red Planet, will be given its world premiere production by Nashville Rep during its upcoming 2019-20 season. (more...)
Nashville Rep Reveals 35th Anniversary Season, Leading Off With URINETOWN THE MUSICAL
April 19, 2019
On the heels of a year that BroadwayWorld.com called 'their best season ever,' Nashville Repertory Theatre will kick off the celebration of its 35th season with a slate of shows designed to appeal to the most discerning of audiences. Nashville Rep artistic director Rene D. Copeland announced the slate last week during a cocktail party at Cabana restaurant in Hillsboro Village, much to the delight - and applause - of those gathered for the big reveal. (more...)
NASHVILLE REP PRESENTS EVERY BRILLIANT THING FOR ONE WEEKEND ONLY
Nashville Repertory Theatre continues their 35th Season with Every Brilliant Thing, an immersive, interactive piece of theatre that reminds audiences about everything wonderful in the world. Every Brilliant Thing will run at TPAC for one weekend only, November 7-10.
The show's sole performer tells his story beginning at age seven when his mother attempts suicide for the first time. He begins a list for her of all the best things in life, from ice cream to the color yellow to the smell of old books. As the narrator experiences university, love, and his first heartbreak, the list grows to encapsulate thousands of reasons to love life, both simple and profound. Peppered with audience interaction and the music of artists including Ray Charles and Etta James, Every Brilliant Thing is designed to bring audiences in and make them feel like part of the story.
Every Brilliant Thing was written by English playwright Duncan Macmillan and originally performed by Jonny Donahoe. Nashville Rep's production stars Mark Cabus, an accomplished actor, writer, and director with nearly 50 years of experience, and a professor at Vanderbilt and Belmont Universities. It is directed by Lauren Shouse, who directed the Rep's production of Avenue Q last season.
Audiences will leave Every Brilliant Thing looking at the world a little bit differently, aware of all the small things that make life worth living. They will also be able to put pen to sticky note after the show, where Nashville Rep will invite everyone to add their own brilliant things to a board in the lobby.
After the performance on Friday, November 8, Nashville Rep and Centerstone will host a Talkback to discuss the show's themes of mental health and suicide. The panel will feature Centerstone leaders Becky Stoll, Vice President for Crisis and Disaster Management, and April Scott, Infant and Early Childhood Program Manager. Every Brilliant Thing's director Lauren Shouse and star Mark Cabus will also be on the panel. LaTonya Turner will moderate.
Every Brilliant Thing begins on November 7 and continues through November 10 at TPAC's Johnson Theater. Purchase tickets and learn more by visiting nashvillerep.org or calling the box office at 615-782-4040.
ABOUT NASHVILLE REPERTORY THEATRE
Since 1985, Nashville Repertory Theatre has been Nashville's premier regional theater, creating the highest quality professional productions and serving as a cultural, educational, and economic resource in Nashville and Middle Tennessee communities. Nashville Rep produces work that is designed, built, and rehearsed in Nashville by highly skilled actors, designers, directors, and technicians. A non-profit theatre, Nashville Rep is committed to bringing classic and contemporary theatre to Nashville that inspires empathy and prods intellectual and emotional engagement in audiences.