Photo Coverage: First Night Nashville Theatre Honors, THE SHOW
While its running time - over four hours - was long by anyone's standards, ask audience members at last week's First Night Nashville Theatre Honors about the show itself and you'd get rave reviews. A cast of more than 125 performers took to the stage of the Troutt Theatre at Belmont University to fete the eight members of the 2010 Class of First Night Honorees in a production that featured the best of the best of Nashville theater and included a surprise appearance by Joseph Mahowald, winner of a 1989 First Night Award, now playing the role of Franklin Hart Jr. in the national tour of 9 to 5: The Musical, which opened in Nashville at the Tennessee Performing Arts Center on Tuesday, September 21.
The honorees - who included Scot Copeland, producing artistic director of Nashville Children's Theatre; Paul Gatrell, chair of the department of theatre and dance at Belmont University; Kathleen O'Brien, president and CEO of the Tennessee Performing Arts Center; A. Sean and Robert A. O'Connell, co-founders of ACT 1 and GroundWorks Theatre; Mac Pirkle, founder of Southern Stage Productions and co-founder of Tennessee Repertory Theatre; actor/director/producer Barry Scott, theater faculty member at Tennessee State University; and stage manager Shannon Wood, co-founder and owner of Darkhorse Theater - had been spotlighted earlier in the week on Monday, September 13 at the First Night Symposium and were presented their First Night medals on Thursday, September 16, during the Honorees' Dinner, held at Germantown Cafe, and hosted by First Night founder and executive producer Jeffrey Ellis, who covers Nashville and Tennessee theater for BroadwayWorld.com.
Under the direction of Jane Kelley Watt, the First Night Orchestra provided the musical accompaniment for the Sunday, September 19, gala at the Troutt Theatre, which began with the Macy's Red Carpet Event, hosted by Trey Palmer and Jennifer Richmond, with fashion commentary provided by Richard Browder and Cary Street. First Night audience members also took part in a Silent Auction, chaired by Scott Logsdon, Aurora Daniels and Andie Sanders, in the lower lobby of the Troutt Theatre prior to curtain.
Presenters for the evening includEd Matthew Carlton, Vali Forrister, MeLinda Bates, Megan Murphy Chambers, Jack Chambers, Eric Pasto-Crosby, Rene Dunshee Copeland, JoAnn Coleman, Johnny Peppers, Brittany Byrd, Brenda Sparks, L.B. Gaiters, Cinda McCain, Matt Logan, Jake Speck, Christi Dortch, Denice Hicks and David Compton.
The show's program featured an opening number from the Boiler Room Theatre's casts of Rent and Nine; Street Theatre Company's cast of The 25th Annual Putnam County Spelling Bee; Chaffin's Barn Dinner Theatre's cast of Smoke on the Mountain Homecoming; Dance Theatre of Tennessee's performance of their original work, Swimming the Cumberland; and scenes from Rhubard Theatre's Potty Talk; Amun Ra Theatre's Waiting for Godot; ACT 1's Who's Afraid of Virginia Woolf; David Lipscomb University's Doubt; Actors' Bridge Ensemble's All My Sons and Vincent in Brixton; Nashville Shakespeare Festival's Love's Labor's Lost; Sista Style's Fly Girl; and Metro Parks' Theater Department's Signs of a New Day: The Z. Alexander Looby Story.
Among vocalists in the spotlight were Laura Thomas Sonn, Holly Shepherd, Martha Wilkinson, Joshua Waldrep, Darin Richardson, Yvonne Smith, Tyson Laemmel, Rona Carter, Bakari Jamal King, JoAnn Coleman, Benjamin Van Diepen, Tim Fudge, Shelean Newman, Garris Wimmer, Jenny Norris-Light, Linda Sue Simmons-Runyeon, Ann Street-Kavanaugh, Kelvin Amburgey and Carolyn German.
The show's finale featured an all-star chorus of Nashville stage stars performing "Sunday" from Stephen Sondheim's Sunday in the Park With George and local favorites Laura Thomas Sonn and Cori Laemmel singing "For Good" from Wicked.
Photographs from First Night are courtesy of Trish Crist, Fran Bell Cole, Rick Malkin, Jennifer Richmond, Stacy Battles and Tracey Barnes Hughes.
Portrait of the First Night Honorees by artist Matt Logan.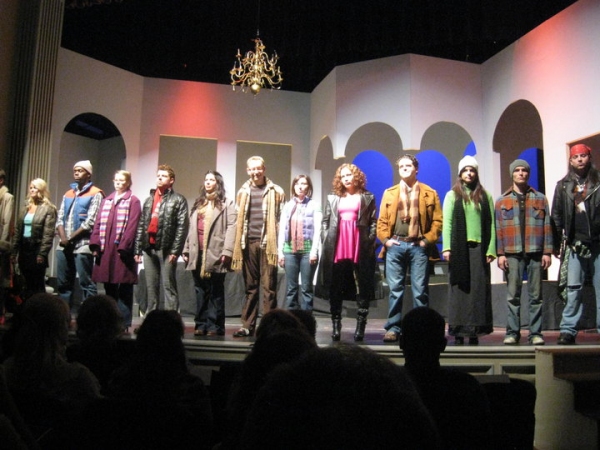 The cast of Boiler Room Theatre's RENT performs "Season of Love" to open the show.

Laura Thomas Sonn and Cori Laemmel close the show with "For Good."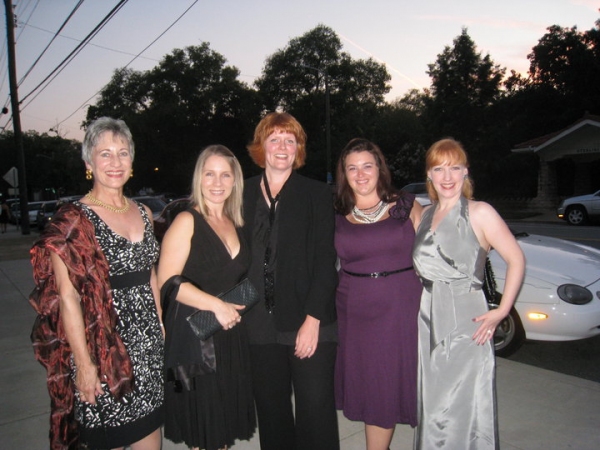 Wesley Paine, Robyn Berg, Trish Crist, Katie Veglio and Lisa Marie Wright on the Red Carpet.

Playwrights Trish Crist and Nate Eppler on the First Night Red Carpet.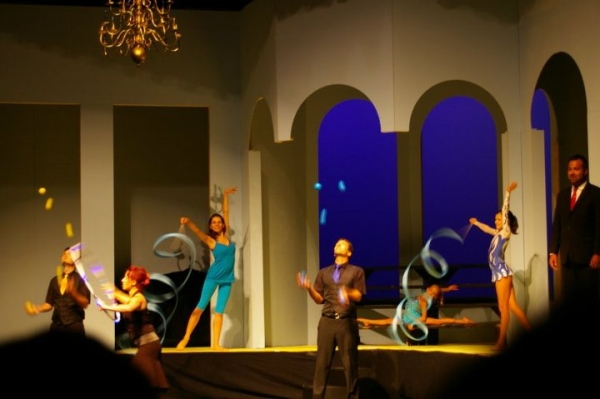 Playing By Air and Tyson Laemmel perform "Any Dream Will Do" in tribute to Scot Copeland.

Dance Theatre of Tennessee's Swimming the Cumberland.

Signs of a New Day: The Z. Alexander Looby Story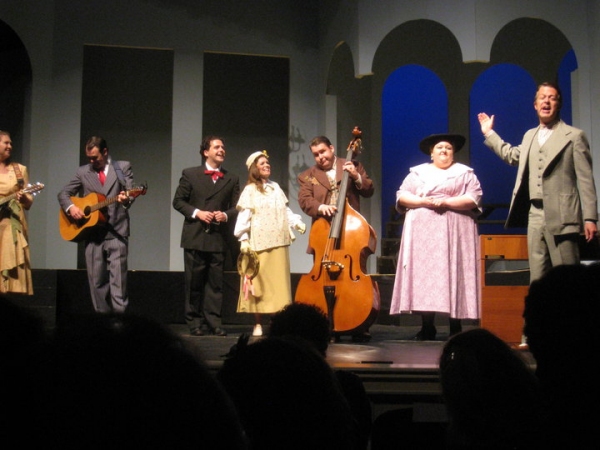 Smoke on the Mountain Homecoming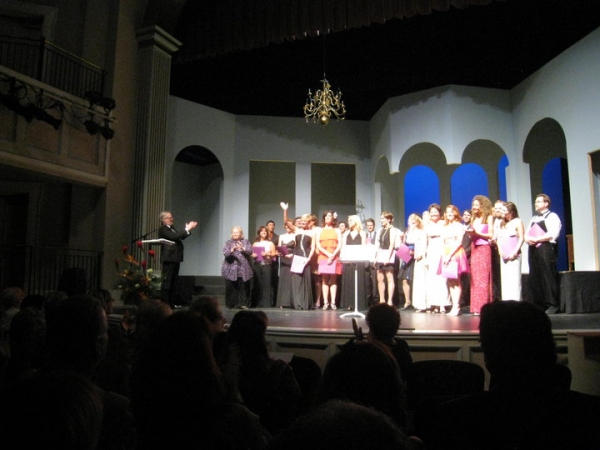 The show's finale: "Sunday"

The show's finale: "Sunday"

Swimming the Cumberland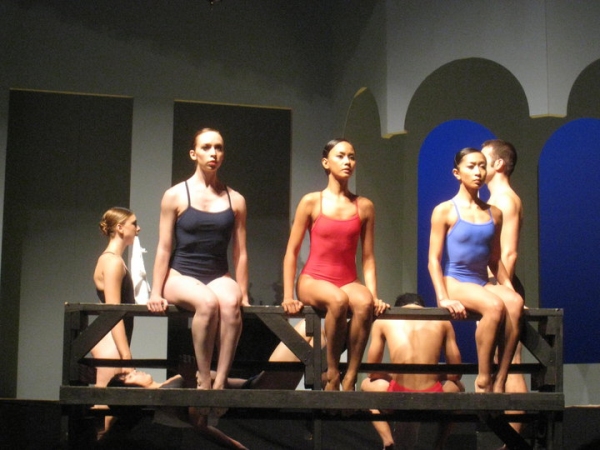 Swimming the Cumberland

Swimming the Cumberland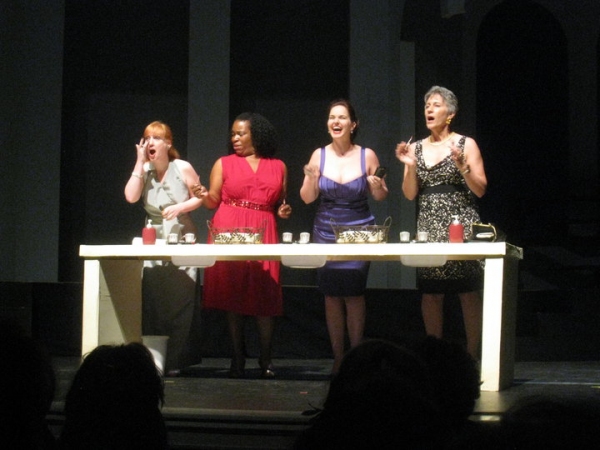 Lisa Marie Wright, Jervon Dailey, Megan Murphy Chambers and Wesley Paine in Potty Talk.

Martha Wilkinson sings "Defying Gravity."

Street Theatre Company's "Magic Foot"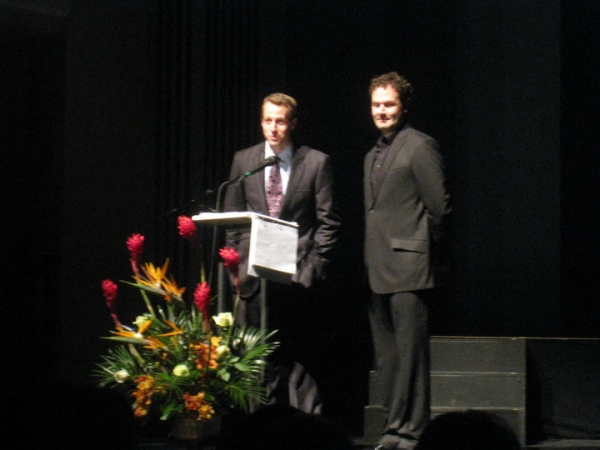 Jake Speck and Matt Logan

Jack Chambers and Megan Murphy Chambers

Joel Diggs and David Chattam in Waiting for Godot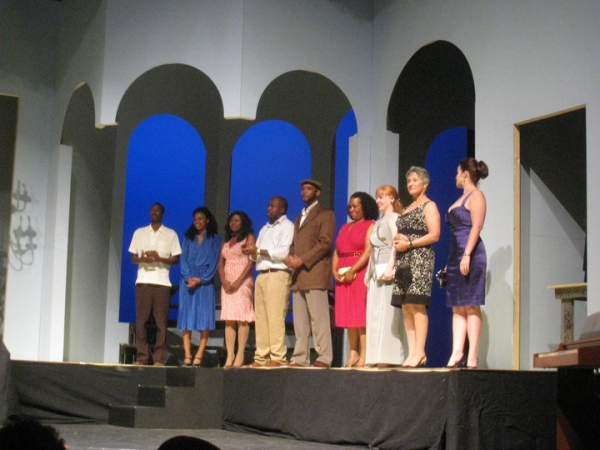 The casts of Fly, Girl and Potty Talk pay tribute to Shannon Wood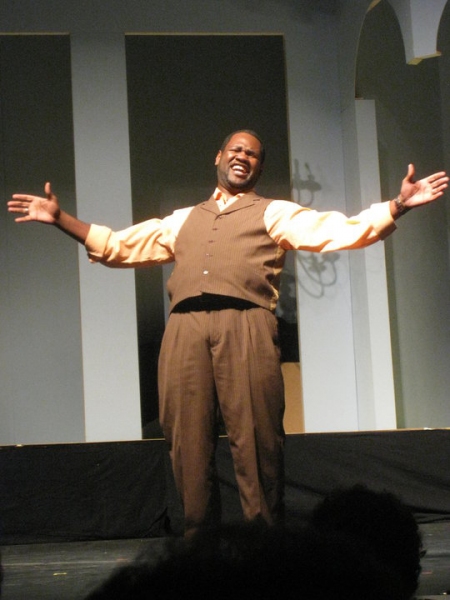 Bakari Jamal King sings "Free at Last" in tribute to Barry Scott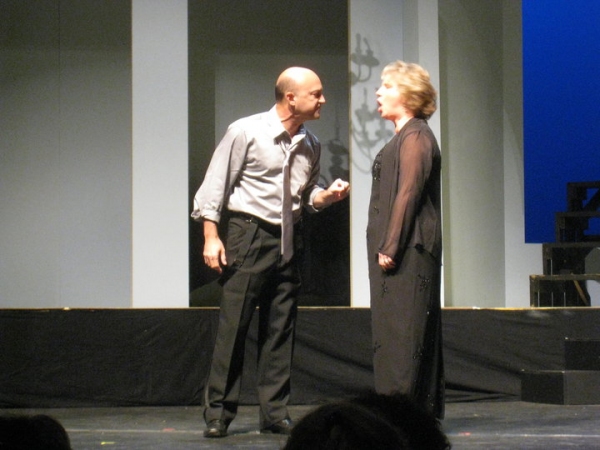 Ed Amatrudo and Melissa Hade perform a scene from Who's Afraid of Virginia Woolf in honor of Sean and Bob O'Connell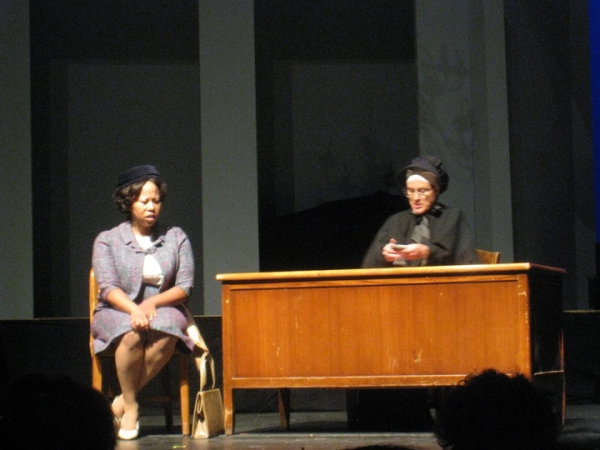 Alicia Haymer and Nan Gurley in a scene from Doubt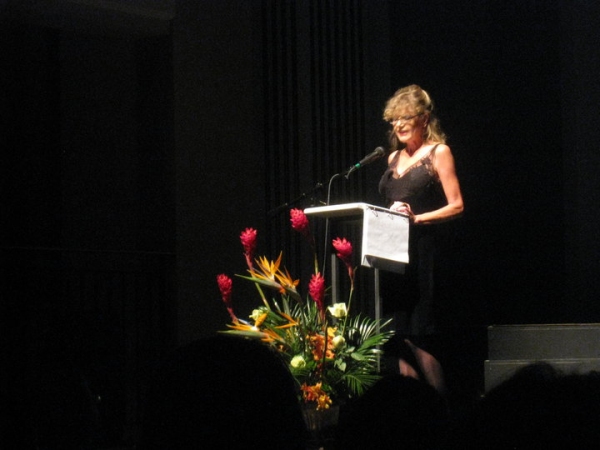 Cinda McCain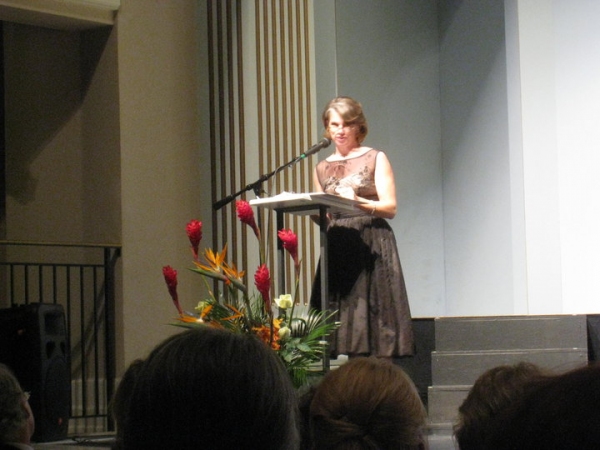 Denice Hicks

Kay Ayers and the cast of Nine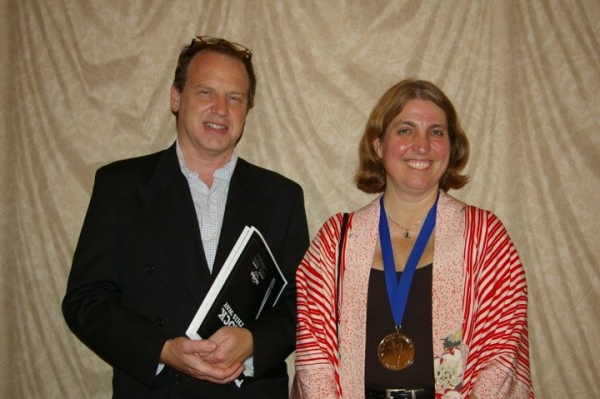 Oscar-nominated sound designer Peter Kurland, with his wife, First Night honoree Shannon Wood

Kelvin Amburgey, as ZaZa in La Cage Aux Folles, sings "I Am What I Am"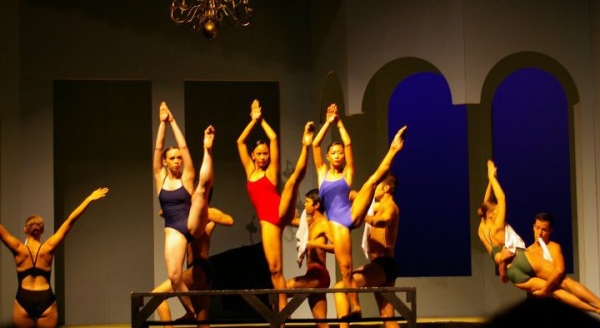 Swimming the Cumberland