GOOD MORNING, THEATERATI for June 2, 2017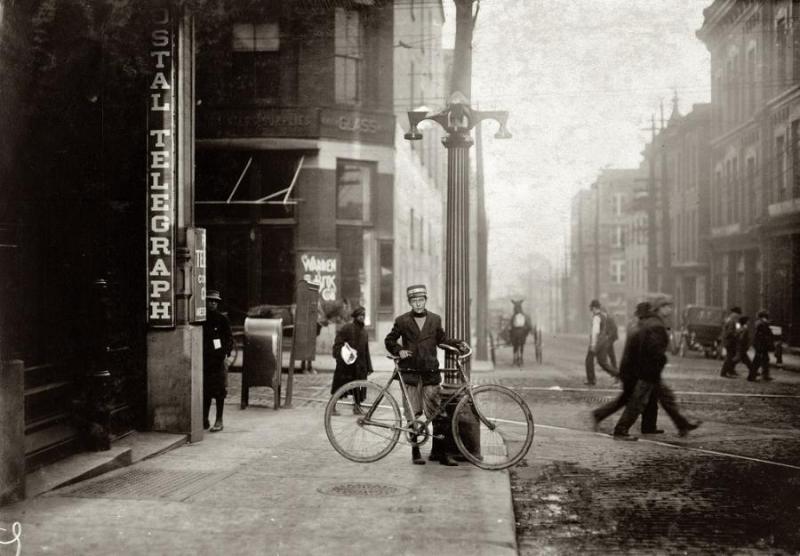 GOOD MORNING, THEATERATI: Welcome to Friday, June 2, 2017! The weekend is upon us (thank you, very much) and we cannot conceive of a better way to live life dramatically than by catching a first night performance of a show? It's opening night for several new shows and we send out warm wishes of "break a leg" to this year's cast and crew of Cumberland County Playhouse's Smoke on the Mountain (now in its 24th year!) directed by Weslie Webster and music directed by Ron Murphy, starring Daniel W. Black, Lauren Marshall, DeAnna Etchison, Cory Clark, Jensen Crain Foster, Brett Mutter and Joseph Wilson; the estimable cast and crew of Verge Theatre Company's The Whale, opening tonight at Belmont's Black Box Theatre, directed by Jaclyn Jutting, and starring Shawn Knight, Nettie Kraft, CJ Tucker, Alex Drinnen, Madeleine Yeary; and to the production team and cast of Arts Center of Cannon County's production of Peter and the Starcatcher, directed by Tara Deason Winton and starring Adam LaPorte, Julia Kelley, Justin Winton, David Cummings, Spree Star, Jeffrey LaPorte, Ted Verbeten, Ric Kinkade, Nolan Ragland, Noah Brady, Matthew Connors and Eli Ragland.
Tonight is also the night for Back on Broadway, the annual celebration and fundraiser for the theater program at Nashville's Hume-Fogg Academic High School, led by 2014 First Night Honoree Daron Bruce and Lisa Forbis. Tonight's gala features Daniel Brown, Maria Logan, Rachel Daniel, Mary-Claire Lutz and Donovan Jordan, all HFA alumni. They will be joined onstage by a plethora of other HFA stars, lending their voices and their talents to the effort to ensure the school's theater program continues to thrive. Now in its third year, Back on Broadway starts at 7 p.m. this evening in the newly refurbished HFA Auditorium on Broadway. General admission tickets are $15 for adults and $10 for students and will be available 30 minutes prior to curtain of tonight's performance.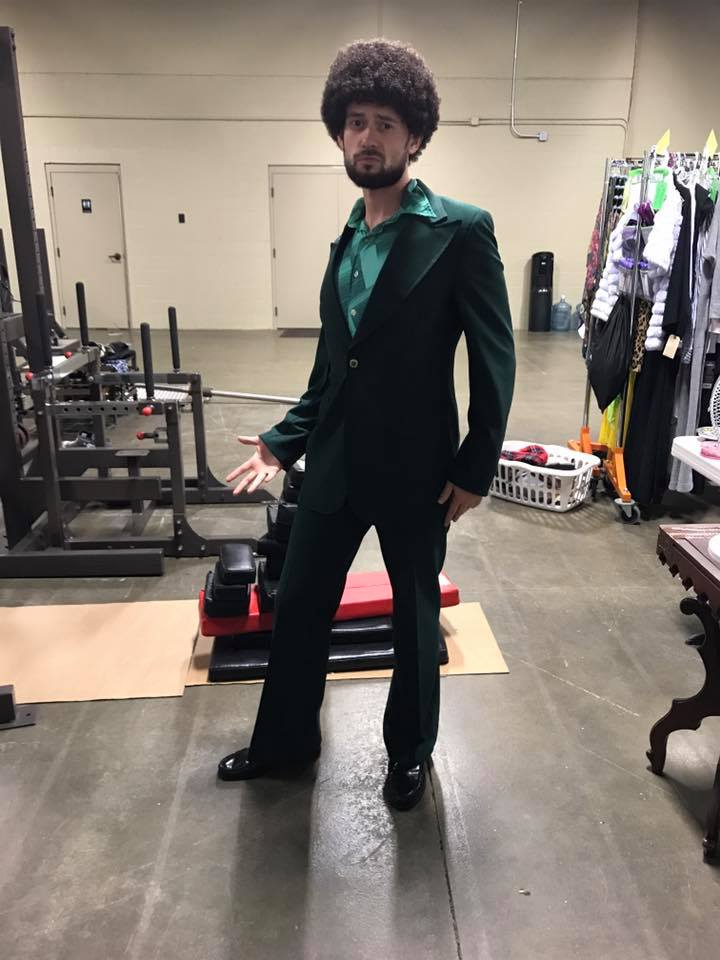 Opening next week are: Chaffin's Barn's production of Sister Act, The Musical, starring among others, Brett Cantrell (pictured at left) in costume by Jamie Lyn Scott; Street Theatre Company's Pippin, directed by Jason Tucker, and starring Ryan Greenawalt, David Ridley, Elliott Winston Robinson, Amanda Elend and Natalie Rankin; ACT 1 closes out its 2016-17 season with Reefer Madness the Musical, directed by Jason Lewis and starring Cameron Gilliam, Ben Gregory, MAggie Wood, Trey Palmer, LaDarra Jackel, Andy Riggs and Nikki Berra. Down in Murfreesboro, Center for the Arts presents its version of Legally Blonde the Musical. And in Crossville, Cumberland County Playhouse's critically acclaimed production of Million Dollar Quartet will end its stellar run.
Speaking of Center for the Arts, they are pleased to announce the appointment of Taiisha Bradley as its new Marketing and Production Manager. Taiisha has an MA in Communication Arts with a specialty in Advertising and Public Relations from New York Institute of Technology of Old Westbury, and a BS in Integrated Marketing Communication from Winthrop University. She comes to CFTA with more than 11 years of experience in nonprofit communications. Taiisha is excited about helping the Center maintain its high production standards and implementing innovative marketing strategies that attract new patrons, while retaining and deepening relationships with current patrons. Taiisha lives in Murfreesboro with her husband James and they have two sons, Mason and Landon.
TODAY'S QUERY: What do you think about an actor stopping a performance to confront an audience member about doing that - or anything really - which distracts them...does that act ruin your theater-going experience or is it just another distraction? What do you think?
Richard Davis I think the house management should be more aggressive and proactive. The cast and crew have enough of a challenging job to do.
Linda Speir Difficult question. Remember the time at Actors Playhouse that the drunk hurled insults at me and advanced toward the stage? I was paralyzed with fear and just went on with my dialogue. I would no longer be afraid but would probably do the same thing today.
Michael Ables It caused quite a stir in 2000 when Matthew Arkin chided an audience member for a ringing phone during the quiet final scene of Dinner With Friends. The story made the New York Times.
Denice Hicks Live theater is LIVE - so I love it when actors act in the moment. Many years ago, I stopped a student matinee performance because an audience member was shining a laser pointer in my eyes. I said we wouldn't continue until the laser pointer was confiscated, and then schooled all 800 of those students about the joys and perils of live theatre. That was actually a dangerous situation because I couldn't see and was walking toward the pit. Nowadays people texting during shows just makes me sad. We have the advantage when playing Shakespeare, that there is no fourth wall, and getting the attention of the texters is just one of our challenges.
Kathleen Jaffe The ONLY time it would be acceptable to break character is in the event of a genuine emergency (e.g., a cast or audience member has a heart attack or otherwise collapses). There is no other acceptable reason to break character EVER, in my humble opinion. House management needs to deal with misbehaving audience members - that's not the cast's job.
Cyndie Verbeten I agree 200% with you. Why ruin the experience for everyone else? You're a paid professional. You should know how to deal with distractions. Power play diva action.
Martha Manning I think the actors job is to stay in character and to keep on going, sometimes that is easier said than done. House management is so important. As it has been said a true emergency is another story. Another example of TV and social media creating a community of folks that no idea how to behave anymore!
Esseri Holmes Actors should never break. It's the manager's and usher's job. The guilty party should be thrown out with a fee. Media should have specific area as to not take anyone else out of the fantasy.
Erin M. Laming I think this is very shaky ground. An actor should be able to perform in any situation and if they are adhering to the POC rule: 90% character, 10% technical...then they shouldn't allow themselves to be distracted. Outdoor theatre, dinner theatre etc requires that kind of concentration.
On the flip side, an actor puts their heart into their performance and that kind of disrespectful behavior can be damaging to the actor's character work. I see both sides of it. I would hope that the actors I am training would have enough self-control and concern for their character to find a way to handle the distraction without ruining their performance or the theatre experience. House management should be taking care of it, it shouldn't fall to the actor to deal with it.
David West I was in a heated argument on stage with another actor (in character). A phone starts ringing. I hear it and forget my lines. The ringing stops, and we continue but now I'm actually really irritated. The phone goes off again. I contemplate running out into the audience and grabbing the phone to break it into a million pieces. But, I didn't. It turns out it the phone belonged to a sweet old lady who wasn't good with technology and she was more embarrassed and flabbergasted than us actors on stage, thus she couldn't figure out how to silence in the heat of the moments. Personally, I put my phone on Airplane Mode so it won't even buzz. It's nerve-wracking, and I understand from the actor's standpoint to want to stop the show to teach the "disrespectful" person a lesson, but I would likely only stop a show if it was blatantly obvious the person was doing it on purpose. Haven't experienced that yet, though.
Cecilia Lighthall I do not think it is appropriate for an actor to break character for that reason. In doing that, you have just taken the rest of the audience (who may or may not have been distracted by the person's offense) out of the moment and that is a hard thing to get back. Those people paid to be there too. There are systems in place to handle those situations. An actor need only to tell the SM. An SM can contact the house manager and get it taken care of without stopping the show.
Jeremy Benton Hopefully, house management is so attentive of this it protects the actor from having to A) Endure the ENORMOUS amount of disrespect the audience member is displaying to not only the actors, but their fellow audience members, and B) Grapple with the decision to take charge of the situation and request respect from the belligerent patron. This not only goes for talking on cellphones, but unwrapping the loudest candies on the planet for 15, 20, 25 minutes straight, looking at their cell phones which illuminates their disrespectful and rude face, eating (I kid you not I've seen this twice) a rotisserie chicken out of a grocery bag, alarms going off, talking full voice, and the list goes on. And this is at the theatre. Multiply the trashy behavior by 100 if you go to the movies. I always alert stage management to anything causing a distraction or audience members acting rudely. They can alert house management. But don't forget that actors are human. And there can be limits to one's patience if a rude and unacceptable behavior has been continuing through the course of a two-hour show. And what better reminder to an audience member who, like many in the audience, has forgotten that they are attending a live performance, breathing the same air as the actors they are watching and listening to, than if their entertainment for the evening turns to them and asks them to stop being rude.
Helen Olaketi Mariah Shute-Pettaway I so remember that moment, Denice! (Our Poe piece with The Rep). That was such a necessary moment. Inconsiderate behavior, such as that can be dangerous...not to mention, having necessary field trips, such as a theatre experience, omitted...
Katie Earl As a current 'house/dining room manager ', I say that stopping rude audience members is the manager/usher's job. The actor needs to be in character and providing the experience for all the other non-interruptive guests. Only in extreme circumstances would I think an actor should break to address something in the audience
Rick Stewart A great actor can ad lib a scathing beat down in character and my theater experience would be enhanced. A great actor can also ignore it. Most actors can't and must rely on theater management. I quit going to movies for this very reason.
Sally Weatherford Me, too. Several generations now have decided that movie theaters (and live theaters) are merely extensions of their living rooms. Hence the talking, texting, phones lit up while email is checked. The only people who should keep phones on (but on silent) are maybe doctors on call or parents with a babysitter at home. I can think of no one else.
Dianne Cybele Coulonge I honestly don't think it's too much to have ushers ask to see all cell phones during the time when the people show their tickets to get in. Watch them put it on silent or airplane mode, then they can enter. Prevention vs. cure, you know. This would also require a lot more staff, but oh well.
Harrison Williams A play is a delicate and ephemeral thing. And modern technology, coupled with either its thoughtless, careless, or inept use, can kill the moment quicker than almost anything. I wish that it were as easy as relying on the house staff, but often times they either don't see the egregious behavior or arrive after the fact. And when they do arrive, it tends to be just more activity that takes the rest of the audience out of the play.
If a phone rings in a theatre, I don't care who deals with it--actor, house manager, audience members, as long as it is dealt with. As someone who has produced, directed, written, acted, designed, and sat through more plays than I can count or remember, for me, once you have a cell phone ringing, the play has already been disrupted; the tenuous world has been shattered.
If it takes a decade or so of completely embarrassing and marginalizing the people who are simply too important or ignorant to deal with their own technology, then so be it. At least we aren't all sitting in a room pretending a phone didn't go off. That is a willful suspension of disbelief that I am not willing to engage.
Michael Ables Recently I've overheard stairwell antics by ushers at the Belasco. I wonder if Sally Field could hear them?
Philip Storvik It's the height of arrogant diva behavior to stop a show and interrupt it for all while management should be surreptitiously handling that type of situation with obvious exceptions for emergencies and harmful behavior, ie laser pointers in the eye, kids crawling on stage, that mgmt isn't dealing with. I still recall the grace with which Michael Adcock handled a couple rowdy audience members several years ago at Out Front... by acting. Acting as if nothing was amiss and continuing his performance. Indeed, I think you were there too, Jeffrey. Those two should have been ejected. But that's neither here nor there...
Michael Adcock But yeah - isn't an actor's job to stop a show, in my opinion. Should fall on the house. That world shouldn't exist for an actor. To me, it isn't much different than stopping for someone snoring. Or coughing. Or doing anything else distracting.
Angela Gimlin Fortunately, I perform for two acting companies where it is okay to call people out who are on their phones. Shows at Miss Jeanne's and Inebriated Shakespeare allow for both audience interaction and ad lib with actors and audience. I call people out all the time. However, in a traditional theater performance, I have been interrupted plenty of times, but never called anyone out.
Matthew Carlton Educate the audience and train the staff in how to properly and quietly intervene. Break character only in extreme circumstances. Then start entire scene from the top don't just pick up from stopping point.
Brian Russell it certainly enhances the "live" aspect of live theatre, to be sure. the "star turn" actor (like Glenn Close and Hugh Jackman) can certainly get away with it...the audience, for the largest part, is there to see them act. the seasoned pro can (and should) allow the normal channels to hold sway before reacting. many a older veteran can actually use this to their advantage. to the beginning pro i say, plow through and hold your concentration and focus. those not disturbed in the audience by the distraction will appreciate the effort!
Tim Hubler Those people are either stupid or totally without manors. I've experienced it here in Salzburg during the opera, but those folks are brought down immediately by people around them. As for the actor question. I've seen people fired for breaking character.
Katharine Boettcher While I love the fact that there are some well-known actors who do stop performances, I don't think they should. The audience, as a whole, should drag the offenders into the street and beat the phones out of their hands.
Gary Davis In most cases when an actor breaks character to scold an audience, THAT becomes the most memorable performance of the show. To do so is extremely disruptive and takes a lot away from the performance.
Sherry Mann Johnson It's awful. The actor should be so committed to his role that he/she should never abandon character. If something is so distracting it can't be ignored then the character should react to it. Like a set piece falling, you can ignore it...so use it.
Benny Jones There are almost always distractions during live performances and I never agree with dropping character during a show. Sometimes it's just people talking about the show, which I don't mind because it means they are engaged. I do think that theatre etiquette has been lost somewhere. I would never do it while in a scene with other actors, but during one performance of Hamlet when I was Doing the "To be or not to be" monologue an audience members phone rang, they answered it and started to have a conversation. Since I was alone onstage I did stop the monologue stayed in character and looked thoughtfully at the offender until they were done, then continued on. In that case there really is no ignoring it, everyone knows what's going on. But to stop drop character and scold, no. Only if you are doing Commedia and can incorporate it into the show that is.
Cara Richardson Where are the ushers during this. The cast members shouldn't have to stop the show. Ushers should be taking care of the problems before the actors ever notice.
Mark Creter I remember seeing Richard Thomas in The Fifth of July back in the late 1970's on Broadway. Early in the show two men kiss and when it happened a H.S. group started giggling and making nasty comments. Thomas stopped, put down his crutches and walked to the edge of the stage and said, "when you can act like respectful people we will continue" and turned and exited the stage. I was a teenager at the time but I have never forgotten what a powerful moment that was to me as a young, aspiring actor. That demand for respect was really empowering. Perhaps this makes me a devil's advocate but I have never forgotten the respect I felt for Richard Thomas in that moment.
Rebecca Nelson I did a show not too long ago when there was an audience member in the FRONT row taking photos with the flash on their phone. I reworked my timing as I was leaving the stage and told them to put their phone away or I'd take it away. The phone was not...See More
Kelly Lynn Sekuterski I don't think an actor should ever break character. With this being said, if you can find a way to include it into your character dialogue...then, the audience actually wouldn't mind. I also think that the ushers at the theatre have the responsibility of asking patrons to please put their phones away. I know you wouldn't have to worry about this in NY because the audience members would say something! Lol! The pre-show announcements are helpful as well.
Robert Hiers Saw a tour of The Wiz. In the middle of the performance, the Wiz stepped to center and said "There shall be NO more flash photography. The Wiz has spoken!" And the show went on....
Drew Dunlop I am happy to say that the only time I ran into this when acting was during full dress rehearsals, and it was the director talking to various people when I didn't expect it. It was distracting and almost caused me to lose my flow, so I can only imagine what it would be like to hear talking from an audience member. I cannot conceive of doing anything other than continuing on and letting the audience and management take care of it. As for texting, I'm not sure how I would notice if I was concentrating on performing. Keep things focused on the inside of the fourth wall as much as possible and let the other side take care of itself.
Maryanna Clarke Riffing on Denice's opening line: Live theater is live - and I love it when the audience acts in the moment (this does NOT include putting anyone in danger - laser pointers are a definite no-no!). We must adapt to new technologies or perish. Theater companies around the world are finding that it is better to embrace these technologies (and make them fans for life) than to penalize or disparage those who use them (and drive them away). No one wants their theater experience ruined by someone talking on the phone, or a device screen lit up in front of them. But when there are designated "tweet seats," audience members so inclined can sit in seats that do not interfere with someone else's experience, and they can share their own experience with others in the moment, perhaps encouraging their friends/followers to attend and generating more audience. Diversity - on many fronts!
Tammy King As obnoxious as it is for someone to be using their cell phone or causing some other disturbance, I would never break character. It would take me, the rest of the cast and everyone else out of the show completely. There should be someone else in the house who is designated to be responsible to intervene in those situations. The only reason I think you would halt the show is for a medical emergency with an audience member. My two cents!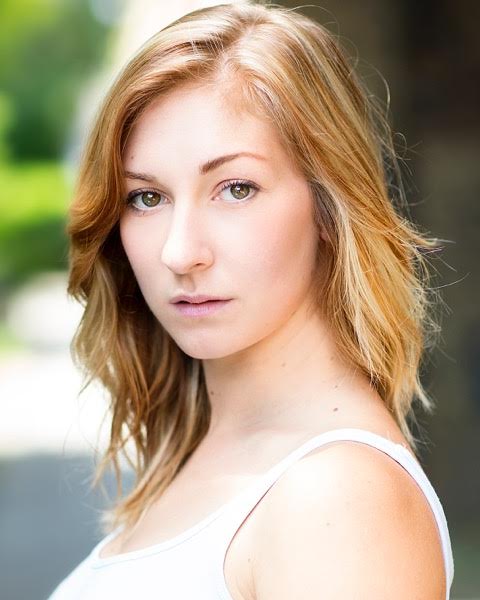 We're sending out heartfelt wishes of "Happy Birthday" to Christ Presbyterian Academy alumna Gabrielle Laura Toledo; director/producer/stage manager and "mom of the year" Blandina Vergara-Cruz; and actress Molly Dobbs (Dyanne in Cumberland County Playhouse's Million Dollar Quartet). They share their special day with these theater luminaries: legendary composer Marvin Hamlisch (whose final show was The Nutty Professor, which had its world premiere in Nashville at the Tennessee Performing Arts Center), actors Milo O'Shea and Stacy Keach, Sally Kellerman (the original Hot Lips Houlihan in M*A*S*H, the movie), Joanna Gleason (The Baker's Wife in the original Broadway cast of Into the Woods) and heartthrob and current Sweeny Todd off-Broadway Norm Lewis.
From the BroadwayWorld Nashville archives come these gems:
/nashville/article/BWW-Reviews-Whittaker-Leads-A-Charmed-Production-of-FIDDLER-ON-THE-ROOF-at-Chaffins-Barn-20120602
/nashville/article/CRITICS-CHOICE-Go-Theater-Hopping-This-Week-20150602#
/nashville/article/The-Friday-5-On-Thursday-PSYCHO-BEACH-PARTYs-Pitts-and-Turner-20160602
From our Theater Journal, you might find it interesting to know these significant theatrical events happened on this date in history: In 1954, a revival of Rodgers and Hammerstein's Carousel opened at New York City Center, starring Barbara Cook and Jo Sullivan. Blues in the Night opened on Broadway in 1982, starring Leslie Uggams and Debbie Shapiro, among others. In 2003, producers chose to cancel an upcoming Broadway revival of Little Shop of Horrors, ultimately replacing almost all cast members and production team, leaving only Hunter Foster (whose Sleepy Hollow opens at Cumberland County Playhouse later this year) in the role of Seymour Krelbourn. Legally Blonde The Musical: The Search for Elle Woods debuted on MTV as the reality series followed the exploits of ten contestants vying for the chance to replace Laura Bell Bundy on Broadway. Bailey Hanks, who later became the first recipient of the First Night Robe in Nashville due to her performance in 9 to 5: the Musical at the Roxy Regional Theatre, was crowned the winner. Far From Heaven, the musical version of the Todd Haynes' film inspired by the works of Douglas Sirk, debuted off-Broadway at Playwrights Horizon in 2013, with a cast led by Kelli O'Hara, Steven Pasquale and Isaiah Johnson.
"Carousel has no comment to make on anything of topical importance. The theme is timeless and universal: the devotion of two people who love each other through thick and thin, complicated in this case by the wayward personality of the man, who cannot fulfill the responsibilities he has assumed...Billy is a bum, but Carousel recognizes the decency of his motives and admires his independence. There are no slick solutions in Carousel." - Brooks Atkinson, writing in the New York Times, on the occasion of the 1954 revival of Carousel at City Center
And so the weekend is upon us, gentle reader...we leave you with our daily admonition - and hope - that no matter where in the world you find yourself, CELEBRATE THE MAGIC OF LIVE THEATER! We'll see you back here on Monday morning, bright and early!