Nashville Interviews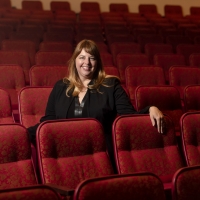 Getting to Know...TPAC's new CEO JENNIFER TURNER
by Jeffrey Ellis - August 14, 2019
, Nashville
Summer of 2019 has proven to be an exciting time for theater artists, technicians and patrons in Nashville, with changes at the top of several companies' leadership teams, including Tennessee Performing Arts Center. With Kathleen O'Brien's retirement as CEO in May, TPAC has welcomed Jennifer Turner ...

Kristin Chenoweth 'Comes Home' For Trio of Concerts With the Nashville Symphony
by Jeffrey Ellis - September 14, 2018
, Nashville
There's just something about Kristin Chenoweth. It's almost undefinable, perhaps even undescribable, yet as with any writer's efforts to put into words how remarkable the woman behind the image is, I'll give it my best shot, attempting to encapsulate the wonder that is Kristin Chenoweth in 2,000 wor...

Michael Mayer Talks Directing Film Adaptation of Anton Chekhov's 'Human Story' THE SEAGULL
by Cillea Houghton - June 07, 2018
, Nashville
Though written more than 100 years ago, Stephen Karam and acclaimed theatre and film director Michael Mayer have teamed up to bring Anton Chekhov's THE SEAGULL from stage to screen....
High School Drama: Hume-Fogg's JONATHAN HANKINS
by Jeffrey Ellis - November 03, 2016
, Nashville
Which brings us to today's edition of High School Drama, introducing you to one of the show's leading men: Jonathan Hankins. Here's your opportunity to get to know more about the talented HFA senior prior to opening night (You've made your reservations, right? Curtain's at 7 p.m. Don't be late!)…...
High School Drama: Siegel High's MEGAN SCOTT
by Jeffrey Ellis - October 27, 2016
, Nashville
Today, Megan Scott, one of 2015 First Night Star Award winner Brenda Dent Gregory's talented student sat Murfreesboro's Siegel High School, continues our new season of High School Drama, the latest in a long list of younger actors to be introduced via Broadway World Nashville in the coming year…...
High School Drama: Middle Tennessee Christian School's SHELBY JONES
by Jeffrey Ellis - September 28, 2016
, Nashville
Although she's only a freshman in high school, Shelby Jones (who attends Murfreesboro's Middle Tennessee Christian School) has already amassed an enviable theater resume and established a reputation as one of the finest singers to be found onstage....
Getting to Know...TIM OZGENER of Oz Arts Nashville
by Jeffrey Ellis - September 09, 2016
, Nashville
Today, we're Getting To Know…Tim Ozgener, president and CEO of Oz Arts Nashville, Music City's center for the contemporary arts scene in a town whose cultural life is ever-changing and constantly evolving....