BWW Review: Young, DeGarmo and Doolittle Star in Studio Tenn's Stylish Revival of GREASE
Grease has been a part of the American musical theater vernacular for so long - it opened in Chicago some 47 years ago in the halcyon days of 1971 - that it's easy to overlook the show's impact on theater, in general, and audiences, in particular. Its multiple revivals on Broadway, in regional theater and in various community theater and high school drama settings probably makes you believe you've seen in far more often than you actually have (unless, of course, you watch the film treatment with John Travolta and Olivia Newton-John over and over).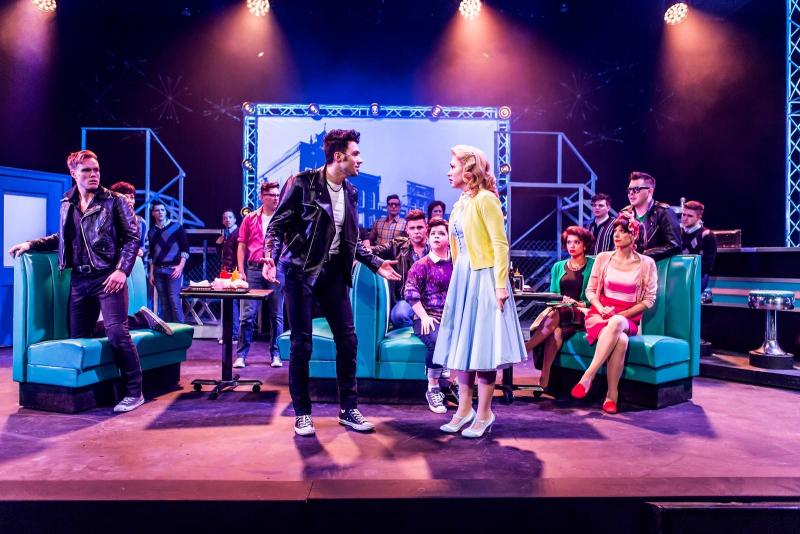 Like so many other shows that have become part of the popular culture in a monumental, all-encompassing way, it may seem that Grease has always been a part of our lives, but when you encounter a sparkling, colorful and spirited revival of the stage show - like the current Studio Tenn production playing through this weekend at the Jamison Theater at The Factory in Franklin - it's almost as if you're seeing the show for the very first time.
Starring a trio of American Idol alumni (Ace Young, Diana DeGarmo and Melinda Doolittle) along with some of Nashville's best known and most beloved stage veterans (Megan Murphy Chambers, Cori Laemmel, Laura Matula and Corey Caldwell) and some up-and-coming young actors (Liam Searcy, Brianna Middleton and Macy Medford among them), Studio Tenn's Grease offers a highly entertaining, fast-moving and engaging at the deceptively kinder and gentler era of the late 1950s that proves the travails of adolescence and assorted high school hijinks have always been theatrical and somewhat overblown.
Directed with his usual flair that guarantees a visual feast is in store for audiences by Studio Tenn artistic director Matt Logan, who also designs the eye-popping production's sets and costumes, Grease may still send the wrong message to young girls (in order to get the guy, the girl has to "tart herself up" to get his attention and earn the grudging respect of her peers), but it's also a tuneful consideration of a bygone era that will have you dancing in your seat, if not the streets.
Young and DeGarmo are entrusted with the musical's leading roles: he's the sometimes arrogant, oftentimes goofy and altogether appealing high school superstud Danny Zuko, while she is the prim and proper new girl in town Sandy Dumbrowski, who steals his heart and sets the play's plot in surefire rock-and-roll motion. Together, the couple (who are married in real life and have shared the stage on multiple occasions in their post-Idol career) claim the spotlight confidently and with self-assurance and aplomb to spare.
Young's bright smile brightens even the darkest auditorium (although with Stephen Moss' evocative and dramatic lighting design for Grease he doesn't really have to) and he brings Danny to life with enough cockiness to ensure all eyes are riveted to him when he's onstage. And he possesses a singing voice that audiences will never tire of hearing, particularly if he's singing "Sandy," one of the musical numbers written for the 1978 movie that are now interpolated in the stage score.
DeGarmo, who delighted audiences as Dorothy Gale in Studio Tenn's The Wizard of Oz presented at Schermerhorn Symphony Center a few seasons back, does more of the same as the wily takeoff of film ingenue Sandra Dee, the epitome of young womanhood in the late '50s (Annette Funnicello's budding career and buxom chest notwithstanding). DeGarmo's tremendous stage presence makes her the ideal choice to play Sandy, even if the role doesn't give her enough of an acting challenge to show off her impressively stageworthy dramatic chops (let's face it, Sandy - like so many of the characters - is basically a teenage stereotype), although she commands the stage in supreme style and delivers her musical numbers with impressive power (her "Hopelessly Devoted" gives the aforementioned Ms. Newton-John a run for her money, thank you very much).
Young and DeGarmo's offstage relationship gives their fictional counterparts a strong foundation and their palpable onstage chemistry makes them eminently watchable: "You're the One That I Want" will knock your socks off!
Nashville favorite and Belmont University alum Melinda Doolittle very nearly steals the show from the production's two leads and the amazing ensemble assembled by Logan to bring the 1950s square into the 21st century. Playing the "Teen Angel" who exhorts Frenchy (played with grace and grit by the always adorable Cori Laemmel) to go back to high school when she drops out of beauty school, Doolittle sets the stage aflame with her performance of "Beauty School Dropout" that stops the show. Doolittle makes the role her own with her personal blend of showbiz pizzazz, immense talent and thorough commitment, and Logan and choreographer Billy Ditty stage the number with some dazzling theatrical razzmatazz (I think I may be mixing my entertainment decades and era here, but you get my drift...)
Ditty's high-spirited choreography puts his capable cast through their paces, showing off their skills ideally and creating a high-energy ambience for the show that will leave audiences breathless and wanting more from his dancers (including the multi-talented Anna Perry as Cha-Cha DeGregorio, "the best dancer from st. Bernadette's", Daniel Carrasquillo, Kyle Caress, Everett Tarlton and Hudson Snyder).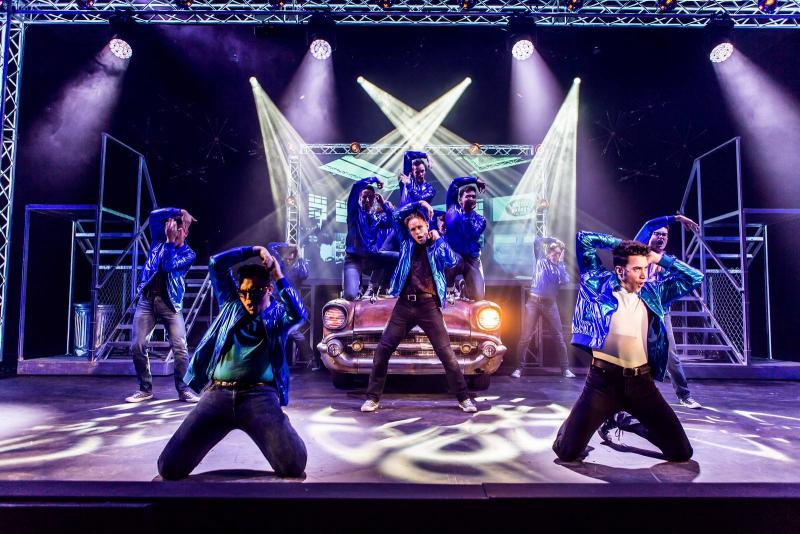 Logan's unerring skill at casting a show with talented actors is felt throughout the two hours spent at fictional Rydell High in 1959, with the show's estimable ensemble managing to create a fresh take on a show we all feel like we know as well as any (I, for example, was reminded at the performance reviewed that I almost died in a car crash after seeing the film in a Jackson Tennessee, movie house for the first time way back in the day) musical theater behemoth.
Among the Pink Ladies, Laura Matula shines as Betty Rizzo (although I would have preferred a slightly different staging for her own showstopping rendition of "There Are Worst Things I Could Do"), while Laemmel is sweetly appealing as Frenchy, Briana Middleton is an absolutely gorgeous Marty and Marissa Rosen is a sweetly daffy and altogether wonderful Jan. Under Logan's direction (and wearing his completely stunning and fashionable costumes), the women show off their mean girl bona fides all the while providing some pretty nifty musical interludes along the way.
As the members of the Burger Palace Boys (Danny's band of brothers who aren't menacing enough to feel like a real "gang"), Liam Searcy (impressive as Kenickie), Bradley D. Gale (charming and self-effacing as Doody), Chase Cooksey (as Roger, the moonfaced boy) and Quintan Craig (as the none-too-bright Sonny) give ample support to their de facto leader and provide some pretty swell music themselves. In fact, their "Greased Lightning" may be the best rendition of that particular number we've ever seen.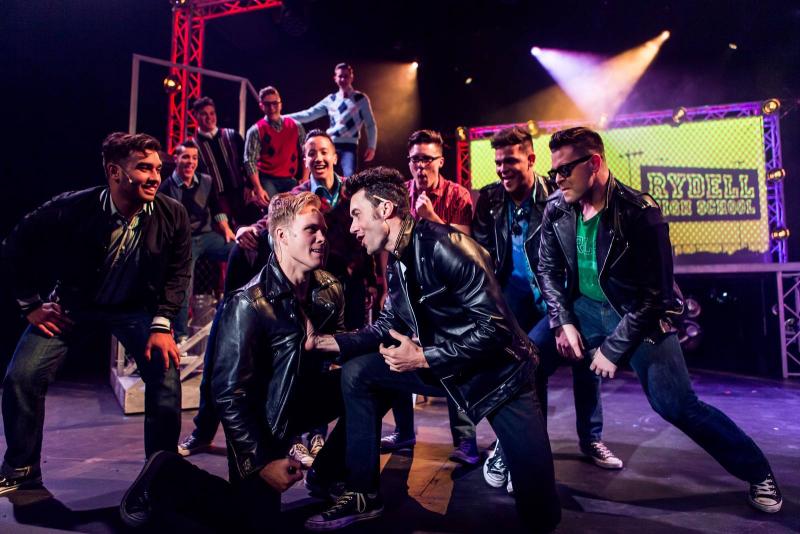 Among the supporting cast (the playbill lists a cast of 29 for Grease, a huge - and we daresay expensive - cast for a professional production), standouts include Megan Murphy Chambers as Miss Lynch, the perfectly cast Corey Caldwell as radio DJ Vince Fontaine, Macy Medford as the quintessentially perky Patty Simcox and Brooks Bennett as the picked-on Eugene, the school's token nerd.
Music director and conductor Stephen Kummer's seven-piece band play the show's score (a memorable pastiche of period-perfect melodies and terrific showtunes) with ease, making this production's musical numbers even more impressive than you might expect - even when you consider the ample talents assembled in the show's orchestra pit.
Logan's impressive set design provides the perfect backdrop for the play's action, easily morphing from the schoolyard of Rydell High to the environs of the Burger Palace, a heavenly vision of beauty school and a 1950s era teenage girl's bedroom. His costumes, as has come to be the norm, are exquisite evocations of period fashion and his attention to detail continues to astonish: DeGarmo's Sandy wears a pair of baby blue and cream spectator pumps that go splendidly with her stylish dress. Logan and technical director Mitch White make certain audiences have more than enough to look at and appreciate with every production on which they collaborate and Grease is no different.
Grease. Book, music and lyrics by Jim Jacobs and Warren Casey. Directed by Matt Logan. Choreographed by Billy Ditty. Musical direction by Stephen Kummer. Presented by Studio Tenn, at Jamison Theatre at The Factory in Franklin. Through June 3. Running time: 2 hours, 25 minutes (with one 30-minute intermission). For details, go to www.studiotenn.com.
photos by MA2LA
Related Articles View More Nashville

Stories

Shows
Jeffrey Ellis is a Nashville-based writer, editor and critic, who's been covering the performing arts in Tennessee for more than 35 years. In 1989, Ellis (read more...)