Review: Leaving STEEL MAGNOLIAS' Chinquapin on a Very High Note at The Keeton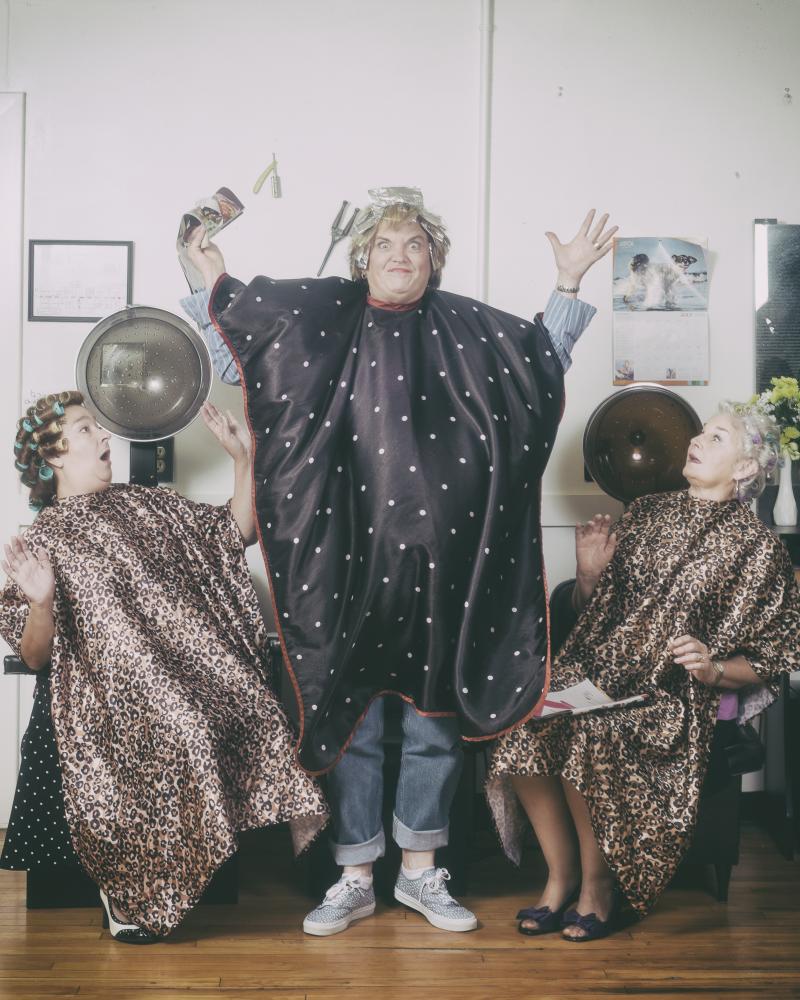 As hard as it may be to believe, it was 30 years ago - the summer of 1988 - when it all started, this weirdly symbiotic relationship between me and six fictional characters in the northern Louisiana parish of Chinquapin. During the intervening three decades, my affection for the women who gather every Saturday morning at Truvy's beauty shop to gossip, swap recipes, catch up on th,e latest small town news, to share the minutiae of their lives and to get their hair done, has only grown deeper as I've settled into numerous seats in darkened theaters from Clarksville to Chicago to see yet another production of Robert Harling's Steel Magnolias.
The results have been mixed, to be quite candid, since my first trip to Cinquapin at the Royal George Theatre in Chicago, when I first fell in love with the Southern-accented characters who sounded like "my people," and who more significantly acted like people with whom I spent my formative years. Seeing Steel Magnolias that first time was like taking a trip back home (and, truthfully, to be recalling it now has me awash in the particularly emotional remembrance of times past) and I couldn't wait to see Harling's sharply written dialogue performed by actors in Tennessee.
In fact, the following week as I arrived to review a production of Night, Mother - presented by Tennessee Repertory Theatre and starring Mary Jane Harvill and Dorothy Marie Robinson in a production at West End United Methodist Church - I mentioned it to TRT's PR guy Arch Bishop that I had seen Steel Magnolias in Chicago and couldn't wait to see a homegrown production, only to be told it was on TRT's slate of shows for the next season.
Since then, it seems as if every theater company within the sound of my clicking keyboard has staged its own mounting of Harling's play, to varying degrees of success to be certain. For the past 30 years, I've seen some excellent productions (The Rep's first staging with First Night Honorees Nan Gurley and Mary Jane Harvill is remembered with much fondness, as is Nashville Rep's most recent version with First Night Honorees Martha Wilkinson and Mary Jane Harvill), as well as some rather questionable versions (most vivid in my memory is the one from Oak Ridge Community Playhouse, about which I wrote that if I'd had a gun in my hands, chances are not all cast members would have been standing during curtain call - we lived in a different world back then, gentle readers, so please excuse my hyperbole).
I am the first to admit that I take every production of Steel Magnolias very seriously (too much so, probably), despite the show's comic overtones - laughter through tears has always been my favorite emotion, so Truvy and I are cut from the same gaudy cloth. I've seen so many actors playing Truvy, M'Lynn, Shelby, Clairee, Ouiser and Annelle that I essentially know every line of dialogue (often better than some actors, truth be told) by heart, and every situation that transpires in the two-plus hours of Steel Magnolias reverberates through my soul and psyche. I expect greatness every time I settle in to watch the play and I have oftentimes been nonplussed by what I've encountered onstage, leading me to recently declare a moratorium on reviewing future productions.
After 30 or more times (again my count of 3,927 represents my penchant for being over-dramatic), I'm hanging up my press pass and foregoing new productions of Steel Magnolias, which will continue to be presented anywhere a group of people want to sell tickets to other people who want to go to the theater. With four productions of Steel Magnolias in my calendar since the summer of 2017 to the present, I have done my time and will be taking a breather from chattering on about Janice Van Meter and Drew, Belle, Marshall and company. I have heard Shelby exhorted to drink her juice for the last time, never again will I watch Ouiser proclaim she's been in a very bad mood for the past 40 years and no more will Truvy declaim "there is no such thing as natural beauty" in my presence.
Seemingly, I have run out of things to write about the show and I have shared every memory of my childhood in a small Southern town in which my beloved mama and her coterie of friends gathered at Wanda Miller's beauty shop to enact their own down-home version of all that is expressed in Harling's recollection of his own mother and sister doing it in their Louisiana hometown. And, as I write this, I feel as if I am turning my back on the people I love, shutting off a conduit which has brought personal memories flooding into my heart for 30 years and, in essence, saying farewell to characters I love with all my heart.
My heart is full for many reasons, not the least of which is that I can say, henceforth, that the last production of Steel Magnolias that I reviewed - this one at The Larry Keeton Theatre in Donelson through Saturday, September 1 (my birthday is the day after - how appropriate is that?) - was almost as good as that very first production I saw in Chicago in the summer of 1988. In fact, director Donna Driver and her cast deliver a reading of Steel Magnolias that is as close to what Robert Harling wrote more than 30 years ago as any I've ever seen.
Intelligently, Driver and her six-woman ensemble have chosen to reinterpret Harling's beloved script as he intended, instead of a live version of Steel Magnolias, the movie. Playing the iconic characters as they're written affords the actors an opportunity to create their own, unique versions which in 2018 is as fresh as the show that played off-Broadway in its initial run - or in Chicago at the Royal George Theatre in 1988.
In the Keeton Theatre production, a talented ensemble of women have come together to create a vision of life and times in Chinquapin Parish, Louisiana, in which the women tangle and spar with one another, challenge one another, with the full and complete knowledge that no matter what happens at Truvy's on a particular Saturday morning they will remain connected, they will always be friends, they will always support one another no matter what. And that's what Steel Magnolias is really about - sure, Shelbys now and forever will always die in Act 2, many Annelles will always go through the most interesting character arc of the six women and Truvys from now to forever will always crack wise about popular culture, circa 1985 in the America we used to know.
Driver directs her cast with confidence, ensuring that the action of the play's two acts moves at a sprightly pace, with every comic moment landing solidly, and every dramatic pronouncement given its due with authenticity and total accessibility. If the six actors she cast were not friends before rehearsals started, audiences will certainly leave the theater under the impression that the six women are inextricably linked now. That's another important takeway from Steel Magnolias: its celebration of female friendship and camaraderie is heartfelt and genuine.
Kristian Dambrino plays Truvy with all the heart and bravado expressed in Harling's script, refusing to give an impression of Dolly Parton's film performance. Dambrino's Truvy is fun and funny, sometimes outrageous and always kind and considerate. She reigns over the Saturday morning enclave with ease, making it clear that Truvy's beauty shop is her domain that she shares with those she loves.
As Annelle, the slightly daft young woman who comes along when the unseen Judy leaves her job at the shop, Meredith Daniel delivers a near-perfect performance, creating an Annelle who is accessible and relatable even in her most "Christian" moments and when she delivers her monologue about how her character deals with devastating loss, Daniel brings a warmth and commitment to the scene that is oftentimes missing when the role is performed by actors of lesser ability.
Playing town doyenne Clairee Belcher for the fifth (?) time, Linda Speir has never been better (nor has she ever looked more beautiful than she does at The Keeton) or seemed more suited to the role. Speir's Clairee is so charming that she can deliver the most deliciously vile statements in a way they seem like the ultimate compliment, and she utters some of Harling's most memorable and iconic lines with a refreshing undertone of affectionate wit.
Deb Moore, an English professor at Volunteer State Community College, makes a most welcome return to the stage in the role of the irascible Ouiser Boudreaux, investing her character with just enough heart that her most vicious bon mots come across much funnier than they are often delivered (sometimes Ousier is played as a mean old lady, rather than as a cantankerous Southern eccentric) and, in the process, audiences are drawn to her like so many moths to the flame or so many LSU grads to the nearest bar.
As M'Lynn, the quintessential mother of the bride and, quite possibly, the tangible manifestation of all that comprises a "steel magnolia," Kate Adams Kramer is ideally cast, breathing life into her scriptbound character to create a portrayal that is the epitome of grace under pressure. Never for a moment does Kramer seem artificial or showy, instead her M'Lynn embodies every woman who's struggled to bridge the divide between work and home, to care for her family with as much focus as she does her clients, to be all things to all people. Kramer succeeds beautifully and, as a result, this Steel Magnolias is elevated.
Brianne Waters is cast as M'Lynn's beloved daughter Shelby and she looks for all the world as if she stepped out of a time machine sent to the 21st Century from 1985 America. Waters is believable as Shelby and her interactions with the other women have the ring of truth to them.
The audience at The Larry Keeton Theatre last weekend, on the night we reviewed the show, were caught up n the humor and pathos of Harling's sharply written and evocative script, reacting with conviction to everything they witnessed onstage - and the theater was filled to capacity during the show's first weekend, which will likely lead to a scarcity of tickets during the show's final two weekends.
Admittedly, I am going to miss Chinquapin and the wonderfully drawn women of the Parish as my career as a theater critic moves forward, but with this superb production, I'm going out on a high note, with enough good memories to satisfy me until I can no longer remind people that "if you don't have anything good to say, come sit by me..." Bye, y'all.
Steel Magnolias. By Robert Harling. Directed by Donna Driver. Produced by Jamie London. Presented by The Larry Keeton Theatre, Donelson. Through September 1. For details, go to www.thelarrykeetontheatre.org. Running time: 2 hours, 20 minutes (with one 15-minute intermission).