BWW Review: Chase Miller's Star Burns Bright in Chaffin's Barn's ELF THE MUSICAL
Throughout the past year, I've written quite often about Nashville's Chase Miller and his tremendous talents, remarkable stage presence and startling ability to successfully morph from one character to another completely unlike the first (or any to follow). Miller is rather insanely talented and any director worth her or his salt would be deliriously happy to have the serious triple threat in any show on their drawing
board.
Miller really is that good. And, in a lovely Christmas gift to audiences of all ages, the creative folks at Chaffin's Barn Theatre now present the singer-dancer-actor in a role befitting his amazing capabilities: Buddy, the over-sized, over-enthusiastic and over-indulged title character of Elf The Musical, which is based upon the 2003 film that starred Will Farrell and which continues to delight its legions of fans some 16 years after its initial release. With music by Matthew Sklar, lyrics by Chad Beguelin and book by Bob Martin and Thomas Meehan (based on David Berenbaum's original screenplay), Elf The Musical is a fast-paced pageant of holiday season delights that is heartwarming and entertaining, filled to the brim with various Christmastime tropes and laugh-out-loud comedy. The seasonal gravitas of the musical is leavened with enough acerbic, tongue-in-cheek-wink-wink moments to leave you fairly howling - and, if you're so inclined, enough holiday-spiked emotion to bring tears of heartfelt recognition of your own holiday memories to life.
And, in a kind of creative synergy that only happens in the theatre, Sklar, Beguelin and Martin's latest Broadway entry The Prom celebrated its own opening night on the Great White Way at the same time Nashville's Elf the Musical was celebrating its first night, resulting in a certain musical theater symmetry that in itself is pretty swell.
The story hews close to that of the original screenplay, with some minor changes Which tighten the plot to further illuminate the tale of a baby grown to man under the care of Santa's elves after the orphaned child is discovered to have stowed away in the big man's bag of toys after one particularly busy Christmas Eve trip the goods to all the deserving children all over the world. But when Buddy overhears a discussion about the circumstances of his birth and how he came to be part of the elves' family circle - and realizes he is, indeed, a human - he sets off on a life-changing adventure to find his dad in the stone and steel canyons of New York City.
When Buddy takes Manhattan, his adventures kick into high gear and all manner of mischief ensues. It's larger than life, to be certain, and is most assuredly atypical of the usual human holiday, but with the wide-eyed innocence of the title character, brought so vividly to life by the aforementioned Mr. Miller, it's thoroughly believable and completely authentic. While Buddy proclaims his fondness for the five major food groups of "cookies, candy, candy canes, candy corn and syrup," audiences are miraculously saved from a treacly, diabetes-inducing, overly sweet and too saccharine mash-up of Christmastime treatments. Instead, we're offered a smartly conceived tale of the importance of believing in something during trying times and the wisdom to have some faith that good times lie just ahead.
Elf The Musical is designed to lift your spirits and it does so with style, flair and showbiz razzle-dazzle. Suspend disbelief - celebrate your own childlike innocence - and you're in for the ride of your life!
Elf The Musical is so good, what with its quintessentially appealing Chaffin's Barn mounting and the pedigree which that entails, to inspire virtually unrivaled holiday revelry virtually unrivaled. The redoubtable doyenne of Nashville musical theater, Martha Wilkinson, directs; the supremely confident Rollie Main music directs; and the resoundingly creative Everett Tarlton delivers the choreography. Their efforts are made manifest by Miriam Creighton's exquisite costumes, Katie Gant's gorgeous lighting design, Joy Tilley Perryman's cleverly designed props, while various other Chaffin's Barn elves like Sawyer Wallace, Preston Perrin, Alaina Smith, Stephen Platea and Haley Shreiner supply the show's ample onstage magic that derives from artistic collaboration.
With Miller leading the cast of thousands (admittedly, there are only 19 actors, although their tremendous range and versatility will convince you there must be countless performers emerging from the Chaffin's Barn backstage clown car of theatrical elves during the two hours and 45 minutes of mirthful mayhem) under Wilkinson's ideal direction, Elf The Musical should provide to jump-start your own holiday season adventures that lie ahead.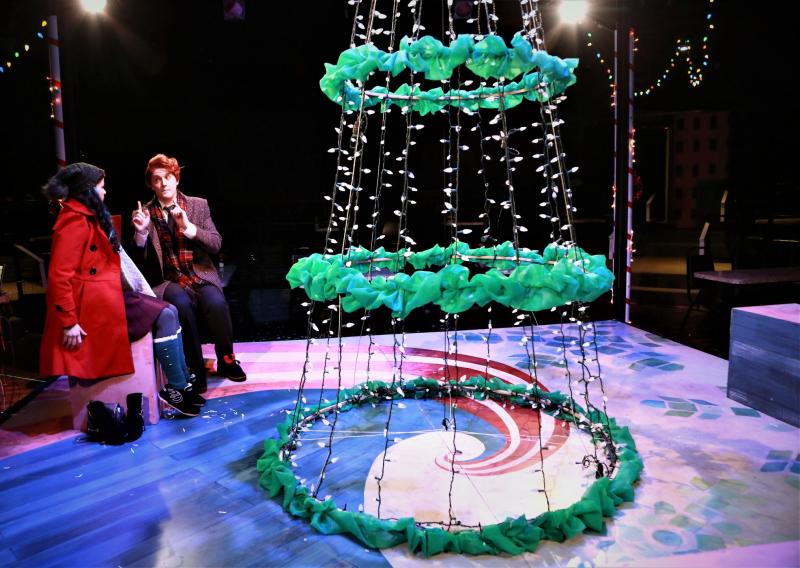 Miller projects Buddy's wide-eyed innocence and naivete with boundless charm and enough energy to power a major metropolitan city, creating an outsized musical theater hero in the process. Yet somehow he manages to keep Buddy grounded, even as he's sharing his trademark love of Santa and all things Christmas-centric. In a wonderfully modulated, tempered performance he's not afraid to go big, which is a major part of the character's wide-ranging appeal. He sings and dances with equal dexterity and brings such palpable charm to his book scenes with every other actor onstage that you can't help but be swept up in all the yuletide festivities.
Wilkinson buoys Miller's efforts by casting a top-flight assemblage of local actors who know a thing or two themselves about musical theater, including Christina Candilora who is delightful as Jovie, the cynical Macy's elf (is there any other kind in theater?) and California transplant who's yet to see it snow in NYC over the holidays. Buddy's ample charm is enough to win Jovie over, of course, and she's joined in that coterie of characters by Jessica Holtan in her winning Chaffin's Barn debut as Emily Hobbs, the erstwhile elf's stepmother, the ridiculously talented Seth Bennett as his non-believing younger brother, and Grey Frey as his forgetful, far-too-busy and Santa nay-saying dad Walter Hobbs (it's explained that he never knew Buddy's mother was expecting and so he's completely taken unawares by the arrival of the six-foot-tall redhead in an elf outfit.
Buddy's proto-nuclear family, as it were, find themselves surrounded by an ensemble of committed and focused players who portray the sort of melting pot New Yorkers who bring a show like this to life, including Brian Webb Russell returning after far too long an absence from the Barn stage as Santa and his prickly doppelganger Mr. Greenway, the enormously appealing Vicki White as Deb (Mr. Hobbs' executive assistant), Austin Olive and Everett Tarlton as a pair of publishing executives whose lack of imagination causes all sorts of interoffice hijinks (Tarlton doubles as a gender-bending Mrs. Claus, which explains so very much about the man in the red suit) and David Ridley as a typically harried Macy's department store manager.
In addition, the hardworking and dedicated ensemble includes a plethora of local favorites including Matthew Hayes Hunter, Cassie Donegan, Jenny Norris, Christen Heilman, Melissa Silengo, Christian Redden, Myka Pacheco and Gabe Pacheco who play a rainbow of Manhattanites, Santa's workshop workers and other plot-driven functionaries. They're all pretty swell, even if we didn't get to see enough of them in the quickly moving Elf The Musical plotline.
Playing through December 22, you'd expect to have plenty of opportunities to join the fun at Chaffin's Barn Theatre, but over the holidays tickets tend to sell at a faster clip than normal (even with two other shows - All I Want for Christmas is My Two Front Teeth and The Game Show Show - sharing the bill with Elf The Musical), so if you want to indulge in the fun and frivolity, you'd best hop to it. In the meantime, there's no better way to have a sparkling, twinkling Christmas than by spending time with Buddy and pals at Chaffin's Barn.
Elf The Musical. Book by Thomas Meehan and Bob Martin. Music by Matthew Sklar. Lyrics by Chad Beguelin. Based on the New Line Cinema film written by David Berenbaum. Directed by Martha Wilkinson. Musical direction by Rollie Mains. Choreography by Everett Tarlton. Presented by Chaffin's Barn Theatre, 8204 Highway 100, Nashville. Through December 22. For tickets and other details, go to www.chaffinsbarntheatre.com or call (615) 646-9977. Running time: 2 hours, 50 minutes (with one 20-minute intermission).
Jeffrey Ellis is a Nashville-based writer, editor and critic, who's been covering the performing arts in Tennessee for more than 35 years. In 1989, Ellis (read more...)