Click Here for More Articles on Ballet!
BWW Review: After 10 Years, Nashville Ballet's NASHVILLE'S NUTCRACKER Dazzles and Delights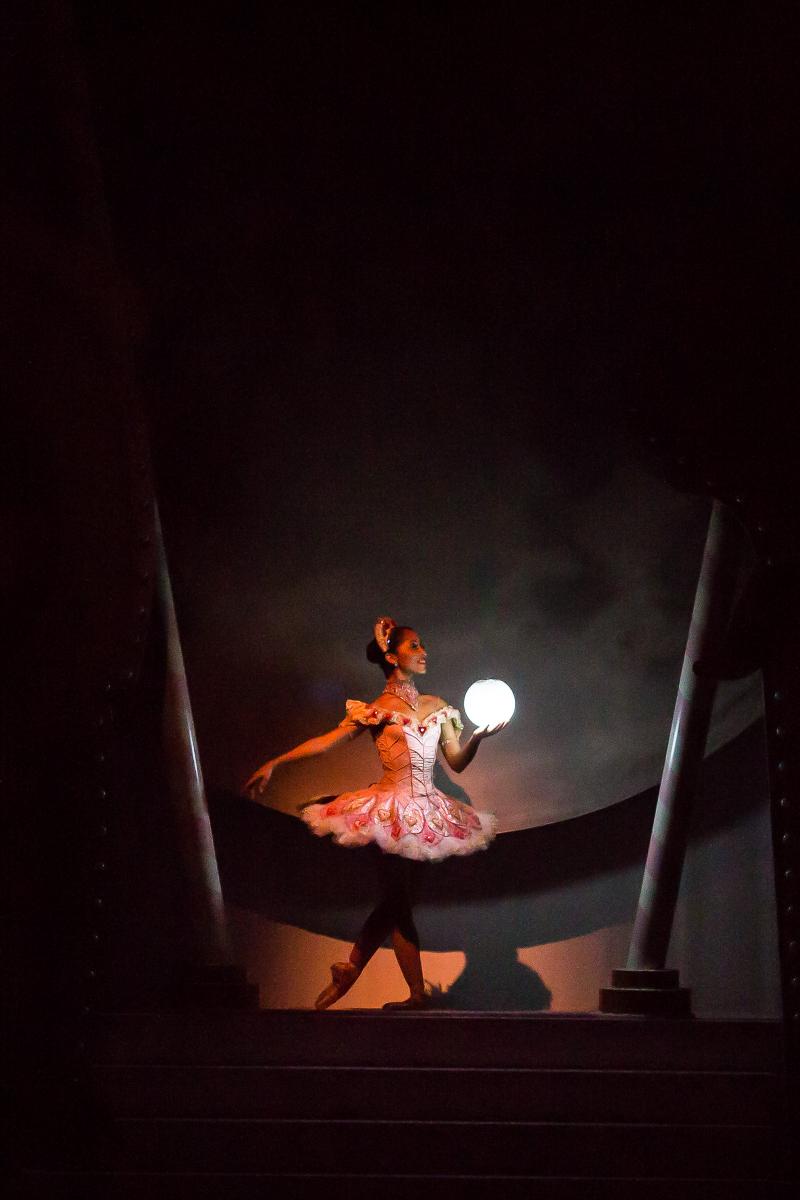 As difficult as it may be to comprehend, Nashville's Nutcracker - Paul Vasterling's beautiful and evocative holiday gift to his adopted hometown - first debuted in 2008 and its return in 2018 only enhances the already stellar reputation of Nashville Ballet as the city's leading arts entity and adds more luster to the glittering resume of its artistic director, who this season celebrates his 20th anniversary leading the company.
It should come as absolutely no surprise then that the 2018 edition of Nashville's Nutcracker offers its audiences - regardless of their level of interest in or the breadth of their knowledge of ballet or the history of this particular work - remain as captivated as ever or that the production is still stunning to behold, an eye poppingly gorgeous work of art that for ten years has ushered in the Christmas season in Nashville with elaborate style and impeccable taste. Clearly, Nashville's Nutcracker, interpreted by Vasterling to take place amid the historical happenings of the Tennessee Centennial Exposition of 1897, filled with the wonders and spectacle of an international gathering that marked Tennessee's 100th birthday as a state, is uniquely designed to set it apart from all the other Nutcrackers that abound this time of year.
And how lucky are we to find ourselves in the audience of Nashville's Nutcracker to bask in the reflective glow of the exceptionally talented dancers of Nashville Ballet, to be entranced by their spirited performances and to be left just as awestruck as we were the very first time we watched it a decade earlier? Some ten years after, we still are eager to set off on a journey of wonder and delight, to be swept up in the majesty of the dance, to watch dashing princes and ethereal fairy princesses brought to life by members of the Nashville Ballet and NB2 companies and to be held in their thrall for two hours. It's the perfect way to celebrate the season and a harbinger of what is still to come during this most wonderful time of the year.
Since 2008, Vasterling's stunning Nashville Nutcracker has delighted thousands of people who every year gather in TPAC's expansive Andrew Jackson Hall to witness the production once more, to allow themselves to be caught up in the colorful fantasy of the traditional tale of a young girl whose Christmas Eve dreams are filled with all manner of fanciful merrymaking and intrigue, culminating in her rapturous visit to the kingdom of the Sugar Plum Fairy, where her wildest dreams are realized.
The historical context provided by Nashville's Nutcracker imbues the production with a greater sense of time and place, to be certain, but it is the extraordinary design elements of the massive undertaking which ensure a visual feast unlike any other of local lineage: Campbell Baird's costume design is second to none and the dancers are dressed for maximum impact, while Shigeru Yaji's scenic design provides a series of ideal settings for the piece, adding drama to the proceedings with his clever use of color and the sumptuousness of his design, and Scott Leather's lighting design not only illuminates the stage environs to provide focus and clarity, but it also effectively underscores the story being told onstage.
Set to the time-honored musical score by Piotr Ilyich Tchaikovsky (so pervasive is his "Nutcracker Suite" that it may be best known by some as the background music for any number to television advertisements), which has never sounded better than when it is performed with the passion and ardor of the award-winning musicians of the Nashville Symphony Orchestra, under the direction of principal guest conductor Nathan Fifield, Nashville's Nutcracker takes audiences on a mind-bending trek that is as much a part of the holiday season as are brightly decorated evergreens or caroling parties designed to spread Christmas cheer throughout countless neighborhoods the world over.
With Nashville Ballet's Kayla Rowser dancing the role of the aforementioned Sugar Plum Fairy, an already stunning production is elevated to an artistic event that is epoch shattering and transcendent. Rowser's exquisite form lifts the coveted role of the Sugar Plum Fairy from her stagebound genesis, sending her soaring into the heavens. Hyperbole borne of theatrical transformation? Perhaps; we will readily admit to being one of Miss Rowser's most adoring fans, but there is just something almost indefinable about her that (we suspect and/or predict, depending on one's perspective) will have you leaping to your feet to reward her electrifying performance with your own rapturous ovation. Rowser is ideally paired with Nicolas Scheuer, who dances the role of her Cavalier with an impressive sense of command that affirms him as her equal. They are emblematic of Nashville Ballet's growing roster of impressively talented dancers and their onstage leadership is unquestioned.
Young Clara, danced with confidence and charm by Natalie Croney (we first meet her as she escorted in the ballet's prelude at the 1897 Tennessee Exposition in Nashville's Centennial Park by her uncle, the magical Drosselmeyer, played by ballet master Jon Upleger), is treated to a cavalcade of performances by a colorful collection of dancers representing the many exhibits found in the Centennial Exposition. Jackson Bradshaw (with Jamie Kopit and Lily Saito) deliver a Spanish-themed trio, while Aleksandr Schroeder is accompanied by a beautifully menacing dragon for the Chinese dance. Daniella Zlatarev is resplendent as the sensuous snake lady, with Gerald Watson presenting her as the snake charmer. Luca Sportelli performs a breathtaking and gloriously performed Russian Dance, while Michael Burfield and Sarah Pierce, as a pair of Swiss shepherds, watch over their flock of lambs, which is comprised by members of the Nashville Nutcracker's Youth Cast. Finally, Emilia Sandoval is delightful as the towering Madame Bonbonniere, literally riding above her Bon Bons with a sense of insouciant glee.
Just as they were left so engaged by their sojourn in the Sugar Plum Fairy's Kingdom, audiences will be awestruck by the stirring performance of Mollie Sansone as the Dew Drop Fairy. Sansone, along with Brett Sjoblom as the Nutcracker Prince, are joined by the corps of dancers dancing the requisite roles amid the lush beauty of the Parthenon Garden to rivet the audience's collective attention to the stage at the top of Act Two. Quite frankly, Sansone has never been more impressive, nor more confident, as she is as the Dew Drop Fairy, dancing with a deceptive and effortless grace, and Sjoblom's tremendous presence and athletic skill adds greatly to the startling impact of the second stanza's dazzling opening. Emily Ireland-Bucjek and Linnea Swarting are noteworthy as the flower demi soloists, while Claire Anderson, Julia Blahnik, Sydney Box, Leigh Goldberger, Sophia Pinkham and Abby Zinsser are lovely as the Parthenon Court, with Kennedy Brown, Claire Buehler, Elizabeth Flynn, Skyler Levine, Imani Sailers, Colette Tilinski, Molly Yeo and Christiana Younquist comprising the lithe and expressive flowers corps (and who help bring the first act to its dramatic and altogether beautiful conclusion as the Snowflakes).
If there is a moment more breathtaking than the one during which the green upstage curtain falls at the end of the "Waltz of the Flowers" to reveal the Kingdom of the Sugar Plum Fairy, we've yet to witness it. And ten years hence, that particular moment retains all the drama and power of a truly theatrical moment - one that is perfectly conceived and startlingly realized. I could watch it every day and never tire of the sheer spectacle of the diaphanous curtain being whisked away, out of view, to show off the ballet's penultimate setting.
That one moment showcases to perfection the continuing power of Vasterling's artistic vision for Nashville's Nutcracker and it is thoroughly, completely - monumentally - a moment of stage magic at its very zenith.
Equally as lovely to experience is the Act One finale - The Snow Scene - which features Julia Mitchell and Benjamin Wetzel as the regal rulers of the fantasy kingdom. Mitchell fairly glides across the stage as the Snow Queen, with Wetzel partnering her to perfection and their pas de deux is a joyful expression of their existence in a veritable winter wonderland. When the snow begins to fall, the audience is instantly transported to another world, and their beautiful interpretation of the music reverberates long after curtain, as snow begins to fall throughout Jackson Hall to the audible delight of every member of the audience.
Vasterling's version of the Nutcracker includes a holiday gathering at the home of the afflent Stahlbaum family and features superb performances by Sarah Cordia, as an Italian Ballerina Doll, come to life, along with Michael Burfield's delightful turn as the Commodore Doll, and features Julia Eisen and Logan Hillman as Clara's parents and Forrest Boggs as her irascible younger brother Fritz.
Perhaps most notable about Nashville's Nutcracker each year is the presence of dozens of students from the School of Nashville Ballet who bring life to the myriad roles of the fanciful denizens of the realm of the Nutcracker. Vasterling, as always, makes good use of their already estimable talents, employing them as integral elements of the production, showcasing them to the best of their abilities.
Nashville's Nutcracker. Concept, story treatment and choreography by Paul Vasterling. Music by Piotr Ilyich Tchaikovsky. Featuring the Nashville Symphony, under the direction of Nathan Fifield, principal guest conductor. Presented by Nashville Ballet, at Andrew Jackson Hall, Tennessee Performing Arts Center, Nashville. Through December 23. For details, go to www.nashvilleballet.com or call (615) 782-4040 for ticket information.
Nashville's Nutcracker production photos by Karyn Photography