BWW Interview: Donna-Michelle St. Bernard of SOUND OF THE BEAST at Black Theatre Workshop/MAI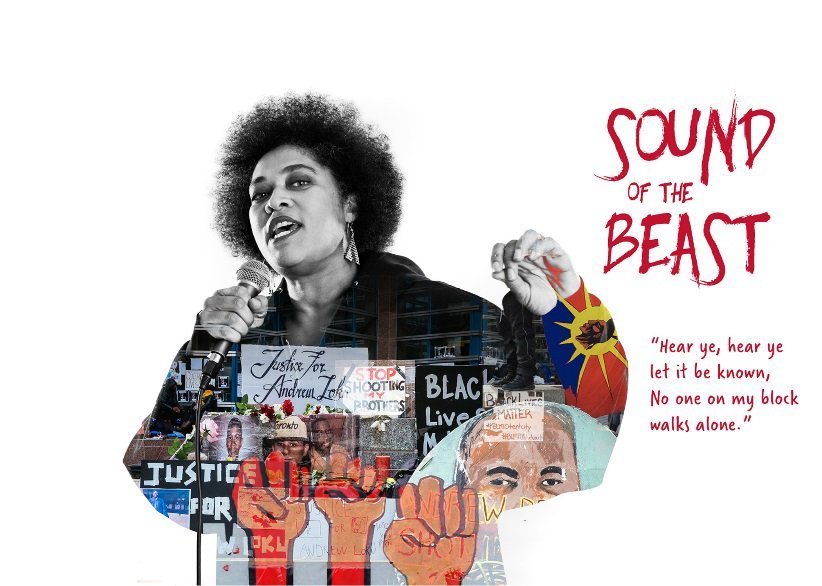 Canada's oldest professional black theatre company, Black Theatre Workshop are all set to launch their 48th season this October. The first production of the season is SOUND OF THE BEAST (SOTB), a one-woman show that uses spoken word, story-telling and hip-hop to spit rhymes from the underground and relentlessly challenge poverty, oppression, and bad dancing. SOTB is the latest instalment of writer / star Donna-Michelle St. Bernard's marathon project of writing 54 plays - one for every African nation, entitled 54OLOGY. This one is inspired by Tunisian emcee Weld-El 15 who was jailed for 2 years in 2013 for his song Boulicia Kleb (The Police Are Dogs). Currently the Artistic Director of New Harlem Productions, Donna-Michelle is a multi-award winning, two-time nominee for the Governor General's Award for English-language drama, and, alongside Black Theatre Workshop is bringing Sound of the Beast to Montreal for the very first time.
Born on the small Caribbean island, Bequia, Donna-Michelle's family originated from Grenada in the West Indies. Her family emigrated to Canada during the Socialist Revolution. Raised in Toronto, Donna-Michelle began writing short stories in crayon, that her mother has saved. Being involved in the arts was "kind of an always thing" for her. She went through "a big unicorn and mermaids period," before moving on to "robots and dragons." A big reader, she was always most comfortable with words. Working in a lot of different forms including poetry and short stories, she feels "very lucky to have found theatre and says, "It was quite a happy accident."
I had the privilege of chatting with Donna-Michelle about SOTB, which will be presented at MAI through the 14th October, along what's on the horizon for her.
HANNIBAL: When did you start to develop SOTB and what was your process?
ST. BERNARD: For each of the stories in 54OLOGY, I believe in the story sort of finding it's own form. Because hip-hop is my primary expressive form, I was encouraged to bring my that practice into my theatrical creation. This story called for that form. I wanted to understand solo shows and I wanted to challenge myself to grow my practice.
HANNIBAL: Tell me a little bit about working with Black Theatre Workshop and bringing SOTB to Montreal.
S
T. BERNARD: I'm a big fan of the work Black Theatre Workshop has been doing. They did produce another show of mine called GAS GIRLS, which is also part of 54OLOGY. They do really great work and I was really proud of that production. When we expressed an interest in SOTB, I was really pleased and surprised because it's not at all conventional theatre form and the ideas are also challenging. So I appreciate that it's a continued part of their expanding aesthetic. I appreciate being given a platform for this kind of story with a Montreal audience.
HANNIBAL: Looking forward, after your run, what's on the horizon?
ST. BERNARD: I'm so excited to tell you this! I've been so in my SOTB head, that I forgot to be excited for this! Right after I close, I'm going into workshop with Geordie Productions. They are premiering a work they commissioned for me called REACHING FOR STARLIGHT. That's going to be in Montreal in Spring 2019.
HANNIBAL: If you could do anything else, other than creating art, what would it be and why?
ST. BERNARD: Ooh! I feel like my answer to this question is not going to be very satisfying. I can think for a minute, but I have to say that I do exactly what I want to do. There's nothing that I really want to do that I'm not doing.
HANNIBAL: That's really great!
ST. BERNARD: I feel like I lack imagination...but that's the best answer.
SOUND OF THE BEAST is co-presented by Black Theatre Workshop and MAI (Montréal, arts interculturels), produced by Theatre Passe Muraille.
Directed by Andy McKim & Jivesh Parasram
October 3 - 14, 2018 - Montreal Premiere
Venue: MAI (Montréal, arts interculturels)
3680, rue Jeanne Mance
Box Office: 514.982.3386
Online Ticket purchase here
Pricing:
$27 - Regular
$24 - Students
$22 - Student/Pro Artist
$19 - Groups/Preview (University) (10+ tickets)
$16 - Student group (HS & CEGEP) (20+ tickets, free teachers tickets for each 20 Students)