Review: THE WEDDING SINGER at Lyric Arts
This production runs now through March 26th.
Book by Chad Beguelin and Tim Herlihy
Music by Matthew Sklar
Lyrics by Chad Beguelin
Based upon the New Line Cinema film written by Tim Herlihy
Directed by Jake Sung-Guk Sullivan
THE WEDDING SINGER centers around Robbie Hart, New Jersey's number one wedding singer and the life of the party. That is until his own fiancée strands him at the altar. Shot through the heart, bitter and broken, Robbie begins to make every wedding as disastrous as his own until a warm-hearted waitress named Julia intervenes. When feelings become involved, trouble brews as Julia's about to be-you guessed it-married! But her Wall Street shark of a fiancé may not be the happily ever after Julia's always dreamed of... When she announces their plan to elope, Robbie must pull off the performance of the decade or risk losing the girl of his dreams forever.

Step back in time to when hair was big and the collars were up! Based on the Hollywood film starring Adam Sandler, THE WEDDING SINGER celebrates all the fun, love, and ridiculousness of the 80's. With an electric soundtrack that gives nod to nostalgic hits, THE WEDDING SINGER will have you dancing down the aisle while eagerly saying "I DO!"
What a fun show! If you enjoy the cult classic film of the wedding singer, you will enjoy the musical! The set was a wedding reception hall that was adaptable for other scenes throughout the show. The costumes, hair, and lighting were great, it gave you a real rock 80's feel! The script followed the movie well and so many comedic moments but so many heartfelt moments that the audience enjoyed!
The cast was great and fit their roles. Chris Paulson (Robbie Hart) and Haley Methner (Julia) were well suited for their roles and had great chemistry. Cris Sanchez (George) was fabulous, Justin Michael (Sammy) was funny, Audrey Johnson (Holly) was a great sister to Haley. We felt bad for Robbie as Jaclyn McDonald (Linda) left him at the alter but she did wonderful. Joey Bruske (Glenn) did a nice job at playing Haley's original suiter. Of course, who could Sher U-F (Grandma Rose) who was so hip! She had the audience laughing.
I enjoyed all of the music and the dance numbers. The ensamble did great at supporting the leads and upping the energy with this production. I enjoyed "Someday, Come Out of the Dumpster, IT's Your Wedding Day, and of course, Grow Old With You."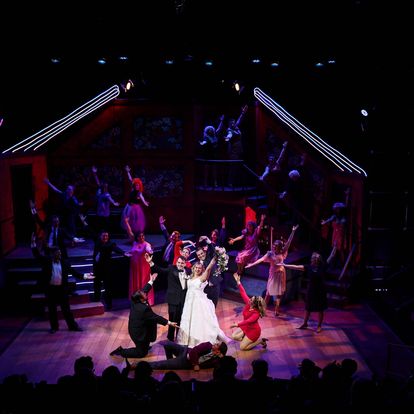 I would recommend seeing this fun and energizing production of the Wedding Singer at the Lyric Arts.
For more ticket and show information, please click the ticket link button below.
All images courtesy of the Lyric Arts