BWW Review: With DR. FALSTAFF, Mixed Precipitation Once Again Delivers a Delightful Mash-Up of Classic Opera and Pop Songs, Outdoors while Serving Fresh Local Food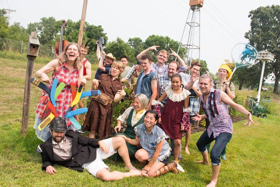 Cooler weather, back to school sales, and the Minnesota State Fair may signal the end of summer, but one of #TCTheater's summer highlights is in full swing. This is my 5th year attending Mixed Precipitation's annual picnic operetta (now celebrating their 10th anniversary), and if you haven't seen them yet you're missing out on a unique delight. Mixing classic opera, pop music, and Minnesota's bountiful harvest, they perform a charming show outdoors while feeding the audience throughout the show. What's better than that?! For this year's opera, Artistic Director Scotty Reynolds has adapted German composer Otto Nicolai's 1849 opera DIE LUSTIGEN WEIBER VON WINDSOR (based on Shakespeare's THE MERRY WIVES OF WINDSOR), setting it on the Iron Range in the '70s at the time of the foundation of the EPA, adding in songs by Bruce Springsteen. The result is exactly as weird and wonderful as that sounds. It's playful, fun, outdoors, and did I mention they feed you?! Playing in gardens and parks around the state, from Lake County to Winona (including several locations in the Twin Cities area), you're not going to want to miss this unique theatrical and culinary delight.
Here's how adapter Scotty Reynolds describes the show:
"Our show places the silly characters of Shakespeare's comedy alongside contemporary questions about industry, job creation, and the environmental impact of capitalism. Shakespeare's The Merry Wives of Windsor takes place in a hunting village outside of London. Our version takes place on the North Shore of Lake Superior in a historic fishing community and mining town. Contaminated drinking water and a depleted fish population led to a decade of legal battles with fisherman, environmentalists and the mining industry. Bruce Springsteen's classic anthems of working life and songs of love are perfect for the struggles of the time. We'll look at the conflict of environmentalism and job creation with humor and dignity."
They do all that, with plenty of silliness and Minnesota jokes too. As in the original story, Dr. Falstaff (Nick Miller) comes to the town of Mineral Bay and, short of money, attempts to woo two married women, Judy (Naomi Karstad) and Arlene (Anna Hashizume). But he didn't count on how tough, smart, and clever Minnesota women are. The two team up and trick him into being thrown out of town. Meanwhile their husbands, one a miner (Alex Adams-Leytes) and one a fisherman (Nora Rickey), are on opposite sides of the 1976 legal battle United States v. Reserve Mining Company, as ranger/bar owner/bus driver Sandy Quickly (Joni Griffith) drives the townspeople to the cities to watch the trial. But as they say in the show, maybe miners and fisherman can be friends, with the help of teachers and librarians! Unfortunately the threat of pollution of Minnesota's invaluable natural resources has not gone away, making this an ever timely story. #savethebwca
Under director Kym Longhi, the cast is incredibly fun and playful, as must be in this outdoor setting where anything can and does happen. And they sound as good singing the classic opera (in German!) as they do the Springsteen classics. Music Director and arranger Gary Ruschman leads an eclectic five-piece band that can handle both styles of music. And even though this is a fun and silly show, the musicianship of everyone involved is impressive.
And the food! Five small bites are served throughout the show, and are worked into the story with clever (or not so clever) puns, so that it's a cohesive part of the experience. All feature local produce and are delicious and creative (if you have dietary restrictions, ask about ingredients). My favorites were the sweet popcorn ball and the cocoa bites (like taconite remnants). Why doesn't all theater include people serving me food throughout the show?!
DR. FALSTAFF AND THE WORKING WIVES OF LAKE COUNTY: A PICNIC OPERETTA continues at gardens and parks throughout Minnesota through October 7. Click here for their full schedule and to find a location near you.
Photo credit: the cast of DR. FALSTAFF (photo by Regina Woolson)