BWW Interview: Natalie Powers of FIDDLER ON THE ROOF at Hennepin Theatre Trust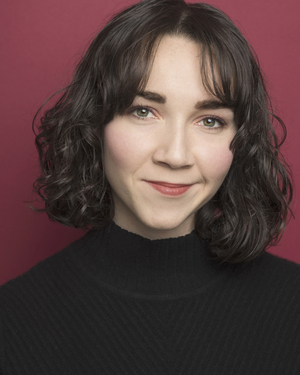 FIDDLER ON THE ROOF opens at the Orpheum tonight for a run though Sunday, and while you probably saw this show on a local theatre's stage (at least) a few times, it is worth another look at this 2015 revival production from the Tony®-winning director Bartlett Sher and the team behind South Pacific, The King and I and 2017 Tony-winning Best Play Oslo. While the musical is about a Jewish family going through times of change and division, the lessons could just as easily be said to fit many other current-day situations. Find out a little more about that aspect and more from the middle daughter of Tevye, Natalie Powers plays Chava, and gives us some pre-show reading in 6 Questions & a Plug.
Can you start by telling a little about how this production of the revival of FIDDLER approaches this older play -- is it a renewed version in some way or a more straight-forward retelling? What was the main direction director Bartlett Sher gave to the cast about approaching this show?
Definitely! It's the same show people know and love - Same script, same songs, yet our production has a revitalized and grounded quality to it. I suppose I would say our version is both renewed and straight forward! Bart's direction highlights the contrast of the human experience in such a genuine way. He also found it was very important that we recognize the difference between refugee and immigrant stories. Although both incredibly important perspectives to share, Bart emphasized that "there is a difference between making the choice to leave and being forced out." In order to give this story the proper weight, we have to try our best to portray the honest urgency that comes with not having a choice.
Your character Chava defies her father Tevye and marries outside the faith, and even at show's end, is still at odds with him. This sort of thing could still happen today, of course, so how are you portraying this and the relevance to people today?
What I find most beautiful about Chava is that she leads with her heart even though she is such a intellectual. She doesn't expect Papa to see Fyedka as any different than other eligible men in the Anatevka - she expects him only to see his matching intellect and compassion. There's a beautiful naive quality to this assumption and I don't believe she ever had the intent to defy her father. She simply fell in love and wanted her father's blessing to marry this wonderful fit she found for herself. Her story is extremely relatable to many circumstances as people of different religion, gender and race still fight for their right to marry who they love.
I try my best to portray Chava as someone who celebrates the people she loves by supporting them and I believe that she assumes their support as well. Of course, she learns that this isn't the case, but I think her expectation of family support makes the realization that much more heartbreaking.
What moment of the show is your favorite (whether it's your character's or another scene in the show) and why?
"Tradition" is my favorite moment of the show. The group entrance is invigorating and feels like a perfect way to start the story. We all enter together in a whirlwind of motion yet find this beautiful stillness on the stomp right before our first sung note. I love that we get to celebrate this community we've created right at the top of the show.
You've been on tour for a long time now with this cast; has your FIDDLER family become like family in any way to you? What's it like touring for an extended time with a group like this? How long does the tour run?
In so many ways, yes. After 9 months on the road, we know each other very well and how we react in various different settings. There are times when I'm convinced my show sisters can read my mind because they'll say exactly what I'm thinking out loud. In terms of the length of the run, I believe the tour is open ended at the moment but the first leg ends this month! It will continue to tour the country for at least another 10 months.
This looks like it is your first national tour and Broadway show -- how did you get this part and what's your path to now been career-wise? What got you started performing?
It is! I had three FIDDLER auditions in New York City before I was offered the part in May of 2018. It was thankfully a low-stress environment and I'm very lucky that it was such a short process for me audition-wise. I graduated from Pace University the year before and had been working as a freelance photographer and performer in smaller shows around the city. I started performing at the age of 5 in a production of PETER PAN at my school in the suburbs of Chicago. A classmate had been living with cancer and we staged PETER PAN as a fundraiser to send her and her family to swim with dolphins at the Atlantis resort. We thankfully raised enough for that dream family trip before she passed and the experience really made me appreciate how theatre can affect someone else's life in such a positive way.
What do you plan or hope to do in the future? It looks like you have a successful photography business along with your performing career. Is that something you also hope to continue building? (Your Instagram account is fun, too!)
Thank you! I love that you checked out my Instagram (@natalieannepowers). I have some of my favorite photography work for the American Theater Wing and TodayTix up there! Ideally, I'd love to combine both of my careers in NYC! If I could balance performing in a Broadway show every night with a consistent photography career I would be elated (to say the least)!
Once FIDDLER ends its run, what's next for you?
I'm celebrating by taking a trip to the UK and then it's back to NYC! Excited to see what new adventures the city has in store.
More information:
FIDDLER ON THE ROOF plays the Orpheum in Minneapolis through Aug. 4, 2019. Tickets: https://hennepintheatretrust.org/events/fiddler-on-the-roof-broadway-tickets-orpheum-theatre-minneapolis-mn-2019/
Photo:
Natalie Powers (Chava), courtesy of Hennepin Theatre Trust