BWW Review: A CHRISTMAS CAROL Spreads Tidings of Comfort & Joy at Milwaukee Repertory Theater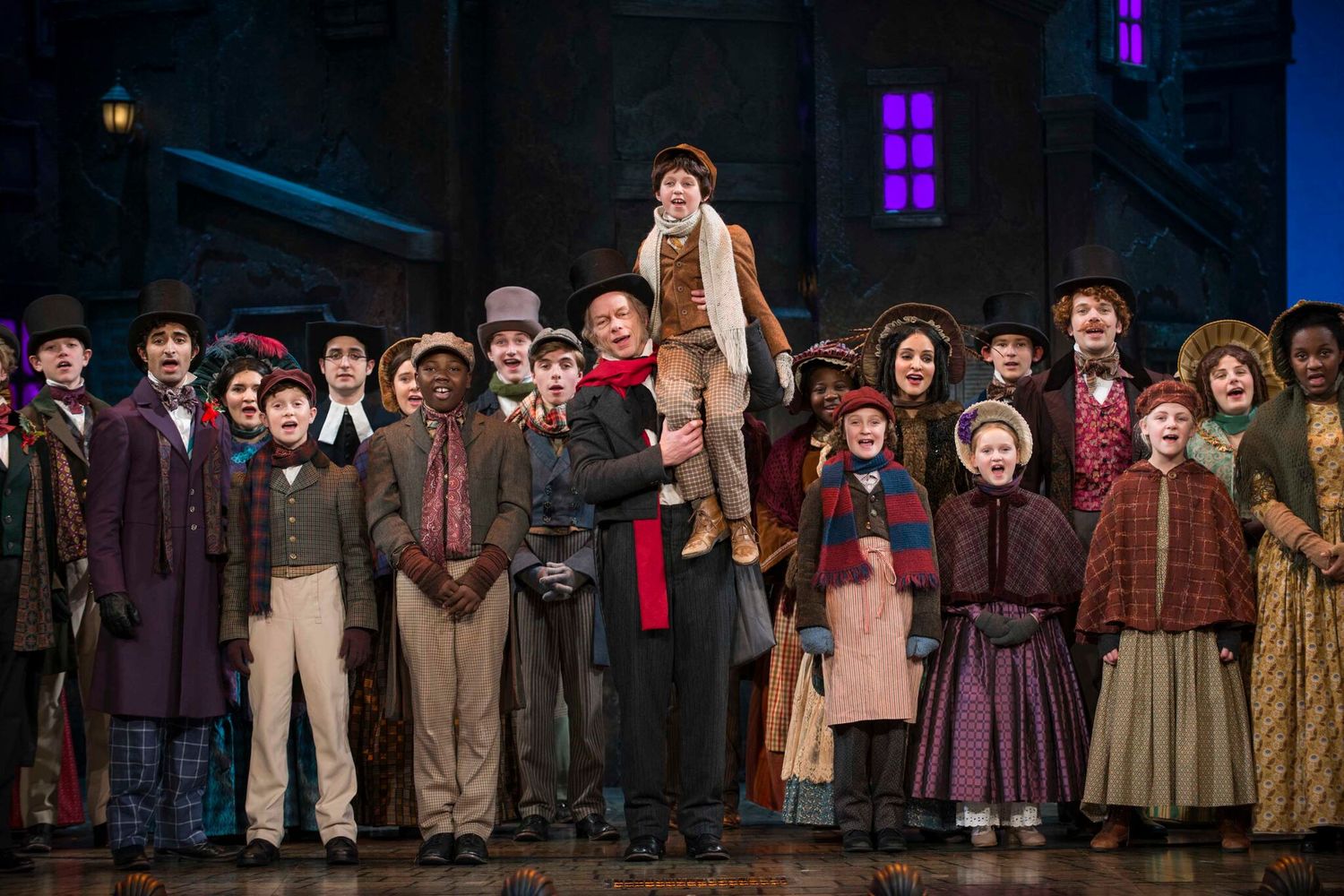 Last year at this time, the Milwaukee Repertory Theater debuted its all-new 41st anniversary production of A Christmas Carol - a feat then three years in the making. The Rep boasts the second-longest-running professional production of the Charles Dickens classic in the country, and given the magnificent caliber of its set and costume design, stage direction, original score, veteran actors, and touch of Panto-style (interactive) theater, this is one Carol that will undoubtedly continue to be sung for decades to come.
The most noteworthy changes and upgrades in this still-new Christmas Carol, directed and adapted by Rep Artistic Director Mark Clements, are the towering, rotating sets, the return of the Rep's newest Ebenezer Scrooge - the brilliant Jonathan Wainwright - and a slew of decidedly ghostly touches. After all, though this is a story of Christmas and redemption, it's all courtesy of three otherworldly spirits. When the spirits appear, that's when this Milwaukee Rep production really comes to life.
I admit, the first few scenes of A Christmas Carol are often the hardest for me. The lines are so fixed in my brain, I can recite every "Christmas a humbug, uncle?" and "Are there no prisons, no poorhouses?" like the back of my hand - and that's a distracting thing. But as the massive set spun from ceiling-scraping London facades to Scrooge's interior bedroom, my mind finally started to leave behind all previous Carol conceptions. Jonathan Smoots' haunting Jacob Marley snapped my senses to rapt attention - his rich, ghostly bellowing delivering thrills and chills.
To round out the riveting cast of Act One spirits, cue Milwaukee favorite Deborah Staples, returning as the ethereal Ghost of Christmas Past. Although I remember Staples' Ghost coming off a bit severe last year, I feel she dialed it back just a hair this time, making her performance all the more spellbinding. In her celestial, LED light-lined gown, Deb Staples doesn't just ask a question of the audience in Panto style - she commands an answer. It's delicious.
Also delicious: The whole of Christmas Past. As we enter Scrooge's childhood, real (theatrical) snow floats down upon the Pabst Theatre audience to delighted gasps, wide-eyed wonder, and children reaching to grasp the soapy flakes. That little dusting of snow was enough to fill my head with warm nostalgia of Christmases past - as Scrooge himself would soon also be. The young Scrooges, played by Jack Trettin and Gabe Smith, sang the wistful carol In the Bleak Midwinter with angelic purity and grace.
Watching as Scrooge grows to an apprenticed young man, we meet Mr. and Mrs. Fezziwig. Always a favorite duo, the merry couple are played this time by Michael J. Farina and Angela Iannone to charming effect. I should note that the two also play the pair of donation collectors in Christmas Present, finishing each others' sentences with, to my memory, a better rhythm than last year, thanks to the new addition of Farina. The spectacularly diverse Iannone also plays Scrooge's crotchety housekeeper in Act Two - a bit part that nearly steals the show for all the comedic flair she brings to the stage.
As the curtain rises on Act Two, we find ourselves in Christmas Present with Todd Denning as Scrooge's jovial tour guide. Last year, the character had a Jamaican influence - this year, he's Scottish, and the accent is much easier to decipher. It's here we visit the home of Scrooge's faithful clerk, Bob Cratchit, and get a slice of Scrooge's nephew Fred's own Christmas with family and friends.
In both scenes, we're faced with tender moments: young Tiny Tim, played by the darling Ashley Bock (you go girl!), sings a wishing song, and Fred's party pays tribute to the miserly Scrooge with a moving reprise of In the Bleak Midwinter. Fred and wife Clara, played by Jesse Bhamrah and Annelyse Ahmad - both clear-voiced - lead the entrancing ensemble. The Rep, once again, has gathered a sublime choir of vocalists, and it's heaven on the ears.
Walking with Scrooge into the foreboding, oppressive darkness of his Christmas Future, it's here that the ghostly feel is most striking. Although, there are two prior moments (not counting Jacob Marley) that deserve a shout-out: At the end of Christmas Past, the ghosts of Scrooge's own past swarm about him, reciting all their targeted, hurtful truths until Ebenezer is left cowering on the ground - and at the end of Christmas Present, personified ignorance, want, and poverty close in around him. Chilling, affecting creative choices.
But any production of A Christmas Carol - however flashy - is only as good as its Scrooge. Luckily for the Milwaukee Rep, they've found a remarkable talent in their twelfth Ebenezer, Jonathan Wainright. He navigates Scrooge's well-earned transformation with marvelous zeal: reacting to spirits both regal, merry, and downright spooky, gazing with a heavy heart at his own pitiful past, shaking with the fear of a doomed future, and eventually exhibiting an all-encompassing mirth at the promise of a second chance at life.
While James Pickering holds the record for 14 seasons of bringing Scrooge to life at the Milwaukee Rep, I for one hope that Wainright is up for usurping that record. It would be a pleasure to watch as he continues to grow into this most iconic role. The good news is, this Christmas Carol isn't just a great night of theater - it's also not going anywhere. This Milwaukee tradition does, as Christmas Carol composer John Tanner writes, "bring good cheer," marking that "Christmas has begun - God bless us, everyone!" There's really no better way to kick off the holiday season here in Milwaukee.
A Christmas Carol is playing now through December 24th at the Milwaukee Rep. Information and tickets at milwaukeerep.com.
Photo Credit: Michael Brosilow
Related Articles View More Milwaukee, WI

Stories

Shows