Photo Flash: First Look at Kristina Wong in CAT LADY at Mad Cat Theatre
How do you get a cat to stop spraying while simultaneously using theater to end existential loneliness AND racism? This frequently asked question is tackled by Kristina Wong in her devastatingly hilarious play Cat Lady which will open Mad Cat Theatre Company's 13th season. Cat Lady explores the parallel worlds of two polar opposite archetypes living at the margins of the dating world - musty cat ladies and the fast-talking male pick-up artists who hunt among them. Get a first look at Wong in the show in the photos below!
Wong, a multi-talented performance artist whose diverse body of work ranges from stand-up comedy to commentary on American Public Media's "Marketplace" to film documentary and articles in Playgirl magazine, has been called "sassy" and "original" (LA Times), "raucous and irreverent" (AP) and an "Asian American Lily Tomlin" (American Theatre Magazine). Cat Lady is her fifth full-length show, and her first full-length ensemble piece.
A theme uniting Wong's various performances is her offbeat curiosity and social conscience. Whether it's exploring the high incidence of depression and suicide among Asian American women (Wong Flew Over the Cuckoo's Nest) or the contradictions of the bio-fuel movement (Going Green the Wong Way), Wong consistently displays a subversive intelligence and a knack for interpreting the strangeness of our times. Cat Lady, which will be directed this time around by Paul Tei, is no exception.
Wong's cat, Oliver, and his rash spraying problems was the inspiration of Cat Lady, which premiered as a work-in-progress at the REDCAT NOW Festival in Los Angeles followed by runs in Houston at Diverseworks and at the ODC Theater in San Francisco. In Cat Lady, Wong delves into the psychology behind hoarding - of both animals and humans. Unmarried women who live alone with cats ("cat ladies") and aggressive pick-up artists commingle in Wong's pop culture universe which manages simultaneously to draw on VH1 and Martha Graham.
In addition to featuring Wong, Mad Cat company member Ken Clement will be playing Oliver the Cat, along with the pick-up artists who wish to remain anonymous... for now. So stay tuned.
With Designs by: Matt Corey* (Sound), Melissa Santiago Keenan (Lights), Leslye Menshouse (Costumes) and the scenic team of Paul Tei* & Joe Kimble*. * Mad Cat Company Member.
Kristina Wong (Playwright): Kristina Wong is an internationally presented solo performer, writer and cultural commentator named "One of the Seven Funniest Eco-Comedians" by Mother Nature Network. Her most notable touring show-- "Wong Flew Over the Cuckoo's Nest" looked at the high rates of depression and suicide among Asian American women and toured to over 40 venues since 2006. It's now a broadcast quality DVD that has been acquired by university libraries nationwide and is also available for home use at Amazon.com (www.flyingwong.com <http://www.flyingwong.com> ). "Going Green the Wong Way" which had its world premiere with Mad Cat in 2010, has toured extensively in the U.S. and now internationally in Scotland as a part of the Edinburgh Fridge Festival in 2012. She's been a commentator for American Public Media's Marketplace, PBS, Jezebel and Playgirl Magazine. Her work has been awarded with grants from Creative Capital, The Map Fund, Center for Cultural Innovation, the Durfee Foundation, National Performance Network, four grants from the Los Angeles Department of Cultural Affairs, and a residency from the MacDowell Colony. www.kristinawong.com
Mad Cat Theatre Company was founded in Miami in the fall of 2000 by actor/director/writer Paul Tei. Its mission remains the same to this day: to create something new that's exciting for you, us and them. A core group of designers and actors with one artistic director and twelve years later with 32 productions under its belt, Mad Cat is still clawing its way into the cultural consciousness of the citizens of Miami with original works such as "Shepherd's Pie", "Here in my Car", "Tin Box Boomerang", "Artful Dodgers", "Terminal Baggage", "Mixtape", "Viva Bourgeois", "Going Green the Wong Way" and "So My Grandmother Died, Blah Blah Blah" mixed with their renditions of previous produced play such as "70 Scenes of Halloween", "Matt & Ben", "Mr. Marmalade", "Animals & Plants", "Some Girls(s)" and "Macbeth and the Monster". Mad Cat has brought originality, vitality and bite to everything they have done. They've received rave reviews and have been decorated with such accolades as best new works, best productions, best fringe theatre, best ensembles, best designers, best director from folks from the Miami Herald, the Sun Sentinel, the Miami New Times and the Sun Post, plus a sprinkle of Carbonell awards, but it's the respect and return engagement of its fan base that makes Mad Cat purr.
The production begins tonight with a preview, January 3rd. Tickets may be purchased online at www.madcattheatre.org OR https://web.ovationtix.com/trs/cal/32115 OR by calling OvationTix at 866.811.4111. For information on Mad Cat, visit www.madcattheatre.org.
Photo Credit: Aran S. Graham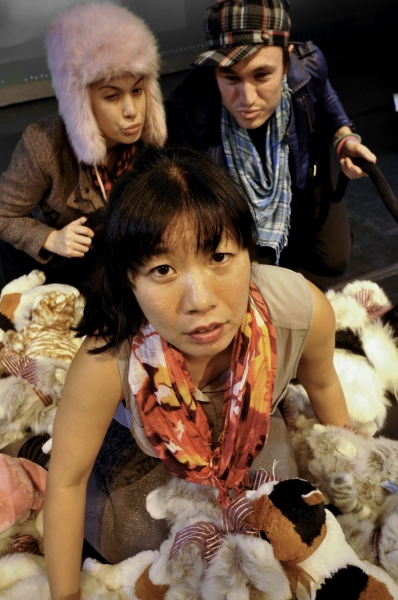 Kristina Wong with Jessica Farr and Noah Levine as Pick Up Artists

Kristina Wong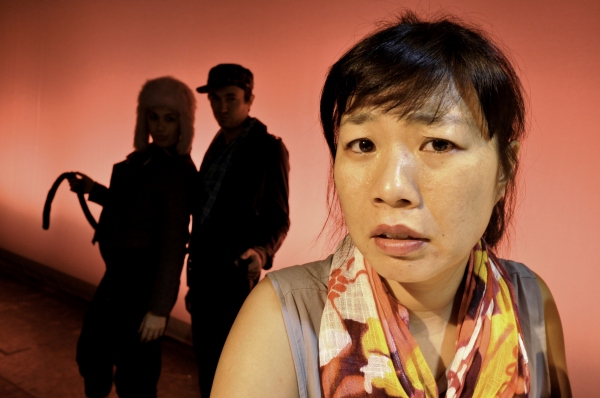 Kristina Wong with Jessica Farr and Noah Levine as Pick Up Artists