Review: Riverside Theatre's Sparkling CAROUSEL Shines Light on All that Is Grand, Complicated in Classic Musical Theatre
Unfortunately, the Golden Age classic's problematic content distracts from an otherwise beautiful and elegant production.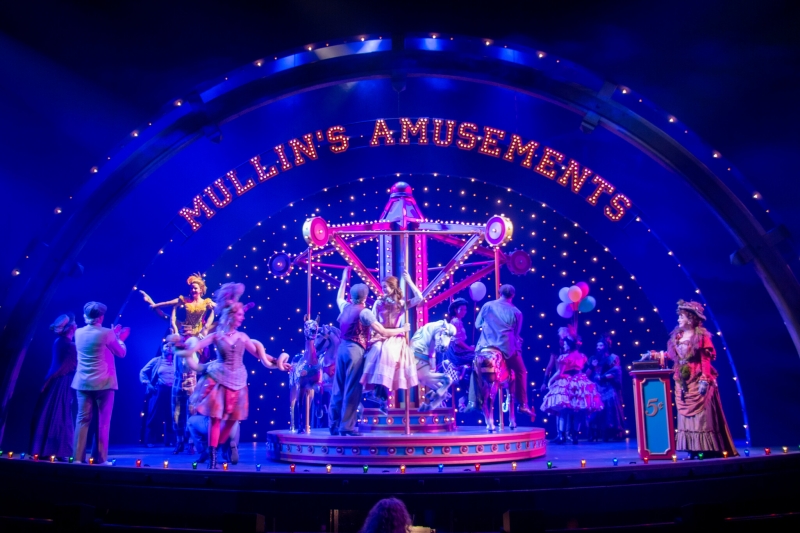 There is something magical about classic musical theatre; when done well, the songs, stories, and visuals that laid the groundwork for the most American of art forms can tell tales that transcend their mid-20th Century origins and propel them to become timeless entries in the culture's canon. While these shows - some of which were written eight decades ago - come with content that now feels complicated at best, and out-right offensive at worst, they bring with them a joy and energy that you simply cannot find in any other form of entertainment.
"Carousel," Richard Rodgers and Oscar Hammerstein II's 1945 classic, is one of the most problematic pieces of Broadway's Golden Era, as its depiction of, and response to, domestic violence has aged about as well as uncooked clams left out in the New England sun for a week or two.
However, despite the complications that a modern perspective puts on the more prickly parts of the story, you can't help but be both moved and tickled by the show's iconic, perfectly crafted R&H songs. And fortunately, the beautiful and appropriately elegant production of "Carousel" running at Vero Beach, Fla.'s Riverside Theatre now through Jan. 23 exemplifies why shows such as these continue to be revered staples in theaters around the country.
With a stunningly talented cast led by the steady direction of Allen D. Cornell, this "Carousel" is still beset by the issues that have plagued all modern versions, but the immaculate care and attention to detail that is evident in every aspect of the production allows Riverside's show to shine.
"Carousel," an adaptation of the 1909 Hungarian play "Liliom" by Ferenc Molnár, follows the tumultuous relationship of cocksure carousel barker Billy Bigelow and ingenuous millworker Julie Jordan from their meeting at a carnival through their violence-prone marriage and into the afterlife as Billy's decisions lead to disastrous ends.
As Billy, Jeffrey Kringer sparkles with charisma and smolders with an underlying intensity that routinely erupts with tragic consequences. His pairing with Samantha Bruce as Julie perfectly encapsulates how opposites can attract. Though Kringer's Billy is loud and boastful, Bruce imbues her Julie with a solemn, earnest sincerity that stands in stark contrast to that of her love.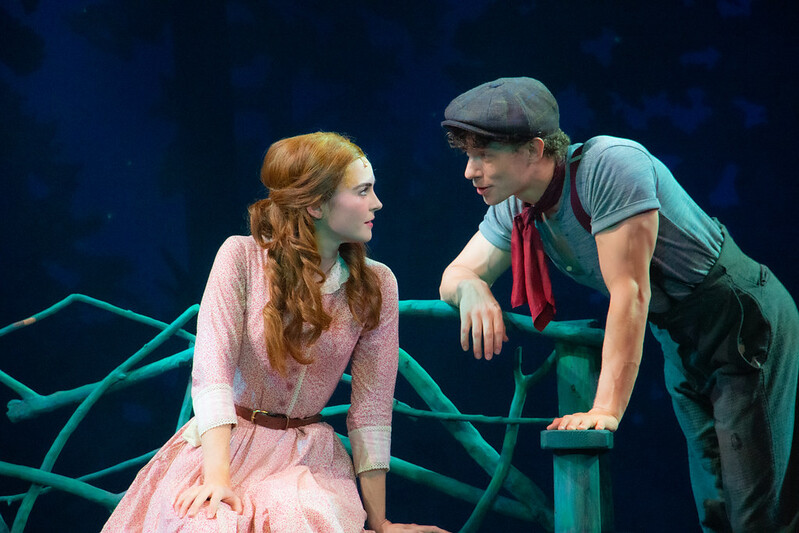 However, despite their obvious differences, there is an immediately evident chemistry between the two that makes their oil and water romance not only believable, but seemingly inevitable.
In Kringer and Bruce's hands, the show's iconic bench scene is both one of the best sung that you are likely to ever hear outside of a Broadway theatre, and it also crackles with alternating tenderness and sexual tension. The pair's connection is obvious, and the sparks first shown on and around that bench color all of the awfulness that transpires thereafter.
Despite its weighty and troublesome aspects, there is a buoyancy and joy to much of Riverside's "Carousel," thanks in no small part to a handful of standout featured performances. Just as Billy is the brash and swaggering analog to Julie, her best friend Carrie Pipperidge - as played by the delightful Rachael Scarr - is an ebullient counterbalance in the other direction. Her inherent silliness stands in stark relief with Julie's solemnity, which not only makes Scarr's performance that much funnier, but Bruce's that much more endearing as well.
Like Bruce and Kringer, Scarr is phenomenally well-voiced and reassuringly in control of the comedy that her character provides. Her renditions of "You're a Queer One, Julie Jordan" and "Mr. Snow" set a tone early in the show that assures the audience that they will be well taken care of by this cast.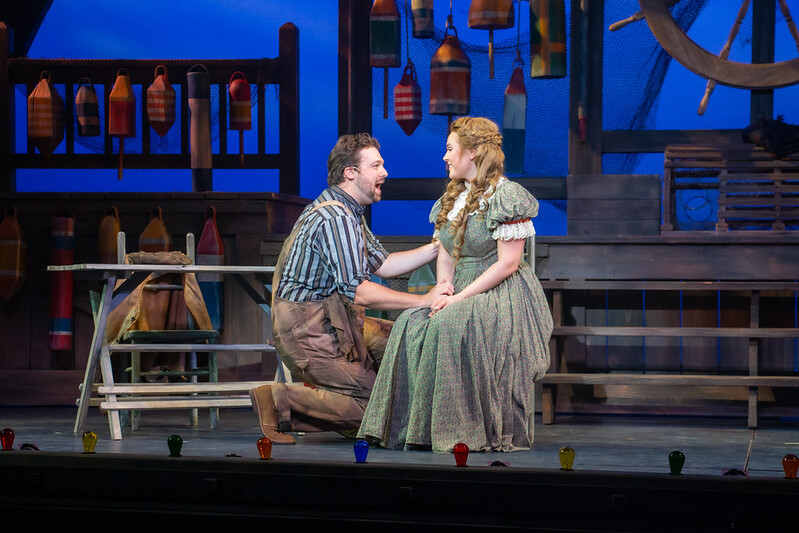 Unlike Julie, Carrie is far more lucky in love as she falls for the enterprising fisherman Enoch Snow, played by Daniel Schwait. Though Enoch's arrogance becomes progressively off-putting as the show goes on, the vocally marvelous Schwait's optimistic "When the Children Are Asleep" is a sweet look at everything that Julie and Billy do not have in their relationship. The warmth shared by Enoch and Carrie - though they have romantic issues of their own - is a much appreciated balm as Billy and Julie's rocky relationship begins to boil over.
Another bright spot in the show is Beth Kirkpatrick as Julie's cousin Nettie Fowler who takes the Bigelows in when times are tough. Because Kirkpatrick masterfully provides both some of the most lighthearted and heartwarming moments in the musical, she becomes the show's under-appreciated hero. From the joy and excitement of "June Is Bustin' Out all Over" and "A Real Nice Clambake" to the soothing and reassuring "You'll Never Walk Alone," Kirkpatrick might never be at the center of "Carousel's" story, but so many of the musical's biggest moments would be a bit adrift without her steady hand.
Beyond the fantastic performances, Riverside's team has created a visually stunning production. Cornell has crafted a lovely and evocative set design, and in the spirit of regular R&H collaborator and original "Carousel" choreographer Agnes De Mille, DJ Salisbury has masterfully used dance to further tell the show's story. From a haunting "Carousel Waltz" that opens the show with a glimpse at BIlly's life before he meets Julie to the breathtaking second act ballet, the language of movement used in the production never fails to deliver emotional thrills.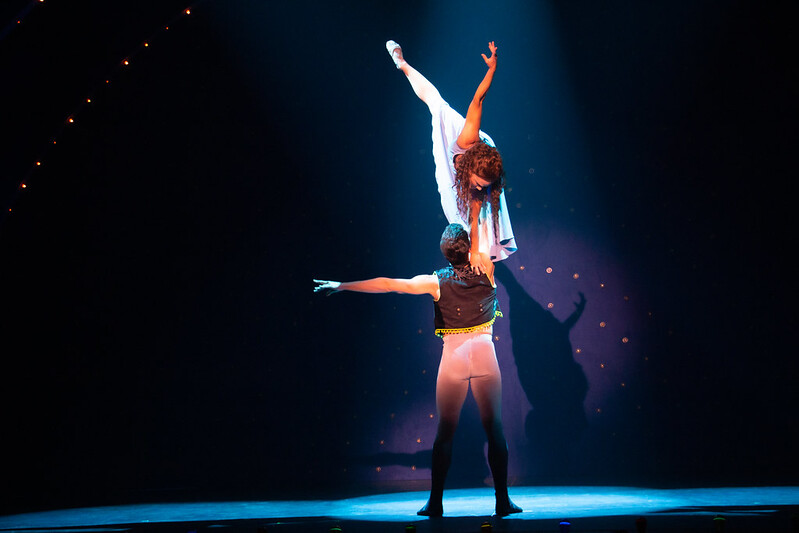 As the Bigelows' now 16-year-old daughter Louise, Jamie Pfaff absolutely stops the show with a dazzling balletic performance brimming with the same unsettling mix of fear, anger, exuberance, and fire that haunted her character's father. Both graceful and athletic, Pfaff reminds you of just how effective dance can be not only at communicating story, but even more so at communicating emotions. From Pfaff, the rawer the emotions, the more heartbreaking the performance; truly an honor to witness.
Despite all of the superlative aspects of Riverside's production, there are, unfortunately, things that are just too uncomfortable not to mention. As alluded to before, whenever you see a production of "Carousel," you know that you are going to have to contend with Billy's violence against Julie. And while Hammerstein's book never glorifies the barker's actions, the most problematic aspect of the narrative is how Julie reacts to it, making excuses for her husband, even years after his death.
Of course, in the 77 years since the show's premiere, we have learned a great deal about how survivors react to domestic violence. In real life - just as in "Carousel" - the rationalization of abuse is painfully common, so the fact that Julie reacts in this manner is neither surprising, nor false. However, for me, where things become problematic is when the show features Julie passing her acceptance of that violence onto her daughter in one of the most unfortunate lines in musical theatre history; "It is possible, dear, fer (sic) someone to hit you - hit you hard - and not hurt at all."
Though Hammerstein's words do not explicitly say it, the message is that if your abuser loves you, you should accept the violence as the price of his love. The 2018 Broadway revival of "Carousel" directed by Jack O'Brien cut this line in an effort to mitigate the glorification of abuse.
Of course, the issues in the libretto of one of the most venerated shows in Broadway history are not Riverside's responsibility, but I do believe that it is incumbent on any company presenting this show to provide a perspective on it's central issue that justifies the show's production in the 21st Century, and unfortunately, I don't believe that Cornell achieves that, or even really attempts it.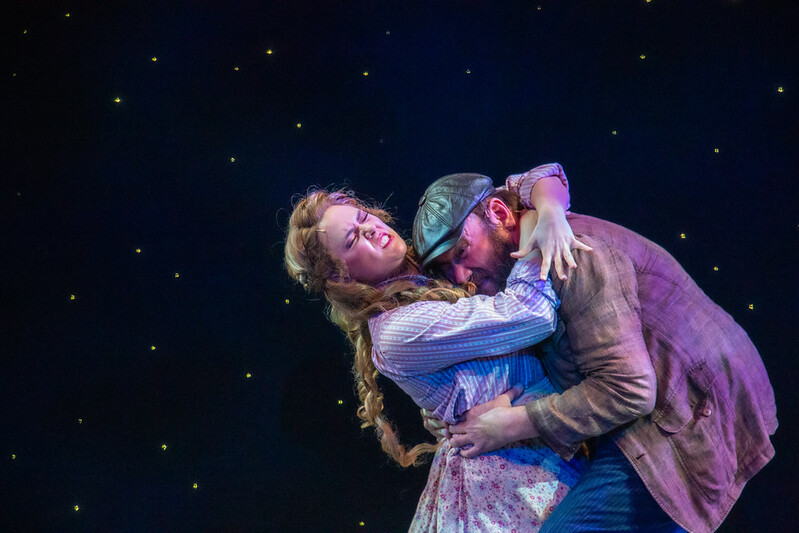 This is exacerbated by a scene in which Billy's partner in crime Jigger Craigin - played menacingly by Christopher Schmidt - manipulates Carrie into allowing him to physically take advantage of her; which leads temporarily to the end of Carrie and Enoch's relationship. Again, the show's content has been of concern for many years, but what was disappointing is how this scene was played for laughs. In a sober representation of the action outside the frivolity of musical theatre, it would be practically unconscionable to present Jigger manhandling Carrie as a series of sight gags and physical punchlines.
While, the musical's problematic content does distract from an otherwise beautiful and elegant production, ultimately, the artistry that is the hallmark of Riverside's work shines through. The chemistry between Kringer and Bruce is worth the price of admission alone; Scarr and Kirkpatrick's effervescent performances make the trip well worth it, no matter where you are coming from; Pfaff's show-stealing ballet has to be seen to be believed; and there simply is nothing like the power and majesty of classic musical theatre in the hands of a company as talented as this one.
Purchase tickets to see Riverside Theatre's excellent production of Rodgers and Hammerstein's "Carousel" through Jan. 23, 2022 by visiting their website or calling 772-231-6990.