Click Here for More Articles on MODERN
Guest Blog: Eryc Taylor Dance in Mexico - Day #4
Friday night was our performance in Chocholá, on an open-air stage set up in front of the Palacio Municipal. We were presenting works from our NYC Season at Martha Graham Studio Theater (October, 2017) as well as the 14-18 year old students from our local Eryc Taylor Dance Outreach workshops.
We were picked up at our hotel in Mérida at 9:30am, for the one-hour drive to Chocholá. Our driver turned out to be the private chauffeur for the President of Chocholá! It was great to communicate with him - our driver was 100 percent Mayan but spoke fluent Spanish, as well as the traditional Mayan language. It's wonderful to connect with the locals, who all seem fascinated by our presence. It appears they never see Americans from NYC in this rural town in the Yucatán.
We had a long day of dancing ahead. Once we arrived in Chocholá, we went straight to the Casa de Cultura for a long company warm up. We were all sore from the previous day, so it was great to have the time to properly stretch our bodies. After taking our time to warm up and increase our flexibility, we did a run though of the show. The dancers looked great, and we were pumped to perform!
After the run through, we had lunch at the town's City Hall. Our friends in the municipality had prepared a local "carne asada" - a specialty beef dish - which was particularly savory from the use of local spices and sauces. They were so gracious and made us feel so special.
In the afternoon, the students came to our open-air studio to rehearse for the evening's performance. They were so eager to practice what they had learned. After an hour of working with them to fine tune their movements, the young dancers were ready to perform.
By 6pm, the open-air stage was set up in front of the Palacio Municipal. It was wonderful to see how fast and efficient the local crew was in setting everything up. We had a quick and efficient technical rehearsal, in absolutely perfect weather for an open-air concert. The locals started filling up the seats AN HOUR before the show was supposed to start. The energy was buzzing and we were ready!
8pm was Showtime. The performances went on without a hitch, and everyone seemed so impressed and moved by our dancing, actually very much in awe.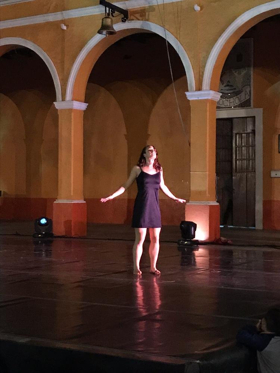 Because the audience was only familiar with traditional folkloric dance, our work must have appeared from another planet! After the show, the audience asked for tons of photos and autographs. What a special evening it was...
I give many thanks to my rehearsal director and logistics genius, Nicole Baker. She has helped the company and me tremendously, organizing our days and assisting us with virtually everything on this tour. We couldn't have done it without her!
After the Chocholá performance we headed back to Mérida for a quick dinner, and then straight to bed. It had been a long day, and there were still more performances ahead over the weekend!