Playhouse On The Square Opens 50th Season With Regional Premiere of A GENTLEMAN'S GUIDE TO LOVE AND MURDER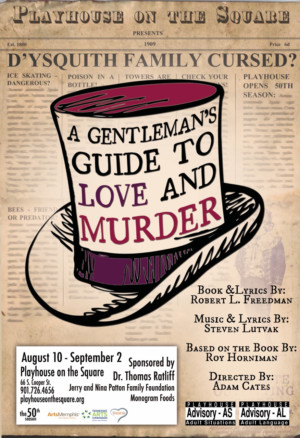 Playhouse on the Square, in partnership with the Jerry & Nina Patton Family Foundation, Monogram Foods, and super sponsor Dr. Thomas Ratliff, is proud to present the regional premier of the 2014 Tony Award Winner for Best Musical.
Based on the novel Israel Rank by Roy Horniman. A GENTLEMAN'S GUIDE TO LOVE AND MURDER tells the story of Monty Navarro, the black sheep of the D'Ysquith family. When he finds out he is ninth in line to inherit a dukedom, he decides to eliminate the other eight heirs standing in his way. All the while, Monty has to juggle his mistress (she's after more than just love), his fiancée (she's his cousin but who's keeping track?), and the constant threat of landing behind bars!
Making their debuts on the Playhouse on the Square stage are guest artists, Ryne Nardecchia and Adam Cates. Nardecchia joins Playhouse fresh off the A GENTLEMAN'S GUIDE TO LOVE AND MURDER national tour. While Cates will direct and choreograph after mounting the first national tour as associate choreographer.
Joining Nardecchia onstage as Miss Marietta Shingle, is Lorraine Cotten, last seen in Playhouse on the Square's production of MEMPHIS. Resident Company Member, Brooke Papritz (HEATHERS, FUN HOME) plays Monty's mistress, Sibella Howard. While Resident Company Member Michael Gravois (LAUGHTER on the 23rd FLOOR, PERFECT ARRANGEMENT) portrays the entire D'Ysquith family.
A GENTLEMEN'S GUIDE TO LOVE AND MURDER complete cast is as follows:
CAST LIST (In alphabetical order)
Miss Marietta Shingle, et al - Lorraine Cotten
Inspector Pinkney, Ancestral Bust #2, et al - Danny Crowe
Lady Eugenia D'Ysquith, Newsboy #3, et al - Kirstin Doty
Tom Copley, Guard, Newsboy #1, et al - Ryan Duda
Tour Guide, Selina Chard, et a - Amy Friedlander
The D'Ysquith Family - Michael Gravois
Clerk #1, Newsboy #2, Alfred Gorby, et al - Roman Kyle
Phoebe D'Ysquith - Kelly McCarty
Monty Navarro - Ryne Nardecchia
Sibella Hallward - Brooke Papritz
Evangeline Barley, Hilda, et al - Emily Pettet
Ancestral Bust #1, Dr. Pettibone, et al - Talen Piner
Magistrate, Judge Brack, et al - Ryan Scott
Sibella's Maid, Newsboy #4, et al - Michaela Tramuta
ARTISTIC STAFF
Director/Choreographer - Adam Cates
Assistant Director - Tad Cameron
Music Director - Nathan McHenry
Stage Manager - Morgan Corlew
Technical Director/Production Manager - Phillip Hughen
Costume Designer - Kathleen R. Kovarik
Lighting Designer - Justin Gibson
Scenic Designer - Ryan Howell
Sound Designer - Carter McHann
Performances will run Thursday - Saturday 8:00 pm curtain and with 2:00 pm curtain on Sunday. For tickets, call the Box Office at (901) 726-4656 or visit our website www.playhouseonthesquare.org. Group rates are also available.
Special ticket pricing for opening weekend $25. Pay What You Can performance, sponsored by ArtsFirst and the First Tennessee Foundation is August 16th.
More Hot Stories For You