Photo Flash: Annie at Playhouse on the Square
Playhouse on the Square begins the holiday season with the family-friendly classic, Annie. "Annie" is a spunky Depression-era orphan determined to find the parents who abandoned her years ago on the doorstep of a New York City Orphanage run by the cruel, embittered Miss Hannigan. In adventure after fun-filled adventure, Annie foils Miss Hannigan's evil machinations, befriends President Franklin Delano Roosevelt, and finds a new family and home in billionaire Oliver Warbucks.
Annie is directed by Dave Landis and choreographed by Courtney Oliver. Sydney Bell (Oliver!) and Dani Chaum (Grey Gardens) will alternate in the title role. Company Members Carla McDonald and Irene Crist appear as "Miss Hannigan". Annie also features Associate Company Members Ben Laxton as "Rooster", Kyle Blair as "Daddy Warbucks", Kelsey Hopkins as "Lily St. Regis", and Sarah Hoch as "Grace". Fred Harpell will reprise the role of FDR (Annie at Harrell Theatre and DeSoto Family Theatre).
Annie runs at Playhouse on the Square, November 18 - December 23, Thursdays and Fridays at 7 pm and Saturdays at 2 pm and 7 pm. There are no Sunday performances for Annie. Please note that evening performances begin at 7 pm. The Pay-What-You-Can performance is Thursday, December 22nd. Playhouse on the Square is located at 66 S. Cooper St. in Midtown. For more information or to make reservations, please call 901-726-4656.
Cast
Annie: Sydney Bell/ Dani Chaum
Miss Hannigan: Carla McDonald/ Irene Crist
Daddy Warbucks: Kyle Blair
Rooster: Ben Laxton
Lily St. Regis: Kelsey Hopkins
Grace: Sarah Hoch
Drake the Butler: Patrick Kittridge
Franklin Delano Roosevelt: Fred Harpell
Adult Ensemble: Jenna Juleson, Mandy Lane, Dan Lehman, Russell Lehman, Nick Mason, Patrick Mullen Jr., Misty O' Neal, Andrea Rouch, Cassie Thompson
Orphans
Duffy: Patsy Detroit/ Kelsey Haltom
Pepper: Madisen White/ Carly Nahon
July: Megan Cheng/ Kayley Watkins
Tessie: Caroline Watson/ Rachel Adkins
Kate: Gabriella Gonzalez/ Mikayla House
Molly: Kaitlyn Poindexter/ Paige Hollenbeck
Production Team
Director: Dave Landis
Choreographer: Courtney Oliver
Assistant Choreographer: Noelia Warnette-Jones
Music Director: Renee Kemper
Stage Manager: Amber Mathis
Scenic Designer:Tim McMath
Costume Designer: Rebecca Y. Powell
Lighting Designer: John Horan
Technical Director: Kat DeCamillo
Title: Annie
Venue: Playhouse on the Square
Dates: November 18 - December 23
Times of Shows: Thursdays and Fridays at 7pm. Saturdays at 2 p.m. and 7 pm.
Tickets: $20 Opening Weekend (November 18 &19), $33 Thursdays and Saturday matinees, $38 Fridays and Saturday nights, $20 Seniors/Students/Military, $15 Children.
Box Office: 901-726-4656
Web: playhouseonthesquare.org
Photo credit: Chris Neely


Irene Crist and Sydney Bell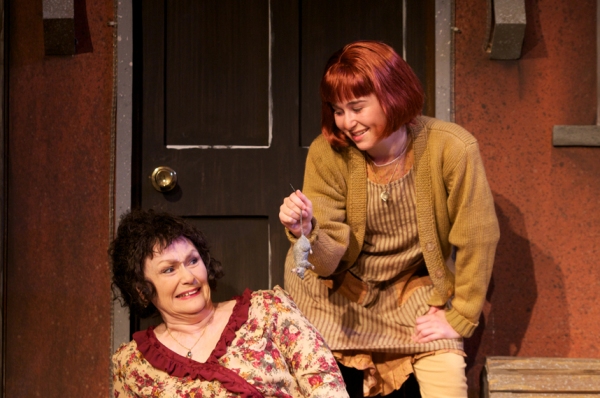 Irene Crist and Dani Chaum