Explore The Diverse Sounds Of Malaysian Contemporary Works On MPO TV
A concert will be presented in three parts; on 5 November 2021, 12 November 2021 and 19 November 2021.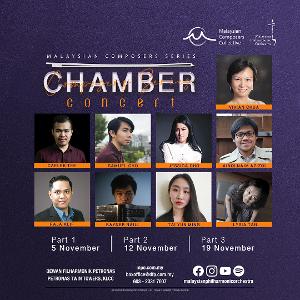 The Malaysian Philharmonic Orchestra (MPO), in collaboration with the Malaysian Composers Collective (MCC), is proud to present MPOPlaysOn: Malaysian Composers Series - Chamber Concert, a virtual concert featuring contemporary works by local composers. This concert will be presented in three parts; on 5 November 2021, 12 November 2021 and 19 November 2021 on the MPO YouTube channel, MPO TV.
This concert is the MPO's ongoing appreciation towards local orchestral compositions from a rich diversity of backgrounds. The MPO provides this platform for our Malaysian composers' works to shine on a prestigious stage and to nurture the growth of local talents.
Part 1 will feature Jessica Cho's Edge of Lunacy (depicting the moods of one who is descending into madness), Tai Yun Ming's Frizzy Crystals (depicting the frizzy and crystal-like texture of the surreal imagery of cloud ice) and Rayner Naili's Nunuk Ragang (inspired by the legend of a red banyan tree that sheltered the first settlement of people in Sabah).
This presentation continues with part 2 featuring works by Caeleb Tee's Hymn of the Remnants (illustrating the remnants of people praising the beauty of the earth), Raja Alif's Tanjak - Mahkota Alam (a score that acts as a form of visual art on how the composer sees the traditional Malay male headgear) and Samuel Cho's Threadsafe (inspired by a computer programming concept of thread safety).
The final part will be presenting works by Ilysia Tan's Addiction to Perfection (a piece derived from the purpose of observing physical and social concerns), Ainolnaim Azizol's Fragments I (a work written for the 2014 Asian Composers League Young Composers Competition in Japan) and Vivian Chua's Dance of the Wind and Sea (a fusion work of Malaysian melodic and rhythmic patterns with Western harmonies).
The Artistic Advisor for this presentation is the MPO's Resident Conductor, Gerard Salonga. Each work promises an exciting smorgasbord of sounds and will be accompanied with a video commentary by its composer.
This marks the second MPO collaborative efforts with MCC this year; the first being the MPOPlaysOn: Malaysian Composers Series - Vol.1 digital audio collection in May.
Established in 2007, the MCC has been the leading force in promoting Malaysian composers at home and abroad over the past years. Representatives from MCC has participated at the Young Composers Competitions and the Asian Composers League festivals around the region. MCC has pioneered a series of milestone initiatives including the nation's first-ever Young Composers Workshop with HSBC Bank (2008) and the KL Contemporary Music Festival (2009) with Goethe Institut.
Visit www.mpo.com.my or check out the MPO social media platforms (Facebook, Instagram and YouTube) for any latest updates.