BWW Review: Valerie Perri Headlines BROADWAY AT THE GOOD THEATER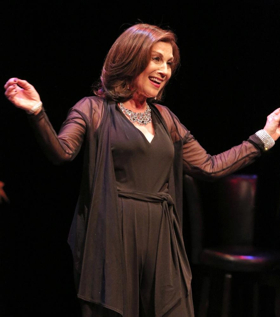 In what has become a delightful Portland holiday tradition, the Good Theater presented its annual musical revue, created and directed by Brian P. Allen, starring an incandescent Valerie Perri, together with Daniel Patrick Smith and a fine ensemble of Maine talent. The program, which featured twenty-nine musical theatre classics as well as lesser-known songs of the 1980s, was woven together by Allen with his comprehensive knowledge of the repertoire and his customary wit and performed with relish and commitment by the entire ensemble.
Perri, who rose to stardom playing Eva Peron in the Hal Prince-directed Broadway National Tour and went on to a luminous career on stage and screen, gave a master class in song interpretation. She sang with power and grace, styled each phrase with intelligence, elegance, and musicianship, and extracted the dramatic essence from each piece. She was a sultry, mesmerizing Evita in "Buenos Aires" and "Don't Cry for Me Argentina," turned up the heat in Duke Ellington's "Hit Me with a Hot Note," and had fun with "Mr. Monotony" from Jerome Robbins Broadway. She also graciously appeared in the ensemble finale, which was a hilarious mash up of older Christmas songs set to an 80s sound.
Daniel Patrick Smith, returning for a third season, made a strong impression in "Suddenly Seymour" from Little Shop of Horrors (with Shannon Thurston), and delivered an earnest account of "Anthem" from Chessand a humorous one in the "Agony" duet from Into the Woods with John Lanham.
Other solo highlights included Conor Riordan Martin's characterful account of "Guv'ment" from Big River, Marissa Brown's haunting rendition of "Wishing You Were Somehow Here Again" from Phantom, John Lanham's "When I Get My Name in Lights" from Legs Diamond, Emily Ackley's soulful "Diva" from the little known Starmites, and Steve Leighton and Todd Daley's aging rock and rollers from Starlight Express in "One Rock N' Roll Too Many."
In another song from a short-lived show, Dance a Little Closer, Peter Allen and Jim Gaddis gave a touching account of "Why Can't the World Leave Us Alone," while Allen demonstrated his fluid ballroom dancing in "Just Another Rhumba" from My One and Only. Good Theater regular Lynne McGee also delighted in a short tap number from 42nd Street and added comedy and warmth to numbers like "The Apple Doesn't Fall Far from the Tree" with Shannon Thurston who showcased her powerful, expressive voice in the "Suddenly Seymour" duet and other ensemble numbers.
The remainder of the cast - Marie Dittmer, Laura Houck, Gusta Johnson, and Jen Means proved agile interpreters of the music and brought energy and charm to their numbers. The full ensemble made an especially strong impression in the Act One finale, "One Day More," from Les Misérables.
The three-person band - Bill Manning on percussion, Asher Barreras on bass - under the direction of Victoria Stubbs at the keyboard, played idiomatically and fluidly throughout in a well-crafted arrangements by Stubbs.
Allen's direction is appropriately economical, letting the music speak for itself, but inserting just enough anecdote and interaction to preserve the dramatic flavor. He and Steve Underwood, with help from Justin Cote, supplied the glittery Christmas décor, lit in changing hues by Iain Odlin. Craig Robinson as Technical Director and Michael Lynch as Stage Manager effectively anchored the production team.
Once again, the Good Theater demonstrates its ability to create an entertaining, substantive, and uplifting theatrical experience. In a season when so many companies present tried and true chestnuts, it is always a pleasure to come to Monjoy Hill and be delightfully surprised by the a program that - for all its reliance on the American musical canon - feels fresh and original.
Photographs courtesy of the Good Theater, Steve Underwood, photographer
Broadway at the Good Theater runs from December 5 - 9, 2018 at The Good Theater, 76 Congress St., Portland, ME www.goodtheater.com 207-835-0895
Related Articles View More Maine

Stories

Shows
Born and raised in the metropolitan New York area, Carla Maria Verdino-Süllwold took her degrees at Sarah Lawrence College and Fairleigh Dickinson University. She began (read more about this author...)