BWW Review: Spellbinding, Soul Searching Priestly Thriller at Good Theater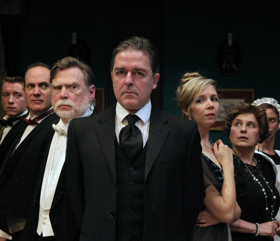 The sold out house in Portland's Good Theater sat riveted in their seats throughout as the tense, soul-searching drama of J. B. Priestly's An Inspector Calls as its twists and hairpin turns, its emotional revelations and its jarring ending played itself out with a combination of subtlety and punch. Director Brian P. Allen, his cast and creative team have created a mesmerizing theatrical experience that does complete justice to Priestly's passionate and ever-relevant 1945 play.
Priestly's drama, set in 1912, but created in post-war Britain, assembles a cast of fascinating characters who all find themselves caught up in an unexpected tragedy. Throughout the play's ninety minutes, and through the clever, manipulative questioning by the mysterious Inspector Goole, each character confesses his role in the events and each is challenged to accept responsibility for his part in the collective guilt. The varying reactions of each offer an intriguing look at the human psyche, at the same time that they allow Priestly, a committed socialist, to make his impassioned plea for human beings to rise above the selfishness of capitalism and to embrace the brotherhood of man. Tautly paced, replete with restrained wit and chilling dramatic irony, the work remains as powerful today as when it was first performed.
Brian P. Allen directs with a fine-tuned understanding of the period trappings of the play and a keen sense of the emotional and dramatic shifts. As always, his pacing is perfect and the piece moves with dangerous precision from one cliffhanger to the next, punctuated by brief but elusive respites, only to come to its thunderous close. Steve Underwood's (scenic artist/props Cheryl Dolan) elegant dining room set evokes the upper class luxury of the British aristocracy, and his sound design with the nerve-jangling telephone rings serves to enhance the suspense. Ian Odlin's lighting captures perfectly the early era of electricity, while Justin Cote's costumes recall the graceful aristocratic look of pre World War I. Stage Manager Michael Lynch and Technical Director Craig Robinson complete the excellent creative team.
Once again Allen has assembled a first-rate cast who achieve the perfect homogenous ensemble. In the title role of the inspector, James Noel Hoban combines compelling intensity and mystifying inscrutability, icy inquisitiveness with an under layer of deep feeling. When he makes his exit with the famous line, "We are responsible for each other. And I tell you that the time will soon come when, if men will not learn that lesson, then they will be taught it in fire and blood and anguish," one hears an audible gasp from the audience.
Tony Reilly as Arthur Birling and Amy Roche as his wife Sybil paint perfect portraits of upper class entitlement, selfishness, and greed. Reilly is particularly fine in conveying the patriarch's temper when his sense of privilege is thwarted. Meredith Lamothe, as their daughter Sheila, makes her character's change of heart convincing without being sentimental, and Christopher Holt manages to give her unfaithful fiancé, Gerald Croft, a measure of dignity and integrity. Thomas Ian Campbell brings anguish and empathy to the lost and unhappy family scion, Eric. Together with Lamothe, he conveys Priestly's sentiment that if there is any hope for mankind's enlightenment and reform, it is in the younger generation, who must carve out a different path from that of their elders. Heather Elizabeth Irish rounds out the cast as the maid Edna. Kudos, too, to all for their convincing British accents!
To present this period, albeit timeless Priestly classic on the heels of the very edgy contemporary season opener, Sex with Strangers, is a bold move on Executive/Artistic Director Allen's part, but it is a gamble which pays off in spades. Allen demonstrates not only the range of his company's repertoire, but also his own extraordinary versatility as a director. What he does best is to find significant works that fit the space of the small St. Lawrence Center and the talents of his ensemble, and to encourage the entire creative team to delve deep into the style and the essential meaning of the plays, never shying away from the painful, but always discovering the humor and fundamental humanity of the work.
It is such a positive experience to attend a Good Theater performance and watch the audience immerse itself in the theatrical experience and to come away entertained and uplifted.
Photo courtesy Good Theater
An Inspector Calls runs from November 1-26, 2017, at the Good Theater, 76 Congress St., Portland, ME www.goodtheater.com 207- 835-0895
Related Articles View More Maine

Stories

Shows