Review: Electrifying Joy Ride, GREASE Rocks MSMT Stage
Rock'n roll, teen rebellion, a collection of quirky, lovable characters, and a musical score seared into the American cultural fabric - all these come together in a breathless and breathtaking joy ride that pulsates with electrifying energy in Maine State Music Theatre's third main stage show, Grease. The Jim Jacobs/WarRen Casey musical, which reminisces nostalgically about the joyful, naughty, unforgettable days of senior year in mythical Rydell High in 1959, has seen numerous permutations since its original production as an edgy, raunchy musical play called Vaseline in 1971, to its Broadway debut in 1972 and through various film versions including the iconic 1978 movie starring John Travolta and Olivia Newton-John. Here in its Broadway version, amplified with a number of the favorite songs from the movie, MSMT has created a high-flying confection that is a valentine to a simpler era with just the right sparks of sass and sweetness that combine for an irresistibly engaging evening that is sure to prove the summer theatre scene's mega hit.
Taking its cue from the recent large-cast Grease Live (rather then the Broadway original with an ensemble of sixteen), MSMT's ambitious production features a cast of thirty-four and a note-perfect mix of huge, buoyant dance numbers and quieter, more introspective moments that allows for a fast-paced narrative interspersed with outbursts of sheer exuberance. The script for the stage version retains more of the edgy humor of the Jacobs/Casey original and quite a bit of the flavor of its Chicago origins, and it limns the individual characters with a deft hand. Gone are the panoramic scenes like the car chase and carnival finale, but these are replaced by imaginatively staged and choreographed sequences that contribute to the intimacy and focus of the show with its tale of teenage hormones and heartbreak, laughter and young love.
Director/choreographer Mark Martino, who presided over last season's blockbuster Mamma Mia!, again works his magic in Grease. Martino's genius is his ability to weave both the dazzling large-scale scenes and the more intimate touching moments into a seamless whole. His choreography (Elise Kinnon, associate choreographer) is jaw-droppingly exciting, particularly in the second act which layers one stunning production number on top of another, and he somehow manages to make it all work within the confines of the relatively small Pickard stage. He has a keen sense for sculpting the individual characters, giving each their humorous, lovable idiosyncrasies without stereotyping them, and he knows how to shift the mood subtly from boisterous laughter to the more serious moments like Rizzo's "There Are Worse Things I Could Do" or Danny's "Stranded at the Drive-in."
Musical Director Samuel Thorne Bagala draws strong vocal performances from the cast and a palpably exciting sound from the eight-person pit band, whose performances remind us why rock and roll seemed a cataclysmic force when it first burst upon the cultural scene.
The visual production is a technicolor fantasy of bright pastels that at once suggests the reality of décor choices in the period and the feel of seeing the time through rose tinted glasses. Charles S. Kading designs the cleverly simple, multi-tiered unit set that allows for simultaneous action and counterpoint scenes and fills the stage picture dynamically. Jesse Klug's soft-focus lighting with its rapidly changing hues of pink, purple, green, and turquoise contributes to the illusion. Travis M. Grant outdoes himself with the array of colorful, vibrant, beautifully silhouetted costumes, notable for their attention to detail, and Gerard James Kelly's wigs complete the look effectively. Shannon Slaton's sound design captures the pulse of this age of amplified music, transferring the kinetic energy of the stage into the house, while all these elements are expertly held together by Production Stage Manager Mark Johnson and his team.
The cast is remarkable for their triple threat skills - strong vocal-performances, dazzling dancing, and fresh and appealing approaches to the characters. Neil Starkenberg and Chelsea Williams shine as Danny and Sandy, making the iconic roles their own. Starkenberg plays Danny Zuko with a perfect blend of bravado and vulnerability; there is a sweet little boy inside the swaggering greaser that explains what Sandy sees in him initially. Without resorting to caricature, he captures the physicality of the part and the would-be-tough speech patterns, and he is a mesmerizing dancer and singer. Williams, too, proves her vocal prowess in moments like her wrenching delivery of "Hopelessly Devoted to You," and she manages to make believable both the "good" Sandy and the "transformed" Sandy without ever appearing saccharine.
Gerianne Pérez brings just the right cynical edge and provocative earthiness to Rizzo, making her second-act lament a vocal highpoint. Kevin Nietzel as a dead-end Kenickie does justice to numbers like "Greased Lightning" and demonstrates his fine abilities as a dancer. As Roger and Doody, Adolpho Blaire and John K. Kramer provide memorable comic turns and vocal interludes, notably in "Rock 'N Roll Party Queen," while Matty Rickard as Sonny highlights the dance numbers.
Lilly Tobin is a ditsy but good-hearted Frenchie; Aleka Emerson does justice to Marty's big moment, "Freddie My Love," and Gillian Hassert proves to be an amusing Jan. Samantha Schiffman makes the effervescent cheerleader, Patty Simcox, an appropriate foil to the Pink Ladies. Mike Baskowski strikes just the right note of nerdiness as Eugene Florczyk, and Chiara Trentalange is a spit-fire Cha-Cha DiGregorio.
In the "grown-up" roles, Austin Miller has some standout vocal moments as Johnny Casino ("Born to Hand Jive") and Teen Angel ("Beauty School Dropout"); Tony Lawson is a rich-voiced, preening Vince Fontaine, and Charis Leos makes her cameo as Miss Lynch tart, tough, and deliciously memorable.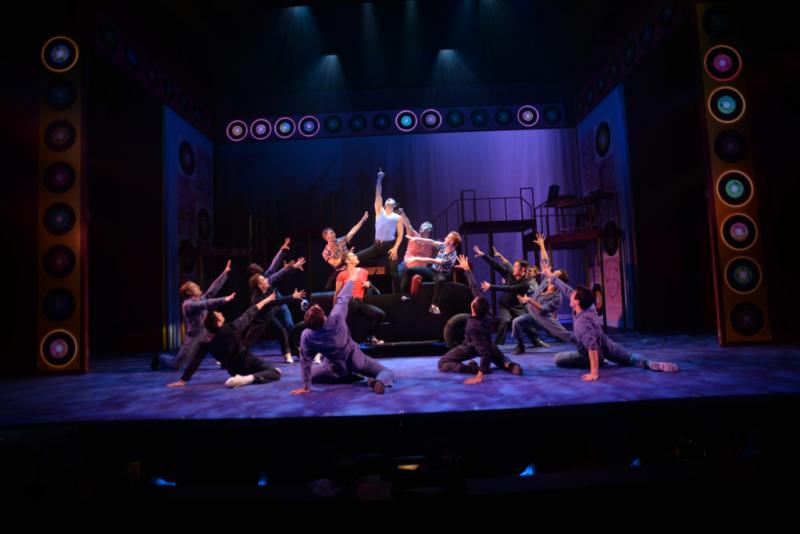 The remaining eighteen-person ensemble ( Ronnie Bowman, Jr., Adena Ershow, Maggie Malaney, Mariah MacFarlane, Natalie Perez-Duel, Christina Emily Jackson, Nathan Cockroft, Giovanni DiGabriele, Kyle Laing, Brian Liebson, Natalie bellamy, Rebecca René Kelly, Sara Sargent, Tracy Sokat, Michael Carrier, Kevin Murakami, John Pletka, Mickey White) is comprised of insanely talented singer-dancers, each of whom is able to create an individual character and story at the same time that he/she coalesces into a dynamic company.
The performance, which frequently spills over into the aisles with actors dancing through the house, ended on opening night with the audience cheering and rocking along to the music. At the dazzling finale, one could not help but think that not only is "Grease the Word," but on the Maine theatre landscape, surely MSMT IS THE WORD!
Photos courtesy of MSMT, Roger S. Duncan, photographer
Grease runs July 19- August 5 at the Pickard Theater, 1 Bath Rd., Brunswick, ME 04011 www.msmt.org 207-725-8069