BWW Feature: SOME THEATRE COMPANY, Orono, to present The Curious Incident of the Dog in the Night-Time with a special sensory-friendly performance for people with Autism.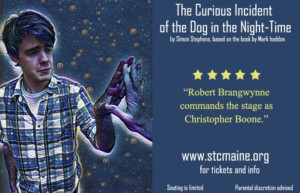 "The Curious Incident of the Dog in the Night-Time," written by Simon Stephens and adapted from the award-winning book by Mark Haddon was the winner of 5 Tony awards when it took Broadway by storm.
The show follows Christopher Boone, a young man many believe to be on the Autism Spectrum, as he works to solve the mystery of who killed Wellington, his neighbor's dog. What Christopher doesn't expect is for his entire world to turn upside down and for an unforgettable journey of self-discovery to ensue.
Written in such a way that it portrays what it feels like to live inside the mind of an individual on the spectrum, Simon Stephens script calls for the use of many tech theatre aspects such as, bold lighting effects, projections, and loud noises. All of these things combined help the audience understand what it feels like to live on the Spectrum on a daily basis.
Wanting to open this show up to individuals in the community who relate to Christopher, and have someone to identify with, Some Theatre Company, Orono decided to partner with Maine Autism Institute for Education and Research (MAIER) and offer a sensory-friendly showing of this play.
For many on the autism spectrum, sensory stimulation can trigger feelings of anxiety and can be overwhelming, scary and exhausting. It may require a person to separate him or herself from a situation. STC is known for its inclusivity in the community and is no stranger to offering "soft-showings" of productions they have done in past seasons. However, this show takes it a step further, utilizing softer lights and sounds. As in previous soft showings, audience members can move around the theatre if necessary.
When asked why STC chose this show as part of their season Director Erryn Bard said, "I think it sheds light on the strength and bravery that some people on the spectrum have to exude just to function in our society." She went on to say that shows like this are important because they "challenge its audience to understand the complexities of truly accepting difference,"
"The Curious Incident of the Dog in the Night-Time" can be seen:
Feb. 22 and 23 at 7.30pm
Feb. 23 and 24 at 2pm
Keith Anderson Community Center - 19 Bennoch Rd., Orono
www.stcmaine.org for tickets and info.
Thursday, Feb 21st - 7.30pm - sensory-friendly performance is a FREE event for people on the Spectrum and their families. It is sponsored by the Maine Autism Institute for Education and Research, which is based at the University of Maine. For more info, you can contact donna.doherty@maine.edu