BWW Review: Continued Education at Overture Center with SCHOOL OF ROCK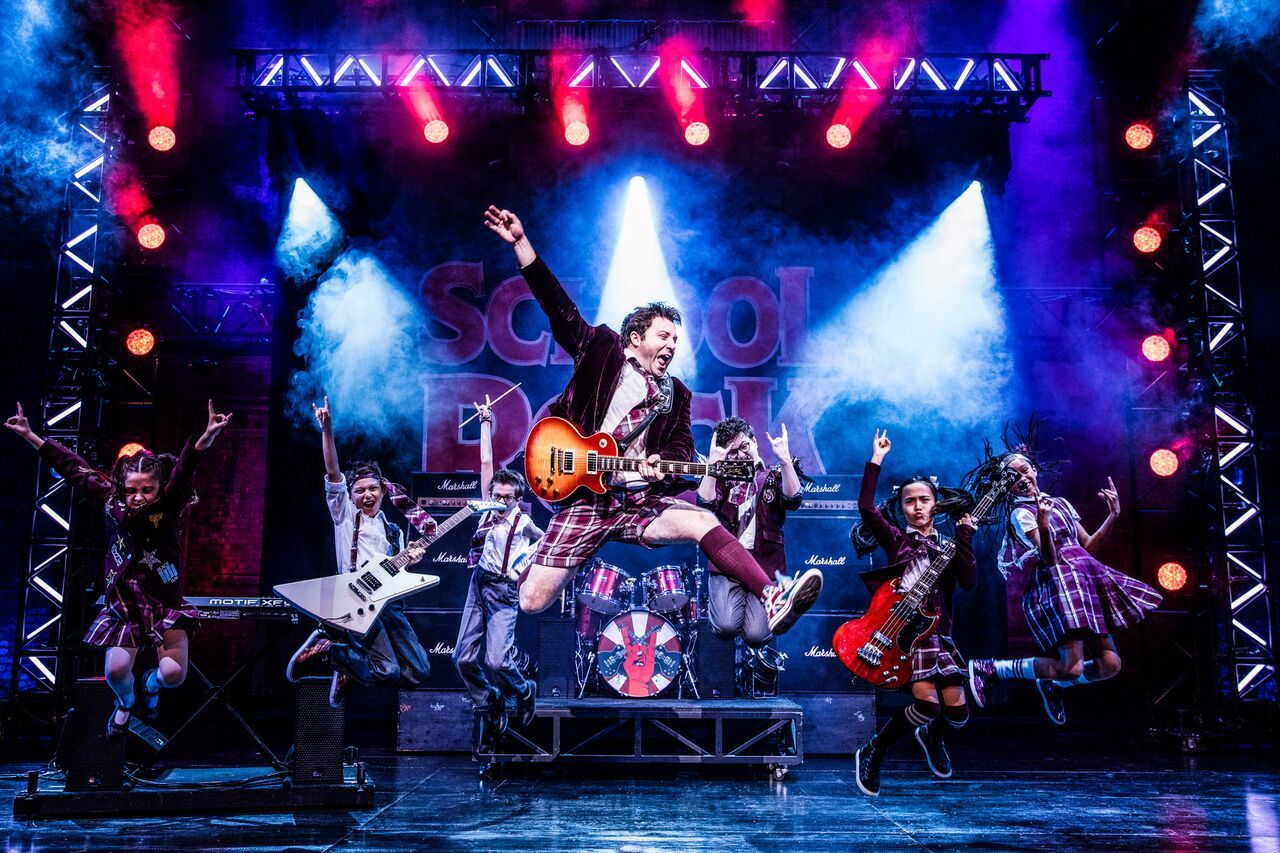 Complete with lights and haze machine, Andrew Lloyd Weber's School of Rock, opens with the fictitious Band, No Vacancy, singing "I'm Too Hot for You". As the super cool rockers do their thing, rock-god-wanna-be Dewey Finn (Merrit David James), super un-cool by comparison, does his. This results in him being forced out of the band. Dejected, Dewey, heads home, which is an unkempt room in the home of his high school buddy, Ned Schneebly (Layne Roate), a stereotypically henpecked, substitute teacher, and Ned's stereotypically harpy-esque girlfriend, who works with the mayor, Patty (Madison Mucucci).
Dewy doesn't have a lot going for him, and by not a lot, I mean virtually nothing. No job, no band, no girl, no self-respect, but all of that is about to change as we are immersed in this Rock and Roll fantasy.
School of Rock is another of a long list of Movies to Musicals, the fifth I have seen in the last year or so. As "Waitress" and "An American in Paris" where two of those, my faithful readers may have the impression that I do not like shows in the Movie to Musical genre (sub-genre?). Not true!
I genuinely liked School of Rock. This came as a shock, because I do not like Jack Black, but that's a different conversation. Yes, there are holes in the plot...gaping holes, but still, I enjoyed the show.
The kids were musically inspiring, yet most impressive was their acting and the fact that they all remained engaged and enjoyable to watch even when the scene had little to do with them. The kids make the show. Again, this is odd, because Dewey never really gives up control and allows the kids to shine on their own. He remains the lead singer in their Battle of the Bands group, even though one of the kids who Dewey notes is more talented than himself writes the song they perform. Despite Dewey occupying center stage, the kids make this show. Trust me, it's a thing.
Dewey teaches the kids to "fight 'The Man' with Rock and Roll", all the while fighting Rock and Roll stereotypes of what cool looks like. The show itself touches on some heavy subjects, at least on the surface, including, gender stereotypes, emotionally absent parents, parental guilt, overscheduled kids, and even a nod to equal pay for equal work for women.
The show also touches on potential flaws within a teach-to-the-test education system. At one-point, Principal Mullins (Lexie Dorsett Sharp) admonishes Dewey (whom she has been duped into thinking is substitute teacher Ned Schneebly) about his teaching methods stating, "Music is for music class" and "Math is for math class". Of course, many people understand that music is math, so crossing those disciplines in an educational setting, as Dewey did, makes sense. But, alas, Principal Mullins is "The Man" at least for the time being.
The reoccurring song and undertone, my favorite under our current political climate, "Stick it to The Man" sends the message home, that fighting The Man with Rock and Roll works!
We watch as Dewey and Principal Mullins begin a romantic entanglement, which never really goes anywhere, (Did I mention gaping plot holes?) all because of Rock and Roll. The kids succeed because of Rock and Roll. Even the parents seem less neurotic because of Rock and Roll. In the end, everything works out because...well you know why.
Come see the show. In fact, come FOR the show, FOR the kids...but stay for the Rock and Roll!
CLASS IS NOW IN SESSION!
Andrew Lloyd Webber'S SMASH HIT
IS COMING TO MADISON OPENING TUESDAY, NOV. 20 AT OVERTURE CENTER
Madison, Wis. - Broadway legend Andrew Lloyd Webber's high-octane Broadway and West End hit SCHOOL OF ROCK - THE MUSICAL coming to Madison's Overture Center for the Arts Tuesday, Nov. 20 - Sunday, Nov. 25, 2018.
Tuesday, Nov. 20 and Wednesday, Nov. 21 at 7:30 p.m.
No Thursday performance
Friday, Nov. 23 and Saturday, Nov. 24 at 2 p.m. and 8 p.m.
Friday 2 p.m. performance features free "Kids Night on Broadway" pre- and post-show activities
Sunday, Nov. 25 at 1 p.m. and 6:30 p.m.
SCHOOL OF ROCK - THE MUSICAL is based on the smash hit 2003 film of the same, featuring music from the movie, as well as an original score by Andrew Lloyd Webber, lyrics by Glenn Slater, a book by Julian Fellowes, choreography by JoAnn M. Hunter and direction by Laurence Connor.
Based on the hit film, SCHOOL OF ROCK - THE MUSICAL is a hilarious new musical that follows Dewey Finn, a failed, wannabe rock star who decides to earn a few extra bucks by posing as a substitute teacher at a prestigious prep school. There he turns a class of straight-A students into a guitar-shredding, bass-slapping, mind-blowing rock band. While teaching these pintsized prodigies what it means to truly rock, Dewey falls for the school's beautiful, but uptight headmistress, helping her rediscover the wild child within.
Rocking the roofs off of theaters across America, the School of Rock - The Musical national tour stars stars Merritt David Janes as Dewey, Lexie Dorsett Sharp as Rosalie, Madison Micucci as Patty, Layne Roate as Ned, Gary Trainor as Dewey Alternate, Deidre Lang as Ms. Sheinkopf, Arianna Pereira as Shonelle, Leanne Parks as Katie, Alyssa Emily Marvin as Marcy, Julian Brescia as Mason, Grier Burke as Tomika, Cameron Trueblood as Freddy, Mystic Inscho as Zack, Sammy Dell as Billy, Theo Mitchell-Penner as Lawrence and Sami Bray as Summer. The adult ensemble features John Campione, Patrick Clanton, Christopher De Angelis, Kristian Espiritu, Melanie Evans, Liam Fennecken, Brian Golub, Elysia Jordan, Sinclair Mitchell, JP Qualters, Tim Shea, Jonathon Timpanelli. The kid's ensemble features Natalia Bingham, Bella Fraker, Jacob Moran, Blake Ryan, Jesse Sparks and Gabriella Uhl.
SCHOOL OF ROCK - THE MUSICAL opened on Broadway to rave reviews on Sunday, December 6, 2015. This Ben Brantley New York Times 'Critics' Pick' "is an inspiring jolt of energy and mad skillz," raves Jesse Oxfeld of Entertainment Weekly. And in his four-star Critics' Pick review, Time Out's David Cote proclaimed, "School's IN - forever!" SCHOOL OF ROCK - THE MUSICAL was nominated for four 2016 Tony Awards, including Best Musical, Best Score (Lloyd Webber and Slater), Best Book (Fellowes), and Best Leading Actor in a Musical (Alex Brightman). SCHOOL OF ROCK - THE MUSICAL also won the 2017 Oliver award for Outstanding Achievement in Music.
SCHOOL OF ROCK - THE MUSICAL features scenic and costume design by Anna Louizos, lighting design by Natasha Katz, sound design by Mick Potter and music supervision by John Rigby.
Tickets are available at the Overture Center Ticket Office (201 State Street), by phone (608.258.4141) or online (overture.org). Groups of 10+ may be eligible for discounted tickets; for information, please call 608.258.4159.
SCHOOL OF ROCK - THE MUSICAL, presented in partnership with Broadway Across America with additional support from SupraNet Communications, is part of the Broadway at Overture series.
SCHOOL OF ROCK - THE MUSICAL is produced on Broadway by Andrew Lloyd Webber for The Really Useful Group, Warner Music Group & Access Industries, The Shubert Organization and The Nederlander Organization. Nina Lannan and Madeleine Lloyd Webber serve as Executive Producers. ustour.SchoolOfRockTheMusical.com
OVERTURE CENTER FOR THE ARTS in Madison, Wis., features seven state-of-the-art performance spaces and five galleries where national and international touring artists, ten resident companies and hundreds of local artists engage people in nearly 600,000 educational and artistic experiences each year. Overture.org
BROADWAY ACROSS AMERICA is part of The John Gore Organization family of companies, which includes Broadway.com, under the supervision of 11-time Tony-winning producer John Gore (Owner & CEO). Current and past productions include Beautiful, Cats, Chicago, Dear Evan Hansen, Groundhog Day, Hairspray, Hello, Dolly!, Million Dollar Quartet, On Your Feet!, The Producers, School of Rock and Waitress BroadwayAcrossAmerica.com; Broadway.com
Sarah Knab
Communications Manager
201 State Street, Madison, WI 53703
O: 608.258.4438 | sknab@overture.org
Related Articles View More Madison

Stories

Shows
Scott Rawson: A founding member and current Artistic Director of CAB this being the second theater company he has begun, the other being R.A.V.E. (Rogues (read more...)