Interview: Kristina Walz of ROCK OF AGES at Overture Center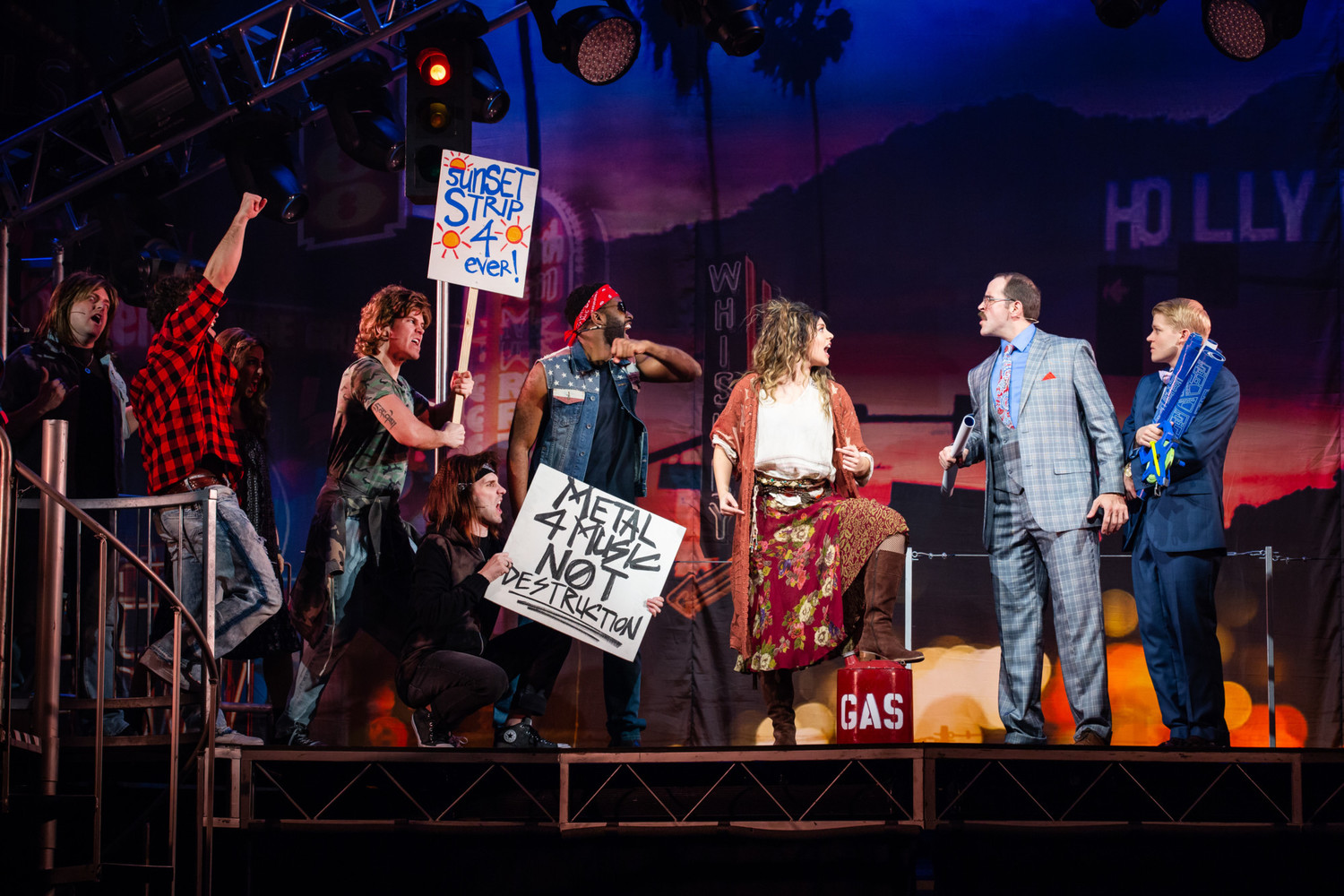 If you grew up at any point in the eighties or are a fan of classic rock, ROCK OF AGES is a fantastic mind bending trip down memory lane.
Kristina Walz plays the quirky, city planner, Regina, who provides comic relief to this electric show. Walz, in her first national tour, was happy to chat about ROCK OF AGES and how she was born in the wrong decade.
How did you get started in musical theatre?
I feel like the younger generation is getting started earlier, like right out of the womb. They are already singing and dancing and know everyone on Broadway. That was not me.
It was about 7th grade, I sang at my grandmother's birthday party. It was a huge family gathering and for some reason I felt the need to sing for her, which was not like me at all. I was very shy kid, but for some reason I wanted to sing a song. So I sang and the entertainment there went up to my dad and said "if she wants to pursue this, she should take voice lessons." I began doing small community theatre like at the YMCA, and it took off from there.
What makes this show special so special to you?
It's special to me because my parents have played this music since I was born. I'm not the biggest fan of the music today with the exception of Bruno Mars and Sara Bareilles. If I was to be born in a different era, I would choose to be a teenager in the eighties.
What can the audience expect from ROCK OF AGES?
It's not like any other Broadway musical. I think people who aren't into Broadway, who don't know much about theatre, are going to be blown away. It's not just a musical--it's a concert. You go expecting to see a musical, but you're on your feet.
The audience participation in itself is different than any other Broadway experience. Our actors talk directly to the audience, and the more the audience participates, the more fun it is for everyone involved.
This is your first national tour. Have there been any memorable stage experiences?
We've had audience members stand up during Dead or Alive and sing back to us. As a performer, when you're on stage, you never expect that. In WICKED, you would never expect the audience to sing back the words to Defying Gravity.
Every Rose Has Its Thorn is the most incredible moment on stage. When it happens, everyone raises up their cell phones, which is I guess the equivalent of lighting up their lighters. To look out and see that sea of light--it's like you're a rock star. It's an experience equally amazing for the actor as it is for the audience members.
Tell me about your character, Regina.
Regina is a city planner for Los Angeles. Some German developers want to build a mall with a Foot Locker athletic store on the Sunset Strip. My character is radical, almost hippie, Stevie Nicks, Woodstock-style of girl saying, "No! You can't. This is our history, our place!" So I'm fired because I say too much. I care too much. I lead a huge protest to stop the demolition of the Sunset Strip and mainly the Bourbon Room Bar, which is the other plot line about Drew and Sherry. Without giving too much away, hilarity ensues.
Do you have a message to give the audience?
If you're coming to see ROCK OF AGES or are thinking about it, absolutely come. Come dressed up, come ready to sing, come ready to party and have absolutely the best time! And come to see us at the stage door after.
Leading the cast are Anthony Nuccio as "Drew Boley," Katie LaMark as "Sherrie Christian," John-Michael Breen as "Lonny," Sam Harvey as "Stacee Jaxx," Ryan M. Hunt as "Dennis," Chris Renalds as "Franz," Kristina Walz as "Regina," Kenya Hamilton as "Justice," and Andrew Tebo as "Hertz." The tour will also feature Michael Bojtos, Emily Croft, Kyle Jurassic, Mark LaDuke, Carlina Parker, Darrell Wayne Purcell, Stephen Rochet, Zoe Unkovich, and Brenna Wahl.
It's 1987 on Hollywood's Sunset Strip when a small-town girl meets a big city rocker. As they fall in love in L.A.'s most famous rock club,ROCK OF AGES allows fans to rock out once again to their favorite '80s hits. Featuring the music of iconic bands such as Styx, Poison, Twisted Sister, and Whitesnake among many others, this Tenth Anniversary production features a dynamic new cast revisiting the larger than life characters and exhilarating story that turned ROCK OF AGES into a global phenomenon.
ROCK OF AGES opened April 7, 2009 on Broadway and played more than 2,300 performances at the Brooks Atkinson and Helen Hayes Theatres earning five Tony Award® nominations including Best Musical. The show also enjoyed successful national and international tours and, in 2012, was turned into a major motion picture by New Line Cinema and Warner Bros. Pictures. With a book by Chris D'Arienzoand arrangements and orchestrations by Ethan Popp, the tenth anniversary tour is being directed by Martha Banta and choreographed by Janet Rothermel.
ROCK OF AGES is an Overture Presents performance on Thursday, February 8th. Tickets are available at the Overture Center Ticket Office (201 State Street), by phone (608.258.4141) or online (overture.org).
OVERTURE CENTER FOR THE ARTS in Madison, Wis., features seven state-of-the-art performance spaces and five galleries where national and international touring artists, ten resident companies and hundreds of local artists engage people in nearly 600,000 educational and artistic experiences each year.