You Can't Stop the Beat! HAIRSPRAY Dances In the Rain at Jenny Wiley Theatre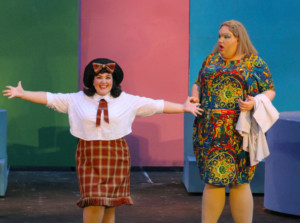 After their opening night was rained out on Friday, July 20th, the diverse and youthful cast of Hairspray at The Jenny Wiley Theatre, an outdoor amphitheatre in Prestonsburg, Kentucky--population 3,255 -- celebrated their work and art by transforming a local pizzeria into a piano bar and joyfully singing through a concert of the show for an enthusiastic local crowd. The second performance on Saturday, July 21st, made it to the end of Act 1... when another severe storm broke loose.
The cast performed the Act 1 finale with umbrellas, until the theatre lost power. That didn't stop the cast from taking Act 2 to a local lodge and performing its songs of togetherness to the local community by candlelight. In the days since, Hairspray, a musical whose central themes include integration, racial/gender equality, and body positivity, has continued to capture the local attention in Floyd County, a region best known for coal mining--and the cast will not let anything or anyone Stop The Beat! https://youtu.be/YQtKcfNbNbc

Jessica Rebecca sings "I Know Where I've Been," Hairspray's eleven o'clock number about overcoming inequality and embracing a future of love, along with Robert Lee Poole III, Breia Kelley, Kynnedi Porter, Jeremiah Bryant, and Toni Lorene Baker. Video comes courtesy of cast member Justin Norwood.

After the video was posted to Facebook, it caught the attention of Hairspray's composer, Marc Shaiman, who responded to video by writing: "Jessica Rebecca and cast, as the guy who wrote this song (along with my co-lyricist Scott Wittman), I commend you on this stunning version. The situation this video captured strikes me like America right now...the power seems not to be on our side, and many of us are preaching into darkness, but with voices and soul like this, we are bound to persevere and regain all that is beautiful about America."
Ms. Rebecca responded with "The honor was ours. Thank you for writing music like this. Music that tells our story, and helps people capture the voices of the voiceless."
When asked for comment, director Rachel Klein stated: "This show is so important to me for so many reasons. At its core the piece is about love, acceptance, and inclusivity, which is why it's simultaneously timeless and timely. It's been an honor to work with this particular cast and team who will stop at nothing to perform the message, which ultimately, is why we do theatre to begin with."
Hairspray, a musical based on the 1988
John Waters
film of the same title, opened on Broadway in 2002. Music by
Marc Shaiman
, Lyrics by
Scott Whittman
and
Marc Shaiman
, Book by
Mark O'Donnell
and
Thomas Meehan
. This production's cast includes Tyler Sodoma (Kiss Me Kate, Virginia Musical Theatre),
Mollie Downes
(Lone Star, the Triad), Jessica Rebecca (Chicago),
Robert Lee
Poole III (The Lion King, Hong Kong),
Kurt Perry
(Avenue Q, Bristol Valley Theatre), Jeremiah Bryant (Sister Act, La Commedia Theatre), Maria Boissonneault, Rachel Turner Pusey, Chandler Bryant Matkins, Breia Kelley, Hayden Cole Shubert, Justin Norwood, Kynnedi Porter, Zach Perrin, Toni Lorene Baker, Ruby McCann, Sami Weathersby, Sam Van Vleet, Katie Davis, Todd Maynard, Hope Watts, Haleigh
Elise Hunt
, Payton Trout, Jesse Plourde, and Tess Sergent. Scenic and Lighting Design by Darryl Willard, Costume Design by Eric Franzen.The Production Stage Manager is Chelsey Steinmetz. Casting by
Joey Murray
. Hairspray's NYC based creative team features Music Direction by Bryson Baumgartle (Shrek, Tuacahn; a gender-blind A Chorus Line, NYC's Tada! Theatre) Choreography by
Valerie Salgado
(NBC's "Smash"; Footloose, JWT) and is directed by
Rachel Klein
(Red Roses, Green Gold, Off-Broadway at Minetta Lane; Around the World in 80 Days, Off-Broadway at the Davenport Theatre). Hairspray continues performances Tuesdays through Saturdays through August 11th, with an additional performance on Sunday, July 29th. All performances begin at 8:15pm at the Jenny Wiley Amphitheatre,
121 Theatre Ct, Prestonsburg, KY 41653
. Tickets available at:
https://www.jwtheatre.com/
.