BWW Review: ON YOUR FEET! at The Kentucky Center For The Arts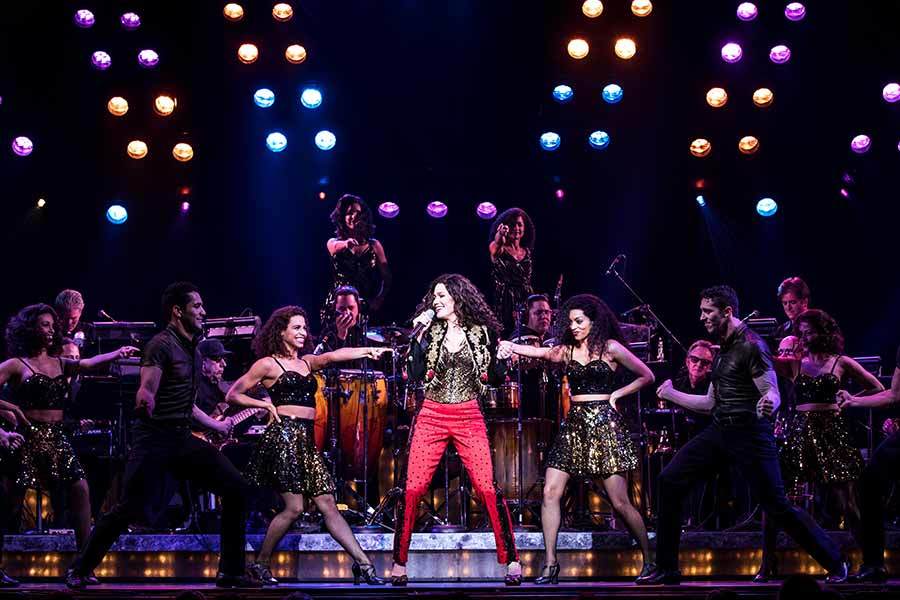 Christie Prades as Gloria Estefan and the cast of On Your Feet!. Photo by Matthew Murphy.
ON YOUR FEET!
Music & Lyrics by Emilio & Gloria Estefan, Emily Estefan, and the Miami Sound Machine
Book by Alexander Dinelaris
Directed by Jerry Mitchell
Review by Taylor Clemons
Entire contents copyright are © 2019 by Taylor Clemons. All rights reserved.
Not at all by accident, here we are again in the land of jukebox musicals. They have become a permanent part of Broadway's DNA, whether you like it or not. I personally tend to be indifferent towards them, if they had or (in this case) are having an interesting life, why not tell their story? This show premiered in Chicago back in the summer of 2015 before transferring to Broadway that fall where it would enjoy a healthy run before closing in August of 2017. The show is currently touring the country and is having a week of performances in Louisville.
The show centers on Gloria and Emilio Estefan with focus on their loving and lasting relationship, as well as the music empire they both created. Through a series of flashbacks and time jumps we learn about Gloria from her childhood, all the way to her triumphant return to the stage after a near fatal tour bus crash that almost left her paralyzed. We also see how Gloria and Emilio meet and how their shared love of music brings them closer, despite pressure from Gloria's mother to pursue a more practical career.
The show is expertly lead by Christine Prades as Gloria. From the moment she steps onstage she seamlessly embodies the pop icon we all know and love. She brings dept and nuance to the many shades of Gloria the public eye might not always get to see. Prades is equally matched by Eddie Noel as Emilio. He exudes charm and appeal from his first entrance, and he has a voice that cuts right to your heart. His duet with Nancy Ticotin in the second act was particularly moving, which brings me to the subject of Ticotin's performance. Her take on Gloria's mother was vibrant as well as complex. Many of her book scenes were wonderfully acted and exuded pathos.
I would be remiss if I didn't mention the wonderful ensemble. Sergio Trujillo is one of the best choreographers working today, and the she bursts to life with Latin culture and joy whenever the incredibly skilled and well trained ensemble execute it to the max.
As many could guess, you will love this show if you are indeed it's target audience. I personally, don't have a strong connection to the Estefans as I didn't grow up at the time of their rise to stardom. However, that is not to say I didn't have a perfectly enjoyable time. This is a very paint by the number jukebox musical (in the vein of Carole King's Beautiful, which I think follows through just a little bit better). You get everything you're promised: the music you came to hear, the story you came to hear, and the specticle you came to see. As a night out this show fits the bill for date night or girls night, with Great Performances, charm to spare, and some truly astounding choreography.
As a reminder, if you missed this show in Louisville, it will be playing in Cincinnati starting on March 19th!
ON YOUR FEET!
Now - March 19, 2019
Whitney Hall in The Kentucky Center for the Arts
501 W. Main Street
Louisville, KY 40202
(502) 584-7777
https://www.kentuckycenter.org/