The Wayward Artist Launches Second Season with NEXT TO NORMAL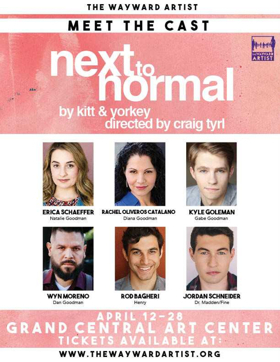 The Wayward Artist's inaugural season explored FAITH. Moving into our second season, the company examines the many faces of FAMILY. The Wayward Artist is proud to produce the pop/rock, hit musical Next to Normal! Join Diana Goodman and her family in their anything-but- normal suburban home. Next to Normal explores the effects of extreme loss and the tolls mental illness can have on a modern-day family. Winning both the Tony and Pulitzer Prizes, Next to Normal, is a beautiful story and wonderful score from the creators, Brian Yorkey and Tom Kitt.
Directed by Craig Tyrl
Musical Direction by Rod Bagheri
Scenic Design by Daniel Espinoza
Video Design by Kristin Campbell
Lighting by Chris Henrriquez
Costume Design by Melissa Alvarez
Audio Design by Lauren Zuiderveld
Properties Design by Nicole Ross and Kiran Gonse
Cast
Rachel Oliveros Catalano
Wyn Moreno
Kyle Goleman
Erica Schaeffer
Rod Bagheri
Jordan Schneider
TICKETS:
Students $15, Adults $25
For information and reservations: http://www.thewaywardartist.org/
The Oxford English Dictionary defines "wayward" as conforming to no fixed rule or principle of conduct; capricious, unaccountable, erratic, unpredictable, uncontrollable; Disposed to go against the wishes or advice of others, or what is proper or reasonable; intractable; self-willed; perverse. Our work is edgy. We are not afraid to push the envelope of politeness, political correctness and propriety. We don't shy away from adult content, language and mature subject matter. We are about innovation and re-invention. Wherever possible, we delight in showing our audience a mirror to challenge pride, prejudices and point-of-view.