THE TERRIBLE LEGEND OF VICTORIA WOODHULL to Make its World Premiere at the Hollywood Fringe Festival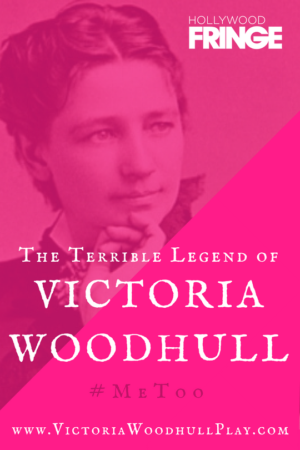 The Owl & the Pussycat Theatre Co. are proud to present the World Premiere of The Terrible Legend of Victoria Woodhull. Many terrible legends have been told about the infamous Victoria C. Woodhull, Wall Street's first female stockbroker, the first woman to formally address Congress and the first woman to run for President of the United States in 1872, 48 years before women won the right to vote. The Terrible Legend of Victoria Woodhull opens June 3 as part of the Hollywood Fringe Festival at The Hobgoblin Playhouse - 6520 Hollywood Blvd, Los Angeles, CA 90028.
In this one woman show, a well-meaning Canadian actress (Ashley Ford) in a misguided attempt at method acting, will summon the spirit of Victoria Woodhull, in order to tell her tale from beyond the grave, in the light of today's #MeToo movement, and set the record straight.
The Terrible Legend of Victoria Woodhull will open prior to the Hollywood Fringe with a $5 Preview performance, June 3rd. The run will conclude on closing night, June 19th, with a live 360° virtual reality recording to be released by VR Home TV.
Starring Ashley Ford.; Written by Theo Salter; Directed by Karen Louisa Linton
PERFORMANCE DATES:
Sunday, June 3, 2018 @ 2:30PM - Preview
Sunday, June 10, 2018 @ 6:00PM - Opening
Wednesday, June 13, 2018 @ 7:00pm
Saturday, June 16, 2018 @ 6:30pm
Tuesday, June 19, 2018 @ 7:00pm - Closing
TICKETS: $12 http://www.hollywoodfringe.org/projects/5406?tab=tickets
For more information visit: www.VictoriaWoodhullPlay.com