SMALL MOUTH SOUNDS Tour to Take The Broad Stage This Winter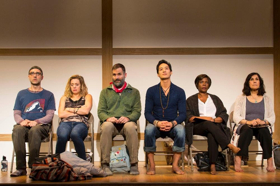 The Eli and Edythe Broad Stage in Santa Monica and Eva Price present Small Mouth Sounds by Drama Desk Award winner Bess Wohl (Pretty Filthy), and directed by Tony Award nominee Rachel Chavkin (Natasha, Pierre & The Great Comet of 1812) for three weeks only, January 11 through 28 with a press opening on January 12.
In the overwhelming quiet of the woods, six runaways from city life embark on a silent retreat. As these strangers confront internal demons both profound and absurd, their vows of silence collide with the achingly human need to connect. Filled with awkward and insightful humor, Small Mouth Sounds is a unique and compassionate new play that asks how we address life's biggest questions when words fail us.
The cast includes Connor Barret (Jan), Ben Beckley (Ned), Edward Chin-Lyn (Rodney), Orville Mendoza (Teacher), Brenna Palughi (Alicia), Socorro Santiago (Joan), and Cherene Snow (Judy).
The original design team of Small Mouth Sounds returns for the national tour and includes Obie-winner Laura Jellinek (Scenic Design), Tilly Grimes (Costume Design), Mike Inwood (Lighting Design), Lortel- nominee Stowe Nelson (Sound Design), Andrew Schneider (Projection Design), and Noah Mease (Prop Design). Chavkin and the designers will restage the production, originally performed in traverse, for a proscenium setting.
The play is unique in that most of the action happens in silence. The audience learns almost everything through nonverbal communications from the actors.
The inspiration for the play came from Wohl's own personal experience at a silent meditation retreat. Surrounded by people who were looking for a way for their lives to be changed or healed, Wohl decided that this was fertile subject matter for a play. "What I loved about that for a play is that what's necessary for any play is that all the characters really need something. This is such a great environment: a play where there is this automatic need," Wohl said in an interview with Slant.
In the same story director Rachel Chavkin said, "In order for the production to be successful, the audience shouldn't just feel like they have seen some people at a silent retreat, but that they leave feeling as if they have profoundly experienced that sense of silence themselves. I think the central question of the play is should we seek peace or not, and if so, how?
"[There's] the joy of the kind of detective work that the audience is forced to constantly do with this piece. There are little clues, as everyone's behavior is very consistent with who they are. We worked very hard to make sure of that.
"I think the great actress Uta Hagen once said to never be on stage with a cat, because the cat will always win. I do feel this play is basically making cats of humans, trusting that the little amount of just being, if you're truly living, is quite compelling. And then there's a balance, obviously, between that and just no action whatsoever."
Small Mouth Sounds had a remarkably, creative rehearsal process. Chavkin continues, "It actually makes a difference as to whether their shoes are tied or whether they're wearing flip-flops. It's such small elements in the recipe of each moment."
Small Mouth Sounds played a record-breaking run at Ars Nova in 2015 and an acclaimed and extended commercial production at the Pershing Square Signature Center's Romulus Linney Theater in 2016. The national tour of Small Mouth Sounds is booked for 23 weeks in multiple cities, making it one of the longest tours for an Off Broadway show of this size in recent memory.
Small Mouth Sounds was chosen as a "Best Of" Theater Pick in The New York Times, New York Magazine, The Hollywood Reporter, New York Post, and many more.
Tickets are on sale at www.thebroadstage.org or by calling 310.434.3200.
ABOUT THE ARTISTS:
Brenna Palughi (Alicia) Broadway: A Time To Kill. New York: Sarah in Scared of Sarah (La Mama), Naked in a Fishbowl and King Lear (Cherry Lane). Regional: World Builders (CATF), Phedre, Orlando, Three Sisters (Yale). Television and film: "High Maintenance", "The Family", "Mysteries of Laura", "Royal Pains", "Mozart in the Jungle", Synechdoche, NY, She She, and the short film Close, which she wrote and directed. She founded a theater company, Virago, and is a proud company member of The Actor's Center in NYC. MFA Yale School of Drama.
Connor Barret (Jan) Theater: The Purple Lights of Joppa Illinois, Finer Noble Gases, The Metal, Saul Kimmer in Adam Rapp's production of True West. Various work at Geva Theatre, McCarter Theatre Center and Williamstown Theatre Festival. Other New York credits include SPF and the New York Fringe Festival. Film and television: The Runaround, "Hot in Cleveland," "We Hate Paul Revere," "True Blood," "Parks and Recreation," "CSI: NY," "Harry's Law," "Rita Rocks," "Do Not Disturb," "The Jury," "Guiding Light." He has a BFA in acting from Northwestern University and an MFA from NYU Tisch School of the Arts.
Socorro Santiago (Joan) Broadway: The Bacchae. Off-Broadway: Roundabout Theatre, Clubbed Thumb, Rattlestick Theatre, Public Theatre, INTAR, EST, BAM,Ma-Yi theatre,59E59 Theatre, Lark theatre. Regional: Long Wharf Theatre, Goodman Theatre, Victory Gardens (Jeff award), Huntington (IRNE nomination), Shakespeare Theatre, Guthrie Theatre. TV: "Mozart in the Jungle", "Seven Seconds," all the "Law & Orders", "Characters," "Blue Bloods," "All My Children" (ALMA award). Films: Freedomland, Heaven's s Prisoners, Devil's Advocate, iCreep, recently completed filming on Widows directed by Steven McQueen.
Cherene Snow (Judy) Broadway: Cat on a Hot Tin Roof with Scarlett Johansson. Off-Broadway/ Regional: Walking Down Broadway, Last of the Thorntons, Welcome To Fear City, Having Our Say, Little Foxes, Fata Morgana, brownsville song: b-side for tray, Civil War Voices, Black Pearl Sings, Doubt, To Kill a Mockingbird, Coyote on a Fence. Film and Television: Arthur, Perhaps Tomorrow, My Sassy Girl, City of Angels, The Long Walk Home, "Law & Order," "Law & Order SVU," Third Watch, "Chappelle's Show."
Ben Beckley (Ned) recently appeared in Dying For It at Atlantic Theater Company (director Neil Pepe) and the first national tour of Peter and the Starcatcher (directors Alex Timbers and Roger Rees). Other work includes plays with Clubbed Thumb, New Georges, TACT, and Berkshire Theatre Group; musicals with Prospect Theater Company, Public Theater/Joe's Pub, and Playhouse on Park; four international tours with Temporary Distortion; and five original works with The Assembly (company member, all dir. Jess Chayes). On-camera credits include The Onion, The Jew of Malta, and Easy Living. www.benbeckley.com
Edward Chin-Lyn (Rodney) Television and film: "Set It Up," "Jessica Jones," "Feed the Beast," "Limitless," "Elementary," "Person of Interest," "The Mysteries of Laura," "Mysteries at the Museum." Theater: KPOP, True West, Reconstruction, Leviticus w. Bekah Brunstetter, 2015 Worldwide Play Festival, The Brig, Wake, You Can't Take It With You, A Grimm Reality, A Year in the Life. www.edwardchinlyn.com
Orville Mendoza (Teacher) Select credits. Broadway: Peter and the Starcatcher, Pacific Overtures. Off-Broadway: Pacific Overtures (Classic Stage Co.), Found (Atlantic Theatre Co.), Passion (CSC), Romeo and Juliet, Timon of Athens, and Road Show (all at The Public/NYSF). Regional: La Jolla Playhouse, ACT, Philadelphia Theatre Co., KC Rep., East West Players, Goodspeed, Long Wharf. TV: "The Blacklist", "Law and Order: CI", and many commercials. Orville is a Drama Desk Award nominee and Barrymore Award winner. www.orvillemendoza.com
Bess Wohl (Playwright) Bess Wohl's plays include Small Mouth Sounds (Top Ten of 2015 in The New York Times, The Guardian, New York Post, and others, Best of 2016 in New York Magazine and others); Continuity (upcoming at The Goodman Theatre New Stages); American Hero, Barcelona (LA Ovation Award nomination); Touched; In; Cats Talk Back; and the original musical Pretty Filthy in collaboration with Michael Friedman and The Civilians (Lucille Lortel and Drama Desk nominations for Outstanding Musical). Her work has been produced or developed at Second Stage, Ars Nova, Williamstown Theatre Festival, Geffen Playhouse and many others. She is the recipient of the Sam Norkin special Drama Desk Award for "establishing herself as an important voice in New York Theater" and the John Gassner Outer Critics Circle Award. Bess also writes for film and television and has developed projects for HBO, ABC, USA, Disney, Paramount and others.
Rachel Chavkin (Director) is a director, writer and dramaturg, as well as the artistic director of Brooklyn-based company the TEAM (www.theteamplays.org), whose unique collaborative process was the subject of a documentary. Selected work: Dave Malloy's Natasha, Pierre & the Great Comet of 1812 (Ars Nova, Kazino, A.R.T., Broadway), Marco Ramirez's The Royale (Old Globe, LCT), Bess Wohl's Small Mouth Sounds (Ars Nova/Off-Broadway/national tour), Anaïs Mitchell's Hadestown (NYTW), Anne Washburn's Iphigenia in Aulis (CSC), and multiple collaborations with Taylor Mac including judy's extravaganza The Lily's Revenge, Act 2 (HERE). The TEAM's work has been seen worldwide, including at The Public Theater, PS122, UK's National Theatre and Royal Court, the National Theatre of Scotland and festivals across Europe, Australia, and Asia. NYTW Usual Suspect. Winner of 3 Obie Awards, Drama Desk, Elliot Norton & IRNE awards, multiple Lucille Lortel nominations, twice nominated for the Doris Duke Impact Award, and was nominated for the Tony Award for Best Direction for her work on Great Comet. She and Comet Dave Malloy are recipients of the 2017 Smithsonian Award for Ingenuity.
Laura Jellinek (Scenic Designer) Broadway: Marvin's Room. Off-Broadway: The Antipodes, Everybody, The Wolves, A Life (Lortel award, Drama Desk nomination), Marjorie Prime, The Nether (Lortel nomination), The Village Bike, Buzzer. Multiple projects with The Debate Society & The Mad Ones. Regional: Yale Rep, Bard Summerscape, Cincinnati Playhouse, Oregon Shakespeare Festival, Williamstown Theatre Festival, Southcoast Rep. Opera: Opera Theatre of St. Louis, Boston Lyric Opera, Opera Philadelphia, Atlanta Opera, Juilliard. Obie for Sustained Excellence in Design.
Tilly Grimes (Costume Designer) is an English theatre designer based New York. Recent /Upcoming Credits 'Underground Railroad Game' (International, National Tour & Ars Nova), 'Small Mouth Sounds' dir. Rachel Chavkin, 'Deathless' dir. Tina Landau (GoodSpeed). Awards - Lortel Nomination Best Costume Design, Balsamo Grant for Immigrant Artists, Irish Design Award, Irish Times Theatre Nomination & Onstage Critics Award. New York - Roundabout, Ars Nova, Foundry, Red Bull Theatre, Cherry Lane, The Pearl, Clubbed Thumb, Here Arts Centre, Barrow Group, & La Mama. Regional - Williamstown Theatre Festival, New York Stage and Film, Alley Theatre, Goodspeed Opera, OSF, Wilma, Hudson Valley Shakespeare, Two Rivers Theatre Company, Trinity Repertory Company, Pittsburgh Public & Westport County Playhouse. Opera - Boston Lyric Opera, Philadelphia Opera, Curtis School of Music & Juilliard School of Vocal Arts.Guest artist at Julliard, Duke University, University of Rochester, Trinity College Dublin. M.F.A from NYU Tisch.
Mike Inwood (Lighting Design) Off-Broadway premieres of: Small Mouth Sounds (Signature Theatre), HIR (Playwrights Horizons), Stupid Fucking Bird (Pearl), Out Cold/Zippo Songs (BAM), Half Moon Bay (Lesser America/Cherry Lane), Miles for Mary (The Mad Ones). Regional productions with: Boston Lyric Opera, Philadelphia Theatre Company, Magic Theatre, Pittsburgh Opera, Perseverance Theatre, Company of Fools, Hudson Valley Shakespeare Festival. Emmy Award (NBC, 2010 Vancouver Olympic Games). www.mikeinwood.com
Stowe Nelson (Sound Design). New York: Animal (Atlantic); The Skin of Our Teeth (TFANA); The Wolves (Playwrights Realm); Miles for Mary, Samuel & Alasdair (Mad Ones, Drama Desk nom.); Indian Summer (Playwrights Horizons); The Painted Rocks at Revolver Creek, The Wayside Motor Inn (Signature Theatre). Regional: The Roommate (Williamstown); What Would Crazy Horse Do? (KC Rep); Cry it Out, I Now Pronounce (Humana Festival), Book of Will (Denver Center). More info: www.wingspace.com/stowe
Andrew Schneider (Video Design) is a performer, writer and interactive electronics artist. Performance works: YOUARENOWHERE (2015 Obie Award, 2016 Drama Desk nominee), Dance/Field (2014, Roulette), Wow+Flutter (2010, The Chocolate Factory). Video design: Small Mouth Sounds (2014, The Bushwick Starr); The Wooster Group (company member 2007-2014).
Noah Mease (Prop Design). Off-Broadway: John (Signature, Obie Award); Hadestown (NYTW); Natasha, Pierre & the Great Comet of 1812 (Kazino, A.R.T.); Small Mouth Sounds (Ars Nova); An Octoroon (Soho Rep, TFANA); The Nether (MCC); Jacuzzi (Ars Nova); Blood Play (The Bushwick Starr, The Public). Playwriting: Republic (JACK, Manbites Dog), Omega Kids (Dixon Place).
Eva Price (Producer) is a Tony Award-winning producer whose credits include over 15 Broadway plays, musicals, and concerts. She is a member of The Broadway League's Board of Governors and was named one of Crain's NY 40 Under Forty Rising Business Stars. Current and notable productions include: Dear Evan Hansen (6 Tony Awards); On Your Feet! (The Story of Gloria and Emilio Estefan); Frankie Valli and the Four Seasons on Broadway!; Peter and the Starcatcher (5 Tony Awards); Colin Quinn Long Story Short(directed by Jerry Seinfeld); Annie (Tony-Nominated Musical Revival); The Merchant of Venice starring Al Pacino (Tony-Nominated Play Revival); Carrie Fisher's Wishful Drinking; The Addams Family (starring Nathan Lane and Bebe Neuwirth); as well as several solo shows and critically acclaimed concerts starring The Temptations & The Four Tops; Kathy Griffin; Lewis Black; and Hershey Felder. Recent off-Broadway projects include the Drama Desk-nominated Found (Atlantic Theater Company & Philadelphia Theater Company); Benjamin Scheuer's award-winning The Lion (Drama Desk winner, Off-West End winner for Best Musical); and Bess Wohl's critically acclaimed Small Mouth Sounds. International and Touring Credits include: The Hip Hop Nutcracker, featuring Rap Icon Kurtis Blow, Carefree: Dancin' with Fred and Ginger (Directed/Choreographed by Tony Winner Warren Carlyle), as well as The Magic School Bus, Live! The Climate Challenge; Ella, a bio musical about the life and music of Ella Fitzgerald; 'S Wonderful: The New Gershwin Musical; Tomie dePaola's Strega Nona The Musical, Irving Berlin's I Love A Piano (National Tour and Japan), The Great American Trailer Park Musical, Private Jokes, Public Places (London). For five years Eva worked as an assignment editor and coordinating producer for special projects at ABC News, spending her last year producing and reporting on stories relating to Broadway for ABCNews.com. Upcoming: Alanis Morissette's Jagged Little Pill.
Pictured: The cast of Small Mouth Sounds. Photo by T. Charles Erickson.
Related Articles View More Los Angeles

Stories

Shows
More Hot Stories For You