Rogue Machine Theatre LES BLANCS Opens 5/27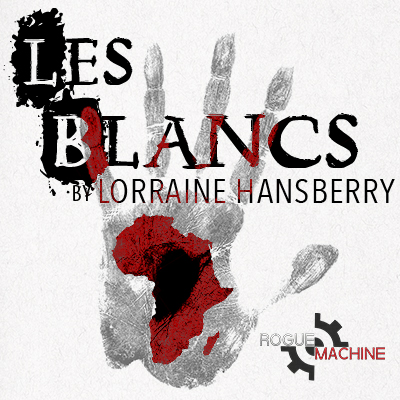 Lorraine Hansberry considered this to be her most important play. It was her final work. Directed by Gregg T. Daniel, Les Blancs depicts the waning days of colonialism crossing into the 20th century as it reveals the impossible moral choices faced by individuals who must reconcile personal happiness with idealism. What happens when what we want and what we think is right is not what must be done? This play is rich with music and dance and set in and around a mission compound in Africa. The time is yesterday, today, and tomorrow-- but not very long after that.
"When Lorraine Hansberry wrote this piece she set the story in Africa but it deeply resonates with the civil rights movement in the United States, including gender equality. It's astonishingly current in terms of equality issues, and I really can't think of another play out there that combines all the same elements, over such a vast landscape, and stays so brilliantly relevant" - Gregg T. Daniel; Director Lorraine Hansberry was the first black playwright to have work produced on Broadway (A Raisin in the Sun - 1959).
She became the youngest American, and only the fifth woman to win the New York Drama Critics' Circle Award. In 1965, Lorraine Hansberry died of cancer at age 34. As if prescient, in the six years she had between the triumph of her first play and her death, she was extraordinarily prolific. Her second play to be produced on Broadway, The Sign in Sidney Brustein's Window, was in its early run to mixed reviews, when Hansberry died; the curtain came down on that date. To Be Young, Gifted, and Black, an autobiographical portrait in her own words adapted by her former husband and literary executor Robert Nemiroff, was posthumously produced in 1969 and toured across the country. In 1970, Les Blancs, her play about the inevitability of struggle between colonizers and the colonized in Africa, and the impending crisis that would surely grow out of it, ran on Broadway to critical acclaim.
During her career as a playwright, Hansberry wrote many articles and essays on literary criticism, racism, sexism, homophobia, world peace and other social and political issues. At her death, she left behind file cabinets holding her public and private correspondence, speeches and journals, and various manuscripts in several genres: plays for stage and screen, essays, poetry, and an almost complete novel. Director Gregg T. Daniel is a recipient of the NAACP Best Director award for the International City Theatre's production of Fences. The production received nominations from the Los Angeles Drama Critics Circle, Ovation and Stage Scene LA.
Selected credits include L.A. premiere of Honky by Greg Kalleres for Rogue Machine Theatre (LADCC Award nominee for Best Director - Comedy), a revival of Alice Childress,' Wedding Band, A Love/Hate Story in Black and White for the Antaeus Company (Winner 2014 Stage Raw Award for Best Revival and Best Ensemble), Frank McGuinness's Someone Who'll Watch Over Me (Broadway World Award nominee for Best Director), and the West Coast premiere of Kwawe Kwei-Armah's, Elimina's Kitchen (NAACP Award for Best Ensemble) for Lower Depth Theatre Ensemble where he is a founding member and Artistic Director.
The Cast includes Amir Abdullah, Bill Brochtrup, Anne Gee Byrd, Aric Floyd, Fiona Hardingham, Jason McBeth, Matt Orduña, Jonathan P. Sims, Joel Swetow, Desean Kevin Terry, and ensemble cast.
John Perrin Flynn and Amanda Bierbauer (Producers), Stephanie Kerley Schwartz (Scenic Design), Derrick McDaniel (Lighting Design), Jeff Gardner (Original Music and Sound Design), Wendell C. Carmichael (Costume Design), Joyce Guy (Choreography), Edgar Landa (Fight Choreographer), Andrea Odinov Fuller (Dialect Coach)
ROGUE MACHINE THEATRE recently received the Polly Warfield Award for Outstanding Season from the LA Drama Critics Circle, and is the only theatre company to be given this award twice in the past sixteen years. KCRW (Best Theatre 2016) was another highlight of last season as well as receiving a Shubert Foundation grant, awarded to select theatre organizations for their artistic achievement, administrative strength, and fiscal stability along with company's development of new work and other significant contributions to the field of professional theatre in the United States. A recipient of the American Theatre Wing's 2014 National Theatre Company Grant, given only to 12 theatre companies in the country, Rogue Machine (BEST PRODUCTION for three years - Ovation, LADCC Awards) presents plays that are new to Los Angeles, and the company has garnered recognition for their work in upwards of 75 awards and nominations.
VIDEO: https://youtu.be/Hdyq7jxiKL4
Social Media Identifiers: # #LesBlancsLA, Twitter @RogueMachineLA, Instagram @RogueMachineTheatre; FaceBook: https://www.facebook.com/RogueMachineTheatre Les Blancs opens at 8:00pm on May 27th and runs Saturdays and Mondays at 8:00pm, Sundays at 3:00pm through July 3, 2017 (No performance on May 29, June 16 & 24; and Pay-What-You-Can on June 5: minimum $5 on sale from 7pm before the show, while available. No advance sales on that night). Rogue Machine is located at The Met, 1089 N Oxford Ave, Los Angeles, CA 90029. Tickets are $40. Reservations: 855-585-5185 or at www.roguemachinetheatre.com
More Hot Stories For You