Review: JEWS, CHRISTIANS AND SCREWING STALIN Recounts a Brooklyn Family's Dysfunction, Humor and Ultimate Atonement on Rosh Hashanah
Told as an autobiographical story of a Jewish family in Brooklyn learning to deal with the changing world together, much in the same style as Neil Simon's "Brighton Beach Memoirs," the world premiere of JEWS, CHRISTIANS AND SCREWING STALIN by Mark Lonow and Jo Anne Astro recounts the true story of Lonow's own family on the eve of Rosh Hashanah in 1967, as family patriarch "Zayda" Murrray Grazonsky (acclaimed TV and film actor John Pleshette) watches from Paradise (represented as an upstairs bedroom complete with rotating disco ball each time he enters) as his grandson, Joey (and Lonow stand-in Joey, played by Hunter Milano) brings his pregnant, Christian fiancé Caitlin McCarthy-Heitler (the titular red-haired Irish Christian girl, based on Astrow, portrayed by Sammi-Jack Martincak) home to meet the radical communist and tough as nails "bubby" who raised him.
Stand-up comedian and actress Cathy Ladman
is a wonder in the role, certainly reminiscent of the generation of Eastern European Jews who came to New York in the early 20th Century to make a better life for her children and grandchildren. But it's her early life in the old world that winds up shocking the shiksa, and audience, when Bubby reveals her brother was the first president of the Soviet Union under Stalin, a powerful man she added to her long list of sexual conquests as she partied her way through the powerful men of the day. And yes, that part of his family's story is true, according to Lonow.
"I was a red diaper baby," says Lonow. "Brighton Beach and Coney Island,
where I grew up, were hotbeds of communism. Many of my relatives were young revolutionaries and then union organizers when they came to this country. Paul Robeson sang 'Ol' Man River' to me when I was four years old while I sat on his knee at a fundraiser at the Workman's Circle." As directed by Lonow, the play will ring true to heart of all families, Jewish or not, radical or not, as the reality of a changing world brings challenges and joys via the next generation to the older one who struggles to keep their beliefs and values intact.
Subtitled "A Light Comedy About Dark Jews," we meet Bubby as she prepares a much-too-salty matzo ball soup for Rosh Hashana dinner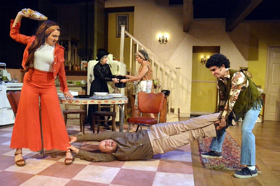 in a period-perfect kitchen as the center piece of a realistic two-story set designed by Joel Daavid in anticipation of her entire family gathering to celebrate the holiday. Even her son and grandson will be there, a special evening (she hopes) as the two have not spoken to each other in years. But after continuously forgetting to bring home the chicken for dinner, Joey's alcoholic father David finally shows up at the table, causing alliances to be challenged and hopefully, new beginnings to be forged. And leave it to Zayda to show up at just the right moments to forward the story and add his own insights into his family's history and character. Oy vey!
The eccentric characters who live in the Grazonskys' Brighton Beach, Brooklyn rooming house are based on Lonow's childhood memories. Tenants include dinner guest and her often-spying frenemy Lillie Feinstein, performed with self-effacing humor, and hysterical behind-the-cracked-open-door moments by Laura Julian, wonderfully dressed in eccentric, Hollywood star-reflecting costumes designed by Wendell C. Carmichael.
Other elderly tenants are Miss Koppelson, played by Sally Schaub as the constantly farting grandmother you probably were raised with too, and the forever slouched-over Mister Goldman portrayed by stand-up comedian Marty Ross whose cameo role caused roars of laughter when both Bubby and Lillie bent halfway over just to speak with him!
And while it isn't really necessary to understand Yiddish, it certainly adds to the humor if you can grasp the meaning of Zayda and Bubby's comments
before they are somewhat translated for you! No doubt Astro carried the same "The Joys of Yiddhish" dictionary the first time she met Bubby in the same way Caitlin does, comically mis-pronouncing the words until corrected by Joey, Bubby or Lillie.
"The play was originally going to be a drama," Lonow explains. "After Jo Anne and I workshopped it here in L.A., Carl Reiner suggested it might work better as a comedy because the characters are so original and crazy. We agreed, especially after New York producer James Nederlander also loved the idea."
Thank goodness they did since the uproarious comedy will be generating laughter to the point of belly aches and plotzing for a very long time!
Produced by Racquel Lehrman, Theatre Planners, presented by Took A Cab Productions and the world-famous Improv comedy club chain, the world premiere of JEWS, CHRISTIANS AND SCREWING STALIN by Mark Lonow and Jo Anne Astrow, with Lonow directing, continues through Sept. 23, with performances on Saturdays at 8 p.m.; Sundays at 3 p.m.; and Mondays at 8 p.m.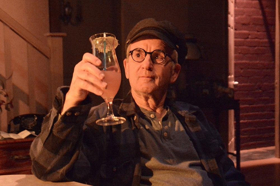 All tickets are $35. The Matrix Theatre is located at 7657 Melrose Avenue, Los Angeles, CA 90046. For reservations and information, call (323) 960-4412 or go to www.Plays411.com/Matzoballs.
Just remember, Zayda always knows best, especially when it comes to choosing the best adult beverage to drink each time he appears to share his visions, memories and insights into what it takes to keep a loving family together.
Photo credit: Ed Krieger