Review: INTO THE WOODS Honored by Cupcake Studios on the 30th Anniversary of Stephen Sondheim and James Lapine's Tony Award Winning Musical

INTO THE WOODS may be one of the most popular musicals for those skilled in the art of presenting musical theater comedy. So much so that when Cupcake Studios held auditions for the 17 character roles in the show, over 1,000 people submitted online and in person to be in the show at the North Hollywood theater location. So it is no wonder each and every person in the show creates magic when they take the stage!
Kudos to Michael Pettenato, the group's Artistic Director who directs and produces this musical extravaganza,
for selecting the best of the best to bring such excellence in all aspects of the production. Musical director Richard Berent obviously worked closely with choreographer Madeleine Heil, as well as the four-piece band, to bring the beauty of the music to the forefront while the constant exits and entrances during the entire 3-hour show were dazzling and mind-boggling, performed to perfection with intricate precision.
INTO TO WOODS is a musical mashup of several Brothers Grimm and Charles Perrault fairy tales, exploring the consequences of the characters' wishes and quests, including Cinderella and her Prince, Little Red Ridinghood and the Wolf, Jack and the Beanstalk, Rapunzel and her Prince, all centered around the Witch and the Baker and his Wife as they quest to begin a family (the original beginning of The Grimm Brothers' Rapunzel). Their interaction with the witch who sets them on a quest for items necessary to lift a curse she placed on them, unites all the characters as they meet up in the woods.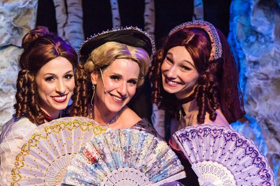 All the stories meld thanks to the artistry of Stephen Sondheim and James Lapine, whose score is most likely one of the most difficult to perform due to the complicated phrasing and speed. But no worries with this production since the cast has been well guided to enunciate so each and every word spoken or sung totally understandable, making the production hilarious, musically glorious, and brilliantly staged.
The show is double cast on alternating weekends, so the actors I am mentioning in this review may not be the cast members you see. But rest assured, no matter when you see the show it will be great! Director Pettenato shares, "At Cupcake Studios, we provide World-Class theatrical productions and professional training, with a heavy emphasis on Broadway style Musical Theater. Our performers have been seen on Broadway and national tours, in television and film, and have won lucrative contracts
with Disney and on International tours and cruises. We have the best of the best here." I agree with him as this exemplary production is one of the best INTO THE WOODS I have ever seen.
Leading the cast as the evil Witch, portrayed in all her physical and emotional ugliness and beauty by Elizabeth A. Bouton, an outstanding triple-threat performer I have seen in leading roles in many other musicals. It is very apparent she loves this role as her enthusiasm is infectious and her soaring vocal talent amazing each time she takes the stage, especially during her solo "Children Must Listen."
Paul Carl Luoma portrays the Baker longing for a family with his frustrated Wife (Lesley Baird, Samantha Labrecque) pushing him to assist with finding the 4 items necessary to life the childless curse from them. Their duet "It Takes Two" celebrates their competition as well as support of each other in their search in the woods to find these items. It is this journey that leads them to interact with the other main characters who have the possessions they need to fulfill their quest to have a child.
The Milky White cow, played for the most hilarity possible by assistant director Nate Stephenson, is owned by Jack (Trae Adair) and his financially struggling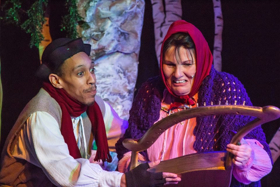 Mother (Pam Welky Paul) who sends her son into the woods to sell his beloved pet companion who no longer gives them any milk. To gain the first item needed in his quest, the Baker tricks Jack into selling his cow for "magic beans." And of course, those beans lead to the growth of the beanstalk from which descends a female giant in Act 2 to get her revenge for what Jack has done to her husband as well as stealing a prized golden harp and the hen that lays the golden eggs from them.
On his journey, Jack also meets Little Red Ridinghood (the perfectly cast Kim Dalton, sharing the role with Julia Lester) whose stubbornness challenges him at every step along the way. Little Red is on her way to Granny's with treats from the Baker, most of which she consumes on her journey there. Her meet up with the Wolf (Matthew Latkiewicz) who is enchanting as he sings "Hey Little Girl" in his attempt to get close to her. And it is the Baker who manages to steal Little Red's beloved red cape as item #2 in his quest.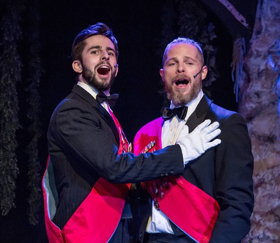 The two handsome Princes, each pursuing the woman of his dreams, are portrayed by Matthew Latkiewicz as Cinderella's Prince and Michael Ryan as Rupunzel's Prince (sharing the role with Joey Ruggiero) who harmonize comically and beautifully as they let us see into their character's personalities and foibles while singing about the "Agony" of not getting what they want. The women they are pursuing, Cinderella (Arrianna Leigh stunning in her rendition of "On the Steps of the Place" who shares the role with Kelly Hancock) and Rapunzel (Alena Bernardi and Katherine Steele share the role) both long to escape from their entrapment living the type of life neither chose for themselves: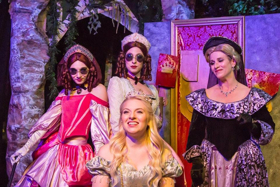 Cinderella working as a maid for her evil Stepmother and Stepsisters (Dana Weisman, Kelsey Nisbett and Ashley Larson), while Rapunzel is ensconced in a tower (wonderfully constructed by set designers Joe Bills and Nate Stephenson) where she is often visited by her mother the Witch. The Baker and his Wife manage to get some of Rupunzel's long blonde locks and one of Cinderella's shoes as items needed in their quest to appease the Witch.
Act I ends with everyone getting exactly what they want so their "happily ever after" endings take place. But while Act I explores the fantasy, Act 2 deals with the reality of what it means to get what you want - and then not wanting it any longer. And while there is no nudity or cursing in the show, think twice about bringing very young children, or perhaps just stay for first act only which is quite complete and beautiful on its own. With a total run time of 3 hours (plus one intermission) INTO THE WOODS may sound like a children's show, but be warned that this is an adult treatment of children's characters and Act 2 deals heavily with adult themes such as adultery, abandonment, and death.

INTO THE WOODS is scheduled to run through February 25, 2018 (with possible extension), with shows on Fridays at 8pm, Saturdays at 7pm, and Sundays at 6pm at the Cupcake Theater, located at 11020 Magnolia Blvd. in the NoHo Arts District. General admission and VIP tickets may be ordered online at http://cupcake.laughstub.com/enhancedCalendar.cfm, using the code "intothecupcake" to get a 50% discount.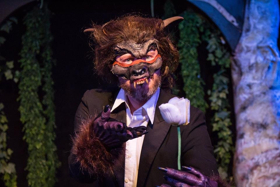 Use the saved funds to order generously poured drinks and freshly popped popcorn when you attend, doing your best to keep them away from the menacing Wolf.
For more information please call (323) 391-3416 or visit the group's website at http://www.cupcaketheater.com/.
Photos by JDCPhotography
Related Articles View More Los Angeles

Stories

Shows