Mitch Hara's MUTANT OLIVE 2.0 Returns Funnier And More Outrageous Than Ever
Catch Mutant Olive 2.0 at the Hudson Guild Theatre every Tuesday from March 7 through April 11. Carlyle King directs.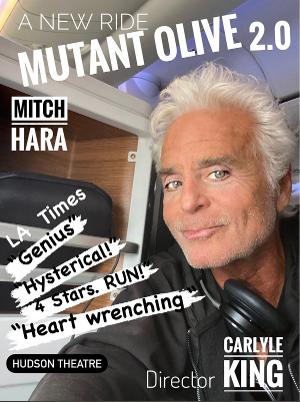 Zeke Rettman and the Hudson Theatres announce the return of writer/performer Mitch Hara with a newer and even more outrageous version of his hilarious, heart-wrenching, multiple award-winning signature play, Mutant Olive. Catch Mutant Olive 2.0 at the Hudson Guild Theatre every Tuesday from March 7 through April 11. Carlyle King directs.
Father and son forgiveness is at the core of Hara's manic, brave, tour-de-force performance as Adam Astra, an actor whose past seems to constantly seep into his present. Set during what turns out to be a truly cringe-worthy audition, Astra relays tales of his soul-sucking childhood, monstrous substance abuse, rampant sex, crashed cars, an out of body experience and a black cape - even as he tries out for his dream role in Hamilton: Unplugged.
Earlier incarnations of Mutant Olive played to sold-out houses and rave reviews at Theatre Row in New York City and at the Beverly Hills Playhouse, Lounge Theatre and the Hudson in Los Angeles. Hara is thrilled to be back for a new ride with some very funny and shocking additions.
"This show is always evolving," he says. "I elevate and change, and so does the experience for both me and the audience."
Raised by speed-freak alcoholics, an experience that shaped his unique voice and eccentric view of the world, Hara's inner child is alive, well and always Ready to Play. He escaped to New York City at age 19, when he was invited to join the acclaimed Actors Studio. There, he performed in several plays off-Broadway as well as in comedy clubs... and even a few rehabs. While pole dancing on 42nd Street, he was called to L.A. to do a burp-and-it-was-gone pilot, Eddie Dodd with Treat Williams. He's guest-starred on numerous series, including a recurring role on ER, and film roles include The Art of Dying with Wings Hauser. He's written, directed and performed in three critically acclaimed plays, winning an "Outstanding Performance" award from Backstage for his portrayal of "Sister Coco Call-Me-Ishmael," a mental-patient-drag-queen-nun, in The Tragic and Horrible Life of the Singing Nun at the Coast Playhouse. More recent acting credits include a co-starring role in the pilot I Run Hot for AMC/Peacock and the upcoming film, Crazy Woman. His short form series, Smothered, co-written with and co-starring Jason Stuart, went viral on Amazon Prime, where it was voted "Top 10 to Binge." Other projects currently in development include Can You Hear Me Now, in which a gay Aunty Mame meets Rain Man meets Kramer vs. Kramer, and the black comedy, Party Time.
King recently directed Season 2 of Smothered for Hara and Stuart. Other directing credits include the world premiere of Tracy Silver's one woman show, Motion Cures, and the L.A. revival of Barrymore starring Jack Betts at the Marilyn Monroe Theatre. She was co-artistic director at Theatre 40 in Beverly Hills, co-creating their highly successful One Act Festival. She is currently on the artistic board at the Road Theatre, where she starred in the award-winning Mud Blue Sky; founded "Under Construction" which creates plays from the ground up; and produced The English Bride and 13 Road Theatre Playwrights Festivals. King also heads "Kid Shakespeare" an after school drama program in Pasadena. She has taught at U.S.C. and South Coast Repertory.
The creative team for Mutant Olive includes lighting and sound designer Steve Pope and production consultant Gabrieal Griego.
Performances of Mutant Olive take place every Tuesday at 8 p.m. from March 7 through April 11. All tickets are $20. The Hudson Guild Theatre is located at 6539 Santa Monica Blvd. Los Angeles, CA 90038.
For more information and to purchase tickets, go to onstage411.com/mutant.